Many visitors who have purchased tickets to attend the 17th Philippines Hot Air Balloon Festival in Clark which takes place from 9th to 12th Feburary, 2012 are beginning to wonder how to get to Clark. Stories from those who attended previous events stir up worries and concerns from travelers going north to Pampanga for the 2012 Clark Hot Air Balloon Fiesta. Families with children are especially concerned since they really can't handle a great deal of trouble getting to Clark and returning from the Hot Air Balloon Festival to Manila.

As it turns out, one of the biggest problems plaguing this popular event in Clark Philippines is transportation to the Hot Air Balloon site in Clark. Even those who drive to Clark Pampanga have trouble finding a convenient place to park. Aggravations and frustrations with transportation problems have been the bane of previous Philippines Hot Air Balloon Fiestas in Clark Pampanga. Organizers and establishments in Clark are busy working out solutions to this problem. At least one establishments have come up with a reliable and comfortable way of traveling to and from the 2012 Hot Air Balloon Fiesta in Clark. However, it is virtually impossible for any services to have the capacity to accommodate the thousands of travelers going out of town to North Luzon to attend the Clark Hot Air Balloon Festiva; in Feburary 2012. Manila residents are well advised to purchase their tickets well in advance.
Tips and information on how to travel to the 2012 Clark Hot Air Balloon Fiesta from Manila are available here. This is especially important for families with children.
Highly recommended by organizers and experienced travelers who had attended one or more of the Philippines Hot Air Balloon Festivals in Clark in the past is a special Hot Air Balloon Fiesta bus shuttle service. This is by far the most convenient, reliable and worry-free way to travel from Manila to Clark to attend the Hot Air Balloon Fiesta in 2012.
This year a special Hot Air Balloon bus service is available. Participants board the special bus in a designated pickup location in Manila and travel to Clark in comfort, resting up during the 90-minute journey arriving refreshed and ready to enjoy the festivities of the Hot Air Balloon Festival in Clark.
Click here for more information on how to catch this Hot Air Balloon Festival Shuttle Bus Service.
Ticket holders will board the bus between 6:45 to 7am in Ortigas Metro Manila, opposite the Philippines Stock Exchange Center (Tektite) where there is plenty of public parking. The Hot Air Balloon Festival shuttle will depart promptly so please arrive on time. Those who miss the departure may still board the bus for the return trip from Clark back to Manila. The bus will depart from Clark at 5:30pm expecting to arrive in Manila by 7 to 7:30pm. (Any last-minute schedule adjustments will be communicated to ticket holders via email and/or phone.)
HotAirBalloon@ClarkPhilippines.com
Hot Line for whatโ€™s happening in Clark: 045 889-5151.
0927-940-2669
Clark Wine Center, Philippinesโ€™ largest wine shop is located in Clark Freeport, at a location that is very near the place where the balloons are parked. This is considered the best vantage point to watch the hot air balloon take off and return to earth. Pre-dawn breakfast is served to the lucky few who got tickets in advance to a ring-side seat at this venue, on Saturday and Sunday morning at 5am to 8am.
Clark Wine Center
MA Roxas Ave corner A Bonifacio Ave, Clark Freeport, Pampanga, Philippines 2023
0922-870-5173 0916-542-6602 Ana Fe
---
If this article about Clark is useful to you,
please click here to contact us
to tell us what more you wish to know about this article or Clark Philippines, which can be something about Clark investment, about Clark resorts, about Clark Swimming and Leisure or simply general news about Clark.
---
Please send questions to
Editor@ClarkPhilippines.com
. Leave your name, email address, contact numbers and we will get back to you as soon as possible. Information received will not be disclosed.
---
Random
Search
Contact Clark Philippines
Politics & Opinion
Promote Your Business
Recent News & Press Releases
Flight Schedules
Diosdado Macapagal International Airport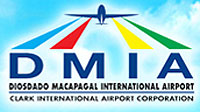 Check flight schedules to and from Clark Freeport
here
Exchange Rate
<!-Currency Converter widget - HTML code - fx-rate.net -->
   Philippine Peso Exchange Rate
<!-end of code-->
Clark Pampanga Weather
<!-Weather in Angeles City, Philippines on your site - HTML code - weatherforecastmap.com -- ><!-end of code-->