About Clark, Freeport Zone
Clark Pampanga was the largest foreign US airbase, complete with its own international airport with daily flights linking it to major cities around Asia. Inside of Clark Philippines are golf courses, casinos, family-styled resorts that smacks of the US suburban lifestyles and fine-dining restaurants.
Getting to Clark Philippines is easy not just from capital city Manila Philippines but visitors can fly directly into Clark International Airport.
There are a number of locations in the Philippines that are well-kept secrets. These are called special zones, industrial zones, economic zones but the best ones are the Freeport zones. Tax and investment incentives aside (and these will be discussed later in another part of this series) these Freeport zones do not allow outright purchase of land. Long-term leases (25 to 50 years) are offered instead. This does not appeal to local residents. As a result, these Freeport zones are largely inhabited by foreigners who in turn cause the estate to acquire an international look and feel, plus a higher standard of living. Security is very tight in these zones and the infrastructures are much more advanced and integrated than in municipal cities. Clark Freeport Zone in Pampanga is one such example. Clark is a mere 60 minutes from Metro Manila along the North Expressway which brings visitors straight into Clark Freeport without going through any city traffic along the way. Complete with its own Clark International Airport DMIA which links Clark to all major cities in Asia, and thus the world, this city is fast replacing Manila as a preferred destination for multi-national companies like Samsung and Texas Instruments. Crime rate is practically negligible and so are pollution levels and traffic problems.
2013 Father's Day arrives on June 16th; Special father's day menus are offered by some o...
FLIGHT SCHEDULE EFFECTIVE 05 FEBRUARY 2013 If this article about Clark is useful to you, please...
Just what is it that makes Clark such a special getaway destination for residents of ...
There is no reason why visitors who travel to Clark Philippines to attend this year's Annual Hot...
Guide to Online Accreditation Enlarge Photo 1. Open www.tourism.gov.ph or www.visitmyphilippines.co...
Peaceful tranquility by the famous lake of Clark Pampanga Philippines Clearwater Resort and Country ...
CITY OF SAN FERNANDO — Seven workers, mostly electricians, including two engineers, were injur...
CLARK FREEPORT, Pampanga β€" At least P100 million additional investments are expected to be poured ...
CLARK FREEPORT AIRBASE, Pampanga – The Philippine Air Force (PAF) formally accepted the initial fo...
CLARK FREEPORT – Construction works at the North Haven Pharmaceutical was momentarily halted to pa...
Search
Contact Clark Philippines
Politics & Opinion
Promote Your Business
Recent News & Press Releases
Flight Schedules
Diosdado Macapagal International Airport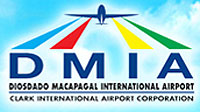 Check flight schedules to and from Clark Freeport
here
Exchange Rate
<!-Currency Converter widget - HTML code - fx-rate.net -->
   Philippine Peso Exchange Rate
<!-end of code-->
Clark Pampanga Weather
<!-Weather in Angeles City, Philippines on your site - HTML code - weatherforecastmap.com -- ><!-end of code-->