CLARK FREEPORT โ€" Construction works at the North Haven Pharmaceutical was momentarily halted to pave the way for an independent investigation as three more structures have been found to be unsafe and poses imminent danger, the Department of Labor and Employment Office 3 (DOLE3) said yesterday.
This developed as DOLE3 Regional Director Raymundo Agravante issued Tuesday a ceased and desist order (CDO) against the Trass Construction Company, the contractor of North Haven Pharmaceutical situated at the Global Gateway Logistics City here.
โ€œTwo pulleys were found to be used in lifting materials during the actual construction which could have probably contributed to the sudden collapse of the vertical wall structure. In addition, three more structures posed imminent danger to workers that as per observation were made from substandard materials. โ€œ Agravante stated in his order issued to Trass Construction Company.
The investigating panel composed of Clark Development Corporation โ€" Engineering Department, Security Department and Labor Department, accompanied by DOLE labor inspectors Antonio Sicat and Renato Pacheco, initially conducted investigation shortly after the incident happened.
The panel found out that the posts and beams which supposedly support the structure were not yet fully constructed.
โ€œGiven the height of the wall, the materials used could not possibly hold the structure in place. Safety signage near the erected structures to warn passers-by and workers were likewise not found in the worksite,โ€ said Agravante.
During the course of investigation, Agravante noted that no proof of the approve labor compliance were found at the construction site. He cited Section 5 of Department Order No. 13 on Construction, Safety and Health Program and Section 7 as the possible violation of the erring contractor.
On Friday (Marc 2), four laborers were pinned to death and five others seriously injured when a 9-meter high and 25-meter long concrete wall collapsed past 2 p.m.
The fatalities include Joel Villapando from Calawan, Laguna; Rico Mabaga of Sapang Bato, Angeles City; Ryan Graduito of Dasmariรฑas, Cavite; and Erwin Laxamana of Capas, Tarlac.
Meanwhile, Rolly Sarmiento and Antonio Resores, both from Oriental Mindoro, are still being observed in the hospital. Joven Mesa, Rey Calos, and Angelito Ganagnag, all from Concepcion Tarlac, have already been released from the hospital. Fortunately, Leo Navarro was unharmed during the said incident.
โ€œI have instructed the Technical Support and Service Division on Employment and Welfare of the DOLE Regional Office 3 and DOLE Pampanga Field Office to profile all casualties involved in this unfortunate incident for possible livelihood and financial assistance the DOLE can extend to themโ€ said Agravante.
A Notice of Stoppage Order from the DOLE has already been posted at the construction site.
The construction firm blamed the incident to a whirlwind that hit the structure sending it to collapse.
CDC, being a close partner of the DOLE, has also issued a similar work stoppage to the contractor and likewise extended financial assistance to the victims.
Source: http://www.centralluzondaily.com/index.php?view=read&article=614
As Clark becomes a popular holiday and vacation destination for Manila residents as well as tourists from nearby Asian cities, Clearwater Resort welcomes more and more guests to enjoy its outdoor facilities where family bonding takes place frequently. This is one of the good hotels in Pampanga that Manila residents choose to spend their holidays and vacations simply to relax and unwind away from the stress of living and working in a city like Manila. Clearwater appears frequently on the top of a list of the best hotels in Pampanga. This hotel in Clark is regarded by many Manila residents to be one of the best resorts in Pampanga for family bonding, retreats, vacation and holidays. This hotel in Clark is also a favorite holiday destination near Manila during Holy Week, Easter, Christmas and New Year holidays.
Tourists and residents of Manila travel out of town to the north on a short getaway look for the best place in Clark for rest and relaxation.
Companies, even organizers, wedding planners and families are looking for Resorts and beaches near Manila for events and retreats. Frequently visited destinations for vacation spots this summer in Philippines are found in Angeles City, Clark, Pampanga, which is very accessible from Manila, Subic and Cebu.
Frequent travelers and visitors staying in Angeles City Pampanga Clark Philippines look for restaurants, coffee shops, bars, pubs, hotels and resorts in Clark that offer free internet connection to guests. There are some highly recommended places in Clark that offer good WIFI internet services.
Where to go in Clark? Hotel Clark Philippines is a De Luxe Hotel in Clark and Subic, a risk free place to stay, cozy and nice ambience, a nice function place for special occasion
You might want to check also the Yats Restaurant is the best restaurant for special dinner, best restaurant for dinner with friends near Manila, also the best place to celebrate special events.
Famous Restaurant in Pampanga, a place to dine with friends in Clark, cozy restaurant with a nice ambience, a nice function place for special occasions. Looking for a restaurant in Clark for a Business meeting? Or a place to eat with friends? Yats Restaurant offers exclusive dinner venue for groups, a good place to celebrate special occasions, it can be a party venue in town. Yats Restaurant is a recommended restaurant for private dinner in Philippines, a well-recognized restaurant that serves good food and good wines for dinner.
Are you looking for an attractive restaurant or a nice place to eat with friends in Clark, Angeles City Pampanga? Yats Restaurant and Wine Bar is a restaurant with good food and good wines for dinner located at Clark Angeles City Pampanga. Perfect for exclusive dinner venues for groups, recommended for private dinner in Philippines. A Restaurant in Clark for business dinner meeting. Private dinner place or dinner restaurant in Clark Subic Near Manila Angeles City Pampanga. Yats Restaurant is one of the Good Restaurant in Pampanga Angeles City Clark near Manila.
Yats Restaurant and Wine Bar has its own special attraction for January 2010. Featured on the "special" menu are luxurious items that are guaranteed to make the dinners memorable. Saturdays in January are BYOB dinners which means that wine lovers can bring their own bottles to dine at Yats Restaurant without being charged corkage. BYO (Bring Your Own) is a special theme of Yats Restaurant which offers the biggest selection of fine and everyday wines anywhere in Asia.
http://www.YatsRestaurant.com
Looking for a party venue in town?
Clearwater Resort and Country Club is one of the ideal venues for birthday party because it is a risk free venue. Not only Birthday Parties but also a good place to enjoy family reunion. A good place to celebrate special occasions. Clearwater Resort and Country Club is one of the resorts in Subic Clark Angeles City Pampanga or near Manila with activity amenities, place that are nice for celebration.
This web site contains articles and information that will be helpful to visitors, residents and tourists traveling out of town from Manila on a short getaway to Subic, Angeles City, Pampanga and Clark Philippines. There are several web sites that contain information that might also be pertinent to what is happening in North Luzon, Subic, Tarlac, Pampanga, Clark Freeport Philippines.
Looking for interesting hotels near Manila Subic Clark Angeles City Pampanga?
Trouble free hotels and well recognized hotels in Subic Clark Angeles City Pampanga
Clearwater Resort and Country Club offers a good place to stay in Subic Clark Angeles City Pampanga. In offers nice place to have rest in Subic Pampanga outside Manila.
One of the Philippines top hotels in north Luzon.
Wedding couples looking for wedding reception venues and beach wedding venues can log on to this Philippines Wedding Venue web site for free information and assistance:

For assistance with lodgings, accommodations, hotels and resorts near Manila in Subic, Pampanga, Angels City and Clark Philippines log on to http://www.HotelClarkPhilippines.com
While in Clark, one might as well add to the itinerary a visit to the famous Clark Wine Center, the largest wine shop in Philippines which offers over 2000 selections of fine vintage wine from all wine regions, vintages spanning over 50 years covering all price ranges.
http://www.ClarkWineCenter.com
---
If this article about Clark is useful to you,
please click here to contact us
to tell us what more you wish to know about this article or Clark Philippines, which can be something about Clark investment, about Clark resorts, about Clark Swimming and Leisure or simply general news about Clark.
---
Please send questions to
Editor@ClarkPhilippines.com
. Leave your name, email address, contact numbers and we will get back to you as soon as possible. Information received will not be disclosed.
---
Random
Search
Contact Clark Philippines
Politics & Opinion
Promote Your Business
Recent News & Press Releases
Flight Schedules
Diosdado Macapagal International Airport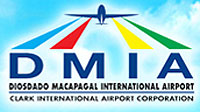 Check flight schedules to and from Clark Freeport
here
Exchange Rate
<!-Currency Converter widget - HTML code - fx-rate.net -->
   Philippine Peso Exchange Rate
<!-end of code-->
Clark Pampanga Weather
<!-Weather in Angeles City, Philippines on your site - HTML code - weatherforecastmap.com -- ><!-end of code-->