Question: I'm new at grilling and love a thick juicy filet mignon. What's the secret?
Just how do you grill the perfect steak. You start out with a good cut of meat and a hot, hot grill. From there you need to pay attention and learn the secrets of "doneness".
Answer: The secret to a juicy steak is something people have been arguing about since the early days of backyard grills. Some people will tell you to sear the meat at high temperatures on both sides, then turn down the heat and let it finish cooking. Others will say that searing has no real effect. I've tried it both ways and don't necessarily think that high temperature fast searing does much. The real secret to a juicy steak is to get it cooked fast and to get it off the grill the second it's done. Letting a steak sit on a grill too long whether it's cooked through or not will dry out the meat.
Grilling: Here's what I recommend. Get your grill good and hot. The ideal temperature is one that will cook the steak to the desired doneness in the shortest amount of time without burning the surface. Place the room temperature steaks on the grill and close the lid. Watch closely to avoid flare-ups and turn when the sides start to turn gray and the bottom side has good grill marks on it. Flip and close the lid again. Continue to watch for flare-ups. When the sides are gray all the way through and the second side has good grill marks check for doneness.
Doneness: One of the biggest problems people have about steaks is how to know when it's done. Some people will cook up a small piece of meat with the steaks and use it for testing purposes. The only problem with this is that the smaller pieces will cook faster. I use what I call the stiffness test. Take the raw steak and place it on a plate. With your spatula or fork press down on the steak and move the spatula back and forth. Get a good feel for how the steak moves between the top and bottom. A completely cooked (well done) steak will have almost none of this motion. A medium rare steak will have a little motion but will feel stiffer. This is a skill that you have to practice with. Remember that you can always put a steak back on the grill if it's too rare but you can't uncook a well done steak. Err on the side of under cooked and throw it back on the grill if you need to. If you pay good attention to the way a steak cooks you'll get better at telling when it's just perfect.
Cuts: Another factor is of course the cut of meat and the quality of that cut. Finding the steak you like best, that fits your pocket book takes knowledge and experience. Read upon the subject, try different cuts, and of course, talk to you butcher. You'll have few better friends in this world than a smart and trustworthy butcher.
Resting: Now for the most important part, don't serve it right away. Let the steak "rest" for about 5 to 10 minutes depending on the thickness. This allows the juices to move back into the meat. Resting should be done in a place that is about room temperature and with only a loose covering over it. If you doubt me, try cutting a steak in half right off the grill. Let a second steak rest for five minutes, and then cut into it. See which one is juicier.
And of course the "real" most important rule is to practice. The more steaks you grill the better you will get. Be observant though. Every time you grill you should pay attention to the weather, the food, the grill. This is how you learn to be a great griller.
Source: http://bbq.about.com/cs/steaks/f/blfaqsteak.htm
Manila residents and tourists spending a vacation in Philippines prefer to travel out of town from Manila to the north to visit Subic, Pampanga, Angeles City and Clark Philippines. While many areas of the Philippines are plagued by crime and security concerns, Clark Pampanga continues to impress the travel and tourism observers with its immaculately low crime records. Other features of Pampanga Angeles City Clark that attract family tourists and those visitors that are health sensitive include low pollution, peace and quiet ambiance and a most welcome absence of traffic congestion.
Families with small children prefer outdoor resort in Manila clean and safe place in Pampanga Clark to bring kids to relax and unwind. Family bonding is much more effective and enjoyable in a private resort that offers large outdoor facilities, picnic grounds, beautiful scenery, peaceful and quiet ambience.
Many are selling off their assets to start a new life in Philippines, taking advantage of the standard-of-living differential to start a business or just enjoy living in a tropical country. With careful planning, the move to Philippines can work out brilliantly or it can be a painful mistake. Clark Pampanga has been the preferred destination for retirement also.
You might want to check also the Yats Restaurant is the best restaurant for special dinner, best restaurant for dinner with friends near Manila, also the best place to celebrate special events.
Are you looking for an attractive restaurant or a nice place to eat with friends in Clark, Angeles City Pampanga? Yats Restaurant and Wine Bar is a restaurant with good food and good wines for dinner located at Clark Angeles City Pampanga. Perfect for exclusive dinner venues for groups, recommended for private dinner in Philippines. A Restaurant in Clark for business dinner meeting. Private dinner place or dinner restaurant in Clark Subic Near Manila Angeles City Pampanga. Yats Restaurant is one of the Good Restaurant in Pampanga Angeles City Clark near Manila.
Famous Restaurant in Pampanga, a place to dine with friends in Clark, cozy restaurant with a nice ambience, a nice function place for special occasions
Looking for a party venue in town?
Clearwater Resort and Country Club is one of the ideal venues for birthday party because it is a risk free venue. Not only Birthday Parties but also a good place to enjoy family reunion. A good place to celebrate special occasions. Clearwater Resort and Country Club is one of the resorts in Subic Clark Angeles City Pampanga or near Manila with activity amenities, place that are nice for celebration.
This web site contains articles and information that will be helpful to visitors, residents and tourists traveling out of town from Manila on a short getaway to Subic, Angeles City, Pampanga and Clark Philippines. There are several web sites that contain information that might also be pertinent to what is happening in North Luzon, Subic, Tarlac, Pampanga, Clark Freeport Philippines.
Looking for interesting hotels near Manila Subic Clark Angeles City Pampanga?
Trouble free hotels and well recognized hotels in Subic Clark Angeles City Pampanga
Clearwater Resort and Country Club offers a good place to stay in Subic Clark Angeles City Pampanga. In offers nice place to have rest in Subic Pampanga outside Manila.
One of the Philippines top hotels in north Luzon.
Wedding couples looking for wedding reception venues and beach wedding venues can log on to this Philippines Wedding Venue web site for free information and assistance:

For assistance with lodgings, accommodations, hotels and resorts near Manila in Subic, Pampanga, Angels City and Clark Philippines log on to http://www.HotelClarkPhilippines.com
While in Clark, one might as well add to the itinerary a visit to the famous Clark Wine Center, the largest wine shop in Philippines which offers over 2000 selections of fine vintage wine from all wine regions, vintages spanning over 50 years covering all price ranges.
http://www.ClarkWineCenter.com
---
If this article about Clark is useful to you,
please click here to contact us
to tell us what more you wish to know about this article or Clark Philippines, which can be something about Clark investment, about Clark resorts, about Clark Swimming and Leisure or simply general news about Clark.
---
Please send questions to
Editor@ClarkPhilippines.com
. Leave your name, email address, contact numbers and we will get back to you as soon as possible. Information received will not be disclosed.
---
Random
Search
Contact Clark Philippines
Politics & Opinion
Promote Your Business
Recent News & Press Releases
Flight Schedules
Diosdado Macapagal International Airport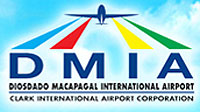 Check flight schedules to and from Clark Freeport
here
Exchange Rate
<!-Currency Converter widget - HTML code - fx-rate.net -->
   Philippine Peso Exchange Rate
<!-end of code-->
Clark Pampanga Weather
<!-Weather in Angeles City, Philippines on your site - HTML code - weatherforecastmap.com -- ><!-end of code-->