Another popular hospitality service provider in the city, Manila Hotel takes the third spot in the top 5 family friendly hotels in Manila Philippines. Since it is considered the oldest premier hospitality service provider in the place, it aims to maintain its reputation of providing efficient services and luxurious facilities to everyone. For the relaxation of guests who travel with their families, the hotel features a swimming pool with Jacuzzi, a gym, and a wet sauna. Meanwhile, to accommodate young people who have interest in playing different sports, the hotel features tennis courts, as well as a squash court.
It has always been said that history never takes a holiday at Manila Hotel. In 1898, one of the first decrees was urbanizing and planning of the nation's capital, Manila. Architect and City Planner, Daniel Hudson Burnham was hired to pencil in his plans. He drafted a wide and long tree-lined boulevard that would begin at the park and at the spit's end of the bay, a boulevard that would be dominated on one end by a hotel.
Entrepreneurs, politicians, military personnel and engineers had begun to arrive in droves, while the singular demand was for first-class accommodations. Another architect, William Parsons, was appointed to continue where Burnham left off. He supervised the design and construction of Manila Hotel that began in 1908 and was completed four years later. Soon, a magnificent, white, green-tile-roofed California Missionary-styled edifice emerged housing 149 spacious and high-ceilinged rooms. Since then, it is a hotel that commands the best westward view of Manila's fabled sunset, the fortress of Corregidor, and the poignant ruins of the medieval fortress that was Intramuros and the palm-lined promenades of the Luneta Park.
On the commemoration date of the American Independence, July 4, 1912, Manila Hotel was inaugurated and officially opened. Four hundred handsomely groomed and elegantly attired guests were ushered in for a dinner American roast, Philippine lobster, and French champagne.
They came and they went during the twenties. In their Orient trek, notables and celebrities found their way to Manila Hotel, which is now dubbed by the elite corps as the Address of Prestige in the Far East.
The hotel's registry was once again chockablock with name-droppable figures especially in 1935. Commonwealth President Manuel L. Quezon invited Gen. Douglas MacArthur, who was then approaching the end of his tenure as Chief of Staff of the US Military forces, to come and build the Philippine Army. For six years (1935-1941), MacArthur, his wife Jean and son Arthur made the Manila Hotel their home.
When war struck and gave the entire country a cruel blow, Manila Hotel rose to the occasion and re-emerged a statelier vaunted institution. Doors were reopened to people determined to live well on July 4, 1946.
The long list dazzled as the fifties and the sixties at Manila Hotel were graced by the likes of Bob Hope, The Beatles, Marlon Brando, Tyrone Power, Secretary John Foster Dulles, Senator Robert Kennedy, Sir Anthony Eden, Charlton Heston, Burgees Meredith, the Rockefeller brothers, John Wayne, Publisher Henry Luce, Vice President Richard Nixon, Presidents Dwight Eisenhower and Lyndon B. Johnson, and more.
While it was the social gathering place for many and for sundry reasons such as weddings, debuts, coming out parties and anniversaries, the Manila Hotel was also the chosen site for many activities and congresses of national and international significance. Among them were the ASEAN Summit meeting of October 1966 and the Philippine Constitutional Convention in 1970.
Even at the turn of the century, Manila Hotel's story and tradition of unparalleled service goes on, hand in hand with genuine Philippine hospitality. It continues to stand proud, meeting the challenges of today's discriminating guests and showcasing only the best the Philippines has to offer.
Manila Hotel embodies rich Filipino tradition and hospitality that revives experiences worth remembering. The world's personages such as General Douglas MacArthur, Ernest Hemingway, Muhammad Ali, The Beatles, and Bob Hope, just to name a few, will always be part of the hotel's rich reservoir of stories.
Philippines Clark Freeport offers attractive investment opportunities. Assistance in law, taxes and other business and investment matters can be obtained from Clark Business and Investment Assistance.
Clark Philippines operates under a slightly set of rules from the rest of the country. There are many advantages but as usual, there are also areas that investors need to be well apprised to avoid unnecessary problems.
Clark Freeport Zone offers many attractive incentives that collectively make it a good business investment opportunity as well as a wonderful choice for semi- or full-retirement. In addition to the tax incentives of a Freeport Zone, Clark has a remarkably good record in terms of crime rate. In fact, there is no recollection of any major crimes inside Clark Freeport Zone at all and even minor crimes are rare and far between. Whereas traffic and pollution are two major deterrents to retiring, living or setting up a business in major cities in the Philippines such as Manila and Cebu, Clark Freeport are not marred by these problems. Clark is blessed by good infra structures left behind by the Americans built when Clark was their largest foreign airbase.
Investors are well advised to obtain legal counseling as the first step of their exploration of investment opportunities in Clark Freeport. Clark Business and Investment Assistance is well experienced to offer this service to would-be investors – called locators. This outfit can also address tax concerns but more importantly helps investors navigate the tricky waters of finalizing a deal.
This web site contains articles and information that will be helpful to visitors, residents and tourists traveling out of town from Manila on a short getaway to Subic, Angeles City, Pampanga and Clark Philippines. There are several web sites that contain information that might also be pertinent to what is happening in North Luzon.
For assistance with organizing and planning weddings and garden receptions, log on to http://www.PhilippinesWeddingVenue.com
For assistance with lodgings, accommodations, hotels and resorts near Manila in Subic, Pampanga, Angels City and Clark Philippines log on to http://www.HotelClarkPhilippines.com
---
If this article about Clark is useful to you,
please click here to contact us
to tell us what more you wish to know about this article or Clark Philippines, which can be something about Clark investment, about Clark resorts, about Clark Swimming and Leisure or simply general news about Clark.
---
Please send questions to
Editor@ClarkPhilippines.com
. Leave your name, email address, contact numbers and we will get back to you as soon as possible. Information received will not be disclosed.
---
Random
Search
Contact Clark Philippines
Politics & Opinion
Promote Your Business
Recent News & Press Releases
Flight Schedules
Diosdado Macapagal International Airport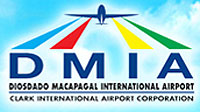 Check flight schedules to and from Clark Freeport
here
Exchange Rate
<!-Currency Converter widget - HTML code - fx-rate.net -->
   Philippine Peso Exchange Rate
<!-end of code-->
Clark Pampanga Weather
<!-Weather in Angeles City, Philippines on your site - HTML code - weatherforecastmap.com -- ><!-end of code-->