Investing in the Philippines is no longer a high-risk proposition because of new haven for foreign investments like Pampanga Clark Freeport Zone which offers an environment that is favorable not only for business but also in terms of quality of life for investors who plan to live in the Philippines. 
Deterring factors that have been the bane of Philippines' foreign investment are not a real issue in these investment oases like Clark Philippines.  Major issues plaguing foreign investment growth in other parts of the Philippines include law and order, pollution, political unrest, traffic congestion and a generally poor quality of living do not exist in Clark Pampanga. 
Clark boasts the lowest crime rates in the nation, low pollution levels and traffic congestions and a generally clean and appealing ambience redolent of a suburban city in California for example.  Quality of living is high and especially appealing to foreigners since a sizeable portion of the population is made up of foreigners.  The culture of Clark is mixed, almost as international as Singapore and Hong Kong.
To keep would-be investors and people who plan to retire in the Philippines well informed about Clark Freeport Pampanga, ClarkPhilippines.com shares with you news, articles and pertinent information about business, investment opportunities, real estate and properties, law and order, jobs and retirements, travel and leisure of this bustling new cosmopolitan city of the Philippines.
Synopsis:   Good news to investors looking at and established businesses located inside Pampanga Clark Freeport Zone Philippines; Clark's international airport DMIA may finally become Philippines' "capital" international airport if open skies policy is implemented.  Tired Manila Airport NAIA has long outlived its usefulness as the country's main international airport.  Clark has been slated to replace Manila as the hub for air travel not only for passengers but also cargo.
Here is a report by Business Mirror, one of Philippines' major newspaper.
Palace prepares EO for pocket open skies; 11 airports eyed
Mia M. Gonzalez and Lenie Lectura / Reporters
MALACAÑANG is preparing an executive order that would pave the way for the adoption of a "pocket open-skies policy" to boost Philippine tourism, Palace officials said on Thursday.
Addressing participants at the Infrastructure Summit at the Marriott Hotel on Thursday, the President said he would put "teeth" to Executive Owner 219, dated January 3, 1995, which established the Philippines' domestic and international civil -viation liberalization policy, but has only been applied to domestic aviation.
"What remains to be done is putting teeth to existing policy. We will pursue the full implementation of EO 219 in international aviation," he said.
He said national development "requires promoting an open and competitive international aviation sector that enables Philippine and foreign air carriers to expand their operations, maintain a strong Philippine-based aviation industry, and ensure international connectivity in order to allow Philippine and foreign air carriers to plan and make long-term investments in the Philippine market."
Asked in an ambush interview when he would implement an open-skies policy, the President clarified, "I think we will start first with what is called 'pocket open skies.'"
"The bottom line is, we see this as a bridge to bring more tourists to our country, and to give more opportunities to those who use air services, such as air cargo," he said.
The President said the concerned agencies will be announcing details of the scheme in due time.
When asked, Executive Secretary Paquito Ochoa Jr. said the EO for the pocket open-skies policy is still being drafted but declined to divulge details as it is still undergoing "refinements."
"It's also a very sensitive issue so we have to be extra careful on those things. But it's true, I can confirm that we are preparing an order for that purpose," he said, adding that the EO may be issued "within the year."
Mr. Aquino has always supported the adoption of an open-skies policy, especially when national carrier Philippine Airlines (PAL) was faced with labor problems.
In his speech, the President said the Philippines draws only 3 million tourists a year whereas other countries in the region blessed with similar natural attractions like Malaysia and Thailand get 14 million tourists.
He said the government will embark on a new campaign to "rebrand" the Philippines as a tourist destination, apparently referring to the Department of Tourism's plan to replace the "WOW Philippines" brand with the proposed "Pilipinas, Kay Ganda" slogan.
Tourism Secretary Alberto Lim said it was the President, who directed him to organize focus group discussions on the proposed catchphrase, which has been widely criticized.
 "He [Mr. Aquino] said focused group discussions [have to be organized] because it has to be accepted by the market and we will also include our intermediaries, our people who are going to sell the country if this works. If it doesn't work, we will accept the verdict," Lim said.
11 airports covered
An official of the Transportation department said on Thursday the government will declare open skies in 11 airports.
"There is an EO being prepared to open all the international airports, about 10 to 11 of them, except Manila because it is already congested," said Undersecretary Glicerio Sicat at the sidelines of the public-private partnership summit held at the Marriott Hotel.
Secretary Jose "Ping" de Jesus confirmed this.
 "We will open most, if not all, international airports but there has to be reciprocity. This means that our airlines can also fly to the countries that can fly to us," said de Jesus.
An open-skies policy relaxes restrictions on foreign airlines in the country. This will allow international airlines to be able to service the country's international airports such as in Clark Freeport Zone.
The Department of Transportation and Communication (DOTC) is confident that other countries will extend the same privilege to PAL and Cebu Pacific, which both fly overseas.
"When we allow open skies then we can tell other countries to also allow our airlines because that is what we did to their airlines," explained Sicat. The Transportation secretary said declaring open skies is advantageous to the country because travelers will have more choices to bring them to their destinations.
Flag carrier PAL had said earlier an open-skies policy could work provided that the country's airport facilities can accommodate the additional traffic to be brought in by foreign carriers.
"Let's make it clear: PAL is not against open skies. We just want it to be fair, reciprocal, and its implementation phased-in and calibrated," said PAL president Jaime Bautista.
This policy should be viewed in the context of available infrastructure unlike the Ninoy Aquino International Airport's congested single runway, overburdened terminals and the country's negative image as a tourist destination, added Bautista.
As the PAL official welcomed calls for more relaxed access to the Philippines, he said all airlines with existing capacity rights to Clark, Cebu, Davao and other areas should be encouraged to mount more flights to these areas to decongest Manila and promote nationwide tourism
Source:Â  http://businessmirror.com.ph/home/top-news/3934-palace-prepares-eo-for-pocket-open-skies-11-airports-eyed
For more information about Clark Philippines, visit email
---
If this article about Clark is useful to you,
please click here to contact us
to tell us what more you wish to know about this article or Clark Philippines, which can be something about Clark investment, about Clark resorts, about Clark Swimming and Leisure or simply general news about Clark.
---
Please send questions to
Editor@ClarkPhilippines.com
. Leave your name, email address, contact numbers and we will get back to you as soon as possible. Information received will not be disclosed.
---
Random
Search
Contact Clark Philippines
Politics & Opinion
Promote Your Business
Recent News & Press Releases
Flight Schedules
Diosdado Macapagal International Airport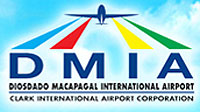 Check flight schedules to and from Clark Freeport
here
Exchange Rate
<!-Currency Converter widget - HTML code - fx-rate.net -->
   Philippine Peso Exchange Rate
<!-end of code-->
Clark Pampanga Weather
<!-Weather in Angeles City, Philippines on your site - HTML code - weatherforecastmap.com -- ><!-end of code-->