BRIEF
BACKGROUND: For decades it was known simply as the Clark US Air Force Base, home to American pilots serving in the Pacific. Today, with the pilots long gone, the Clark Special Economic Zone (CSEZ) is setting out to become the hub for business, industry, aviation, and tourism in the Philippines as well as the entertainment and gaming centre of Asia.
Almost the size of Singapore, the CSEZ occupies more than 28,000 hectares. It is strategically located within the central Luzon provinces of Pampanga and Tarlac, a pleasant one-and-a-half hour's drive from Metro Manila along the scenic, tree-lined Northern Luzon Expressway.
Clark: Mixing Business and Leisure
Whether its leisure after business, business as leisure, or business in leisure you fancy, in Clark numerous choices awaits even the most discriminating business traveler or visitor. Duty free shopping, fine dining to unwind after a hard days work? Choose from the 11 duty free shops and numerous bars and restaurants located inside the secured boundaries of the zone. Mix business, leisure and fitness in any of the world-class championship golf courses at the Mimosa Fontana Resort and Country Clubs. Accommodation is never a problem; stay at the Holiday Inn Clark, the Mimosa, Montevista or Fontana Villas for premium service for very reasonable rates. Loads of choices, and you havenโ€™t left the economic zone yet.
Step out of Clark and literally thousands more adventures, and destinations await you in the place where celebration is a way of life. Enjoy sky diving, off-road driving, or go on an aerial tour of Mt. Pinatubo, over the weekend maybe? Join the thrill of the Hot Air Balloon Fiesta in January, marvel the world-renown Cutud Lenten Rites in March or April, the colorful Apung Iru Fluvial Festival in June, Fiestang Kuliat in October, or the longest Christmas celebration culminating with the Giant Lantern Festival of San Fernando. The possibilities are year round as they are limitless.You can even make leisure your business should you invest in any of housing, leisure and tourism-related investment packages available. Who sayโ€™s that one should not mix business with leisure. At Clark, how to mix work with play may be the more difficult choice. Worry not, the Marketing Department is on stand-by and ready to assist you in your next business-with-leisure trip.


Mimosa Leisure Estate

A pioneering project fast taking shape in Clark is the 188-hectare Mimosa Leisure Estate, developed by Mondragon Leisure and Resorts Corporation, a subsidiary of Mondragon International Philippines, Inc. Former Philippine Tourism Secretary Jose Antonio Gonzalez, who heads the Mondragon group, envisions developing the estate as a world class leisure and recreation destination, set amidst centureis-old Mimosa rain trees – from which it dereives its name. The Estate has since opened the 86-hectare Mimosa Gold and Country Club with a 27-hole championship golf course, international standard accomodation at the Holiday Inn, restaurants and access to more than 11 duty free stores.
Other entertainment facilities including a water theme park, and casinos are in the pipeline. The first casino, Mimosa Regency is now open near the Holiday Inn, bringing opulent Las Vegas-style gaming traditions to Asia.
Gonzalez foresees opening one casino every year to a total of five gaming facilities. Even in its early development stage, the Mimosa Leisure Estate has the facilities to satisfy the most discerning business traveller and convention delegate. And its variety of indoor and outdoor activities will keep leisure travellers happy, according to Michael Weiss, general manager of Holiday Inn Resort Clark Field.
A key component in Clark's rebirth is the ongoing conversion from military airport into a civilian facility. "With the airport being here and with the private sector having the vision to make it happen, I believe we have the ingredients to turn Calrk into a top business and leisure destination," said Weiss.
Getting to the Clark Special Economic Zone is easy. By car, take the North Luzon Expressway from Manila, Philippines and exit at Dau, Mabalacat. Make a left turn towards Angeles City then a right to Clark. The trip should take about an hour and a half from Manila.
Commuter Bus service terminal is located at the SM Megamall Bldg A from Manila to Clark. Schedule trip is 7:00am and 12:00pm.
The Diosdado Macapagal International
Airport
With the Diosdado Macapagal International Airport(CRK) as the centerpiece of development, Clark is directed towards becoming an airport-driven metropolis that will spur growth within the region.
The 2500-hectare airport complex is one of the biggest in Asia with two (2) 3.2-kilometer parallel runaways that can be extended further to 4 kilometers.
It can easily accommodate the new generation of large and wide-bodied aircrafts such as the Airbus 380.
At present, the airport facilitates cargo operations, but it is projected to be the countryโ€™s main international gateway for all forms of commercial aviation in the future.
With the DMIA as the next premier international gateway, not only time sensitive goods processing,
e-commerce and distribution facilities are being drawn but also corporate headquarters, regional offices and professional services that require long distance travel for their employees.
Domestic Airlines

South East Asian Airlines/ Sea Air (DG) (Manila, Philippines Based Airlines click HERE for route Map)
Schedule are subject to change w/out prior notice
Manila,Philippines (MNL) to Clark Philippines(CRK) Vise Versa
MNL – CRK 14:00 14:30 DG125 Tue, Thu
MNL – CRK 18:00 18:30 DG127 Mon, Wed, Fri and Sun
CRK – MNL 09:15 09:45 DG126 Daily Except Sunday
Clark Philippines(CRK) to Cebu Philippines (CEB) Vise Versa
CRK – CEB 08:00 09:45 DG141 Tue, Fri
CEB – CRK 16:05 17:40 DG144 Mon, Thu
Clark Philippines(CRK) to Busuanga Philippines (USU) Vise Versa

CRK – USU 09:15 11:50 DG126/435 Daily Except Sunday
USU – CRK 12:10 14:30 DG436/125 Tue
USU – CRK 16:10 18:30 DG456/127 Mon, Wed, Fri and Sun
Clark Philippines(CRK) to Boracay (Caticlan) Philippines (MPH)
Vise Versa
CRK – MPH 08:00 08:45 DG141 Tue, Fri Direct
CRK – MPH 09:15 11:35 DG126/717 Daily Except Sunday
MPH – CRK 16:55 17:40 DG144 Mon, Thu Direct
MPH – CRK 11:55 14:30 DG718/717 Tue, Thu
MPH – CRK 16:25 18:30 DG736/127 Daily Except Saturday
International Airlines
Air Asia and Tiger Airways offer affordable cheap flights. Now everyone can fly as they say in their slogan. This includes the low terminal fee of 350 in Diosdado Macapagal International Airport. Click HERE the news link.


Air Asia Airlines (Kualalumpur Malaysia Based Airlines click HERE for route Map)
Daily Flights from Clark Philippines(CRK) to Kualalumpur, Malaysia(KUL)
& Kota Kinabalu, Malaysia (BKI)

Tiger Airways (Singapore Based Airlines click HERE
for route Map)
Daily flights from Clark Philippines (CRK) to Singapore (SIN)
Schedule are subject to change w/out prior notice
CRK – SIN 11:15 14:50 TR503 Tue, Thu
CRK – SIN 11:15 14:50 TR503 Sun, Mon, Wed, Fri
CRK – SIN 18:45 22:20 TR509 Sat Only
SIN – CRK 07:00 10:35 TR502 Tue, Thu
SIN – CRK 07:00 10:35 TR502 Sun, Mon, Wed, Fri
SIN – CRK 07:00 14:30 TR508 Sat Only
WHERE TO DINE
Once inside Clark, the are a number of dining places to go to for a break; Oriental Cafรฉ, Manyaman, McDonald's, the Hollywood Steakhouse, Four Season's Restaurant, Chowking, Pizzacato and the Ice Cream Churn.
PLACES OF INTEREST
SALAKOT – One of the most popular landmarks in the Zone, this giant native hat was built in January 1979 commemorating the historic signing of the 1979 RP-US Military Bases Agreement which cofered complete sovereignty over all US military bases upon the government.
BASE CEMETERY – The burial place of close to 8,000 US military and civilian personnel who died during the Spanish-American.
PARADE GROUND – Marking the grounds are the original outposts of Fort Stotsenburg. The area was a venue for many inportant celebrations by the Americans.
BARN HOUSES – These were the first official residences of the base commanders in the early 1900′s. One of them became the residence of the Commander of the Japanese Imperial Army.
LILY HILL – A strategic observation post for monitoring Japanse movement in World War II. Remains of Japanese aircraft and other similar aircraft were found here at the end of the war.
KEY DEVELOPMENT AREAS – Clark Field's initial phase of development will comprise a core area of 4,440 hectares.
Civil Aviation Area – 1,620 hectares
Industrial Area – 1,020 hectares
TOURIST ATTRACTIONS
HISTORICAL ATTRACTION
HISTORICAL ATTRACTION
Pampanga's oldest church is a fascinating work of architecture with its classic altar in antique carved design and dรฉcor blending with religious frescoes reminiscent of neoclassic works of European Art. Built between 1754, this church has impressive paintings on its ceiling and walls with fine sculpture and paintings in gold dust.
BETIS ARTESIAN WELL (Betis, Guagua)
ST. PETER SHRINE (Apalit)
This building serves as the permanent residence of the life-size ivory image of St. Peter who is reverently called "Apung Iru" by the towns people. The image brought from Spain to the Philippines in one religious voyage.
NATURAL ATTRACTION
MT. ARAYAT NATIONAL PARK (San Juan Bano, Arayat)
The 3,564 feet high mountain at Barrio Bano, Arayat, features a natural park complete with exquisite swimming pools recreational halls and picnic huts. One would be delgihted to experience the cool breeze, naturl spring water that fall from the mountains. This park is two(2) kilometers away from the town proper of Arayat.
SCENIC CANDABA SWAMPS (Candaba)
A bird sanctuary and a haven for bird watchers, thousands of wild ducks migrate here during winter in China.
MAN-MADE ATTRACTION
PASKUHAN VILLAGE (San Fernando, Pampanga)
The first of tis kind in Asia the world's third, Paskuhan Village has all the elements of traditional Filipino heritage under one roof, aiming to depict Philippines Christmas all year round. It is projected to be a major trade and tourism center not only in the region but throughout the country.
PERMANENT GARDENS (Paskuhan Village)
Featuring the world's best variety of tropical plants, flowers and foliage in an outdoor setting that will pay tribute to the "Gardens of the World" theme of "Florikultura '98."
PAMPANGA AGRICULTURAL COLLEGE (Magalang)
A state-owned educational institution ideally located at the scenic foot hills of Mt. Arayat where a conference pavillion and natural swimming area were developed by the Philippine Tourism Authority.
---
If this article about Clark is useful to you,
please click here to contact us
to tell us what more you wish to know about this article or Clark Philippines, which can be something about Clark investment, about Clark resorts, about Clark Swimming and Leisure or simply general news about Clark.
---
Please send questions to
Editor@ClarkPhilippines.com
. Leave your name, email address, contact numbers and we will get back to you as soon as possible. Information received will not be disclosed.
---
Random
Search
Contact Clark Philippines
Politics & Opinion
Promote Your Business
Recent News & Press Releases
Flight Schedules
Diosdado Macapagal International Airport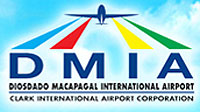 Check flight schedules to and from Clark Freeport
here
Exchange Rate
<!-Currency Converter widget - HTML code - fx-rate.net -->
   Philippine Peso Exchange Rate
<!-end of code-->
Clark Pampanga Weather
<!-Weather in Angeles City, Philippines on your site - HTML code - weatherforecastmap.com -- ><!-end of code-->