ORANI, Bataanโ€"The Department of Environment and Natural Resources (DENR) has cancelled the construction of a viewing deck on area carved out of a mountain in the upland village of Tala here.
The DENR provincial office on Thursday said the project was cancelled and studies are being made where to place the viewing deck but definitely not in Sitio Binutas, a mountainous area in Tala, where it was first proposed.
The place was called Binutas, some seven kilometers uphill from Tala, because a company carved a road out of the mountain for its geothermal exploration project.
โ€œBinutas is potential tourism area where mountain climbers and hikers pass so DENR thought of putting-up a viewing deck as monitoring station and where the caldera of Mt. Natib and big portions of BNP (Bataan National Park) can be fully viewed,โ€ forester Ed Kabigting, newly-assigned BNP Protected Area Superintendent (PASu) said.
Kabigting said the winning contractor has just begun digging in the area but encountered some problems and decided not to go on with the project.
โ€œI cannot say if there was a harassment or what. But the contractor appealed to construct the viewing deck in another place,โ€ he said.
The PASu said DENR funded the two-story viewing deck for more or less P1 million.
Some residents have expressed opposition to the proposed viewing deck in Sitio Binutas.
They argued that the infrastructure would distract the full view of Mt. Natib and portions of the BNP.
Kabigting said the BNP is composed of 18,335 hectares extending from the towns of Hermosa, Orani, Samal, Abucay, Bagac and Morong and Balanga City.
http://www.headlinegl.com/construction-of-viewing-deck-on-bataan-mountain-cancelled/
Small and medium businesses in Clark Philippines have a lot of interesting and unique products and services to offer but very few outside of Clark Freeport including potential customers in nearby Pampanga Angeles City, Subic, San Fernando and Manila ever hear about them. Market obscurity has led to slow growth in businesses inside Clark Freeport Zone and this is not being rectified as a new public service web site has been created to allow Clark locators to promote their services and products without any charge. Clark Pampanga is a fast growing city and businesses in Manila are making their move to either expand into or relocate to Clark Philippines.
The ClarkPhilippines.com web site is a community service web site dedicated to helping small businesses operating in Clark Freeport, Angeles City and vicinities like Subic and other cities in Pampanga or Tarlac even, to promote their products and services through internet visibility. There is no charge to these services.
Aside from products and services, news releases and product announcements can also be posted free of charge on ClarkPhilippines.com web site.
Where to go in Clark? Hotel Clark Philippines is a De Luxe Hotel in Clark and Subic, a risk free place to stay, cozy and nice ambience, a nice function place for special occasion
You might want to check also the Yats Restaurant is the best restaurant for special dinner, best restaurant for dinner with friends near Manila, also the best place to celebrate special events.
Famous Restaurant in Pampanga, a place to dine with friends in Clark, cozy restaurant with a nice ambience, a nice function place for special occasions. Looking for a restaurant in Clark for a Business meeting? Or a place to eat with friends? Yats Restaurant offers exclusive dinner venue for groups, a good place to celebrate special occasions, it can be a party venue in town. Yats Restaurant is a recommended restaurant for private dinner in Philippines, a well-recognized restaurant that serves good food and good wines for dinner.
Are you looking for an attractive restaurant or a nice place to eat with friends in Clark, Angeles City Pampanga? Yats Restaurant and Wine Bar is a restaurant with good food and good wines for dinner located at Clark Angeles City Pampanga. Perfect for exclusive dinner venues for groups, recommended for private dinner in Philippines. A Restaurant in Clark for business dinner meeting. Private dinner place or dinner restaurant in Clark Subic Near Manila Angeles City Pampanga. Yats Restaurant is one of the Good Restaurant in Pampanga Angeles City Clark near Manila.
Looking for interesting hotels near Manila Subic Clark Angeles City Pampanga?
Trouble free hotels and well recognized hotels in Subic Clark Angeles City Pampanga
Clearwater Resort and Country Club offers a good place to stay in Subic Clark Angeles City Pampanga. In offers nice place to have rest in Subic Pampanga outside Manila.
One of the Philippines top hotels in north Luzon.
This web site contains articles and information that will be helpful to visitors, residents and tourists traveling out of town from Manila on a short getaway to Subic, Angeles City, Pampanga and Clark Philippines. There are several web sites that contain information that might also be pertinent to what is happening in North Luzon, Subic, Tarlac, Pampanga, Clark Freeport Philippines.
Looking for a party venue in town?
Clearwater Resort and Country Club is one of the ideal venues for birthday party because it is a risk free venue. Not only Birthday Parties but also a good place to enjoy family reunion. A good place to celebrate special occasions. Clearwater Resort and Country Club is one of the resorts in Subic Clark Angeles City Pampanga or near Manila with activity amenities, place that are nice for celebration.
Wedding couples looking for wedding reception venues and beach wedding venues can log on to this Philippines Wedding Venue web site for free information and assistance:

For assistance with lodgings, accommodations, hotels and resorts near Manila in Subic, Pampanga, Angels City and Clark Philippines log on to http://www.HotelClarkPhilippines.com
While in Clark, one might as well add to the itinerary a visit to the famous Clark Wine Center, the largest wine shop in Philippines which offers over 2000 selections of fine vintage wine from all wine regions, vintages spanning over 50 years covering all price ranges.
http://www.ClarkWineCenter.com
---
If this article about Clark is useful to you,
please click here to contact us
to tell us what more you wish to know about this article or Clark Philippines, which can be something about Clark investment, about Clark resorts, about Clark Swimming and Leisure or simply general news about Clark.
---
Please send questions to
Editor@ClarkPhilippines.com
. Leave your name, email address, contact numbers and we will get back to you as soon as possible. Information received will not be disclosed.
---
Random
Search
Contact Clark Philippines
Politics & Opinion
Promote Your Business
Recent News & Press Releases
Flight Schedules
Diosdado Macapagal International Airport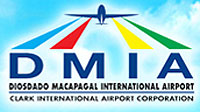 Check flight schedules to and from Clark Freeport
here
Exchange Rate
<!-Currency Converter widget - HTML code - fx-rate.net -->
   Philippine Peso Exchange Rate
<!-end of code-->
Clark Pampanga Weather
<!-Weather in Angeles City, Philippines on your site - HTML code - weatherforecastmap.com -- ><!-end of code-->