CLARK FREEPORT โ€" The first Image Maximum (IMax) theater in Central Luzon formally opened Thursday night for the movie goers to enjoy the latest technology in the entertainment and showbiz industry at SM Clark here.
SM Prime Holdings Inc. President Hans Sy was the guest of honor in the ceremonial ribbon cutting as IMax made its debut at the Cinema lobby of SM Clark.
IMAX Clark will grab your senses, for it has no frame and the pictures are bigger, higher and wider than any ordinary theatre. The sensation is intensified by the sound. Itโ€™s all around you and itโ€™s real โ€" so much so that the whole experience is visceral.
IMax movies have the highest-resolution cameras in the world, projection lights so bright you can see them from the moon. A sound system so precise you can hear a pin drop from across the room and know exactly where it fell.
IMAX theatre is customized with patented screen and seating design to ensure moviegoers are always at the center of the action.
Edgar Tejeron, Senior Vice President of the West Avenue Theatre Corporation, also graced the event. SM-Clark IMAX presented The Avengers in its special screening for VIPโ€™s and invited guests. โ—Marna Dagumboy-del Rosario
Philippines Clark Freeport offers attractive investment opportunities. Assistance in law, taxes and other business and investment matters can be obtained from Clark Business and Investment Assistance.
Clark Philippines operates under a slightly set of rules from the rest of the country. There are many advantages but as usual, there are also areas that investors need to be well apprised to avoid unnecessary problems.
Clark Freeport Zone offers many attractive incentives that collectively make it a good business investment opportunity as well as a wonderful choice for semi- or full-retirement. In addition to the tax incentives of a Freeport Zone, Clark has a remarkably good record in terms of crime rate. In fact, there is no recollection of any major crimes inside Clark Freeport Zone at all and even minor crimes are rare and far between. Whereas traffic and pollution are two major deterrents to retiring, living or setting up a business in major cities in the Philippines such as Manila and Cebu, Clark Freeport are not marred by these problems. Clark is blessed by good infra structures left behind by the Americans built when Clark was their largest foreign airbase.
Investors are well advised to obtain legal counseling as the first step of their exploration of investment opportunities in Clark Freeport. Clark Business and Investment Assistance is well experienced to offer this service to would-be investors โ€" called locators. This outfit can also address tax concerns but more importantly helps investors navigate the tricky waters of finalizing a deal. Clark Pampanga is a fast growing city and businesses in Manila are making their move to either expand into or relocate to Clark Philippines.
Where to go in Clark? Hotel Clark Philippines is a De Luxe Hotel in Clark and Subic, a risk free place to stay, cozy and nice ambience, a nice function place for special occasion
You might want to check also the Yats Restaurant is the best restaurant for special dinner, best restaurant for dinner with friends near Manila, also the best place to celebrate special events.
Famous Restaurant in Pampanga, a place to dine with friends in Clark, cozy restaurant with a nice ambience, a nice function place for special occasions. Looking for a restaurant in Clark for a Business meeting? Or a place to eat with friends? Yats Restaurant offers exclusive dinner venue for groups, a good place to celebrate special occasions, it can be a party venue in town. Yats Restaurant is a recommended restaurant for private dinner in Philippines, a well-recognized restaurant that serves good food and good wines for dinner.
Are you looking for an attractive restaurant or a nice place to eat with friends in Clark, Angeles City Pampanga? Yats Restaurant and Wine Bar is a restaurant with good food and good wines for dinner located at Clark Angeles City Pampanga. Perfect for exclusive dinner venues for groups, recommended for private dinner in Philippines. A Restaurant in Clark for business dinner meeting. Private dinner place or dinner restaurant in Clark Subic Near Manila Angeles City Pampanga. Yats Restaurant is one of the Good Restaurant in Pampanga Angeles City Clark near Manila.
This web site contains articles and information that will be helpful to visitors, residents and tourists traveling out of town from Manila on a short getaway to Subic, Angeles City, Pampanga and Clark Philippines. There are several web sites that contain information that might also be pertinent to what is happening in North Luzon, Subic, Tarlac, Pampanga, Clark Freeport Philippines.
Looking for a party venue in town?
Clearwater Resort and Country Club is one of the ideal venues for birthday party because it is a risk free venue. Not only Birthday Parties but also a good place to enjoy family reunion. A good place to celebrate special occasions. Clearwater Resort and Country Club is one of the resorts in Subic Clark Angeles City Pampanga or near Manila with activity amenities, place that are nice for celebration.
Looking for interesting hotels near Manila Subic Clark Angeles City Pampanga?
Trouble free hotels and well recognized hotels in Subic Clark Angeles City Pampanga
Clearwater Resort and Country Club offers a good place to stay in Subic Clark Angeles City Pampanga. In offers nice place to have rest in Subic Pampanga outside Manila.
One of the Philippines top hotels in north Luzon.
Wedding couples looking for wedding reception venues and beach wedding venues can log on to this Philippines Wedding Venue web site for free information and assistance:

For assistance with lodgings, accommodations, hotels and resorts near Manila in Subic, Pampanga, Angels City and Clark Philippines log on to http://www.HotelClarkPhilippines.com
While in Clark, one might as well add to the itinerary a visit to the famous Clark Wine Center, the largest wine shop in Philippines which offers over 2000 selections of fine vintage wine from all wine regions, vintages spanning over 50 years covering all price ranges.
http://www.ClarkWineCenter.com
---
If this article about Clark is useful to you,
please click here to contact us
to tell us what more you wish to know about this article or Clark Philippines, which can be something about Clark investment, about Clark resorts, about Clark Swimming and Leisure or simply general news about Clark.
---
Please send questions to
Editor@ClarkPhilippines.com
. Leave your name, email address, contact numbers and we will get back to you as soon as possible. Information received will not be disclosed.
---
Random
Search
Contact Clark Philippines
Politics & Opinion
Promote Your Business
Recent News & Press Releases
Flight Schedules
Diosdado Macapagal International Airport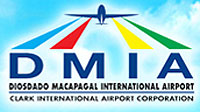 Check flight schedules to and from Clark Freeport
here
Exchange Rate
<!-Currency Converter widget - HTML code - fx-rate.net -->
   Philippine Peso Exchange Rate
<!-end of code-->
Clark Pampanga Weather
<!-Weather in Angeles City, Philippines on your site - HTML code - weatherforecastmap.com -- ><!-end of code-->