List of good restaurants in Clark places Yats Restaurant as the only fine dining restaurant in Pampanga


As Clark Freeport becomes increasingly busy with more arrivals of international business travelers and visitors from other Asian countries coming to Philippines for golf or vacation, the demand for good restaurants in Clark become stronger than ever. Well regarded as one of the best restaurants in Clark and the only fine dining restaurant in Pampanga, Yats Restaurant and Wine Lounge has been entertaining food and wine lovers from Manila and tourists from all over the world looking for a really good restaurant in Clark to wine and dine and enjoy really good food with fine wine.

Yats Restaurant and Wine Lounge
is also lauded by Manila and Pampanga wine lovers for organizing public events that involve wine tasting and food-wine pairing. This gives local residents of Pampanga as well as visitors enjoying Clark for holidays and golf a good way to enjoy an evening in Clark, drink good wines, enjoy good food and maybe meet some new friends also.
More and more, frequent diners from Manila, Angeles City, Subic and other major cities in Asia travel to North Luzon Pampanga Clark Freeport to enjoy good food in a romantic fine dining restaurant. On their list of requirements is a good wine list that not only offers a wide selection of wines from different countries but also older vintages that can be enjoyed now and not ten years later. Classic fine dining is the experience that guests of Clark Philippines' Yats Restaurant & Wine Bar offers to their guests. Although this is an upscale fine dining establishment, families find the restaurant to be very children friendly.
Yats Restaurant and Wine Lounge
Mimosa Drive past Holiday Inn, Mimosa Leisure Estate,
Clark Freeport Zone, Pampanga, Philippines 2023
(045) 599-5600 0922-870-5194 0917-520-4401 Lito or Cosh
Manila Sales Office
3003C East Tower, Phil Stock Exchange Center,
Exchange Rd Ortigas Metro Manila, Philippines 1605
tel: (632) 637-5019 0917-520-4393 0926-686-5955 Rea, Gerlyn or Chay








Fine dining in Manila Philippines, wine and dine at Yats Restaurant & Wine Bar, great wine list, highly recommended place for business dinners. This well-known restaurant also offers gourmet vegetarian menu and exciting wine-paired set menus perfect for executive dining.
Email: Restaurant@Yats-International.com


Manila dining guide lauds Yats Restaurant for its award winning wine list befitting a world class fine dining establishment, a restaurant that many consider to be the best place to eat in Clark. Interesting enough, this upscale top rated restaurant in Clark Pampanga is also frequently visited by families with children. Visitors from Manila travel to Angeles City Pampanga Clark Philippines often dine at Yats Restaurant during a night out to enjoy its cozy ambience, delicious food, good service and fantastic selection of wine all at reasonable prices.

Each year, world leading wine and dining magazine called Wine Spectator gives out a special award to restaurants offering the best wine selections. The Best of Awards of Excellence is given out to 800 of the best restaurants worldwide. Here in the Philippines, Yats Restaurant and Wine Bar is the only one to receive this prestigious international award. This restaurant in Clark Pampanga is already well known as one of the best restaurants in the Philippines. With this award, this fine dining establishment puts Philippines, Clark Pampanga on the map of the international dining scene.
Restaurant wine lists are judged not for the number of impressive big names on the wine list but more on how interesting the wine selection is for the dining guests. Breadth of selection covering all the major wine producing regions of the world is an important aspect of a restaurant wine list and so is the depth of vintages offered. Yats Restaurant has long been recognized internationally as one of the best places to wine and dine for wine lovers and those who are used to world class gourmet dining. Winning this international restaurant award places the Philippines on the map of international travelers who are accustomed to fine dining at a world-class level. The famous restaurant wine list of this top rated restaurant in Clark Pampanga serves as an icon in the Philippines for international wine lovers coming over to visit the Philippines on business or leisure.
Getting to this fine dining restaurant of Angeles City Clark Freeport Zone Pampanga Philippines
How to get to this fine-dining restaurant in Clark Philippines?
Once you get to Clark Freeport, go straight until you hit Mimosa. After you enter Mimosa, stay on the left on Mimosa Drive, go past the Holiday Inn and Yats Restaurant (green top, independent 1-storey structure) is on your left. Just past the Yats Restaurant is the London Pub.
Yats Leisure Philippines is a Hong Kong based company which owns and operates several establishments in Clark Pampanga. For more information about Yats, please log on to http://www.YatsLeisure.com
Wine lovers and visitors looking for a good wine shop to pick up a few bottles of fine vintage wines for dinner at one of the of the good places to eat in Pampanga or to bring home to Manila from Angeles City, Subic, Pampanga, Clark Philippines might want to check out the famous wine shop of Yats Wine Cellars called Clark Wine Center. Log on to www.ClarkWineCenter.com
Wine enthusiasts who are interested to find out more about wine, stayed current on news about wine as well as other related food and beverage topics, may want to log on to this popular wine web site:
www.YatsWineCellars.com
You may click here to contact Yats Wine Cellars for inquiries and orders
Facebook:
Click here to sign up to be a friend of Yats Wine Cellars to keep abreast of what's happening in the wine scene in Philippines.
Besides good and impressive restaurants to wine and dine near Manila, Subic or in Angeles City Pampanga, Clark Philippines, those requiring assistance for hotel and resort bookings in Clark, Pampanga, Philippines may log on to http://www.HotelClarkPhilippines.com for more information and reservations.

Clark Pampanga is not only frequently visited for its good restaurants and fine dining establishments, it is also a highly recommended wedding destination especially for couples looking for outdoor garden reception venues and beach weddings. For assistance and information on wedding venues and how to organize a wedding reception, log on to http://www.PhilippinesWeddingVenue.com
Those visitors who plan to relax and unwind in Angeles City, Subic, Pampanga, Clark Philippines might make an effort to book a room at the famous beach and lake resort Clearwater Resort & Country Club. This famous hotel in Clark Pampanga is frequently visited by families with children looking for a good place in Clark to see, a good holiday destination for the family to relax and unwind in the beautiful outdoor facilities. For more information, log on to www.ClearwaterPhilippines.com
For information about working, living, doing business or finding a job in the Philippines, log on to http://www.yilp.com
---
If this article about Clark is useful to you,
please click here to contact us
to tell us what more you wish to know about this article or Clark Philippines, which can be something about Clark investment, about Clark resorts, about Clark Swimming and Leisure or simply general news about Clark.
---
Please send questions to
Editor@ClarkPhilippines.com
. Leave your name, email address, contact numbers and we will get back to you as soon as possible. Information received will not be disclosed.
---
Random
Search
Contact Clark Philippines
Politics & Opinion
Promote Your Business
Recent News & Press Releases
Flight Schedules
Diosdado Macapagal International Airport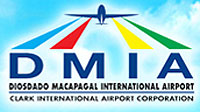 Check flight schedules to and from Clark Freeport
here
Exchange Rate
<!-Currency Converter widget - HTML code - fx-rate.net -->
   Philippine Peso Exchange Rate
<!-end of code-->
Clark Pampanga Weather
<!-Weather in Angeles City, Philippines on your site - HTML code - weatherforecastmap.com -- ><!-end of code-->