The more age-worthy a wine, the more likely it's going to need recorking at some point in its life. And, while the procedure is something you can try at home, it's not a procedure to be done carelessly or taken lightly. If it were me and the wine in question was worth hundreds, never mind thousands of dollars, I'd summon an expert, leaving nothing to chance.
But those who collect the great Penfolds wines have the best option of all. The famous Australian winery's head winemaker, Peter Gago, travels around the world with several of his assistants each year to handle the recorking himself.
When Gago brought the Penfolds "clinic" to Houston in September, he joked that he's mostly motivated by all the frequent flyer miles he can collect. In reality, Penfolds hit upon a brilliant marketing plan when they launched these globe-trotting clinics in 1991. Gago and his assistants get quality face time with their best customers – the people who have the legendary Grange and other prized Penfold collectibles in their cellars – and they perform a necessary service for both the winery and the owner of the wine bottle.
"It allows us to assess how our wines are aging and give the client our recommendations on when they should be drunk," Gago said. "There's rarely a problem with wines that have been stored our cellars, but once we sell a bottle, we don't know what happens to it. Storage is so crucial to protecting wine."
Before his Houston visit, Gago conducted a clinic in New York in which he recorked a 60-year-old bottle of Grange worth $50,000.
To everyone's relief, it was doing splendidly. It got a new cork and a new capsule, then was returned to the owner's cellar.
Even corks in perfect condition allow some wine to evaporate over time – ullage – which is easily observed by how much space there is between the top of the liquid and the bottom of capsule. Penfolds has developed a system using a color-coded card that fits snugly against the neck of the bottle to visually illustrate the owner if recorking is necessary.
Because owners of rare and prized bottles can be reluctant to allow recorking – there's always risk in exposing wine to air – the card removes the angst from the decision.
If the gap is less than eight centimeters deep (the green zone), recorking is most likely unnecessary. If the gap exceeds 9.5 centimeters (the red zone), you might as well pop the cork, swallow hard, then swallow the wine. If it's still good, say "hallelujah!" and quickly throw a party. Penfolds will recork these wines and top them off, but they won't recertify them, meaning they won't be auction-worthy.
It's the wines with gaps (or what's also called "la part des anges," which means the angel's share) between eight and 9.5 centimeters that most profit from recorking.
If Gago or a team member pronounces the bottle sound after tasting, it gets topped off with the current vintage of the same wine – i.e., old Grange gets new Grange – a replacement capsule is put in place and a signed, computer-coded certification sticker is attached to the back of the bottle.
Then it's wrapped in white tissue paper, just as a new one would be.
I'd always thought the tissue was just a fancy finishing touch – you never see the stuff on supermarket wines, after all – but Gago corrected me.
"Tissue," he said, "makes it easy to tell if a bottle is leaking. That's why you should keep it there."
Penfolds recorks, free of charge, any of its wines that are least 15 years old. The team travels with a state-of-the-art single-bottle-at-a-time corking machine.
They also offer current-release tastings while you wait for your appointment. The gregarious Gago has been with Penfolds for 23 years and took over for the departed John Duval as Penfold's cellar chief in 2002.
Now, a decade on, he's the world's reigning "Winemaker of the Year," as chosen by the Institute of Masters of Wine in February. Gago loves hitting the road during what should be his quiet season because it permits him to revisit wines he had a hand in making and also meet the folks who treasure them. Spreading good will and providing an important service – plus collecting all those frequent-flier miles – makes for a happy traveler.
http://www.chron.com/life/food/article/Taking-the-trauma-out-of-recorking-wine-3933016.php
Manila families with small children looking for an accessible place for kids to have fun frequently visit private resort in Clark Pampanga to unwind relax in family bonding, top venue for reunion.
Some hotels and resorts offer free WIFI Internet connection to guests. This includes beach resort of Clearwater which also offers free Internet connection in the room as well as in the outdoor areas even near the beach and by the lake.
Fine dining restaurants like Yats Restaurants and Wine Bar also offers good internet connection to their guests. Highly recommended bar, pub and nightlife spot The London Pub located inside Mimosa also offers good internet connection to guests.
The London Pub is a classic English Gastropub frequented by local expats and business community. It serves up good food, plenty of excellent vintage wine by the glass and a good selection of Cuban cigars. The ambience is old English, dark wood, comfortable and relaxed.
Where to go in Clark? Hotel Clark Philippines is a De Luxe Hotel in Clark and Subic, a risk free place to stay, cozy and nice ambience, a nice function place for special occasion
You might want to check also the Yats Restaurant is the best restaurant for special dinner, best restaurant for dinner with friends near Manila, also the best place to celebrate special events.
Famous Restaurant in Pampanga, a place to dine with friends in Clark, cozy restaurant with a nice ambience, a nice function place for special occasions. Yats Restaurant is one of the good restaurants in Pampanga, a restaurant with good food, a place that is nice for celebration, ideal for business dinner meeting, a good place to enjoy family reunion, and an attractive restaurant that serves good wines for dinner.
Are you looking for an attractive restaurant or a nice place to eat with friends in Clark, Angeles City Pampanga? Yats Restaurant and Wine Bar is a restaurant with good food and good wines for dinner located at Clark Angeles City Pampanga. Perfect for exclusive dinner venues for groups, recommended for private dinner in Philippines. A Restaurant in Clark for business dinner meeting. Private dinner place or dinner restaurant in Clark Subic Near Manila Angeles City Pampanga. Yats Restaurant is one of the Good Restaurant in Pampanga Angeles City Clark near Manila.
Frequent travelers and visitors staying in Angeles City Pampanga Clark Philippines look for restaurants, coffee shops, bars, pubs, hotels and resorts in Clark that serve high quality Nespresso coffee to guests. Here are some of the highly recommended places in Clark that offer good gourmet Nespresso coffee.
Looking for interesting hotels near Manila Subic Clark Angeles City Pampanga?
Trouble free hotels and well recognized hotels in Subic Clark Angeles City Pampanga
Clearwater Resort and Country Club offers a good place to stay in Subic Clark Angeles City Pampanga. In offers nice place to have rest in Subic Pampanga outside Manila.
One of the Philippines top hotels in north Luzon.
This web site contains articles and information that will be helpful to visitors, residents and tourists traveling out of town from Manila on a short getaway to Subic, Angeles City, Pampanga and Clark Philippines. There are several web sites that contain information that might also be pertinent to what is happening in North Luzon, Subic, Tarlac, Pampanga, Clark Freeport Philippines.
Looking for a party venue in town?
Clearwater Resort and Country Club is one of the ideal venues for birthday party because it is a risk free venue. Not only Birthday Parties but also a good place to enjoy family reunion. A good place to celebrate special occasions. Clearwater Resort and Country Club is one of the resorts in Subic Clark Angeles City Pampanga or near Manila with activity amenities, place that are nice for celebration.
Wedding couples looking for wedding reception venues and beach wedding venues can log on to this Philippines Wedding Venue web site for free information and assistance:

For assistance with lodgings, accommodations, hotels and resorts near Manila in Subic, Pampanga, Angels City and Clark Philippines log on to http://www.HotelClarkPhilippines.com
While in Clark, one might as well add to the itinerary a visit to the famous Clark Wine Center, the largest wine shop in Philippines which offers over 2000 selections of fine vintage wine from all wine regions, vintages spanning over 50 years covering all price ranges.
http://www.ClarkWineCenter.com
---
If this article about Clark is useful to you,
please click here to contact us
to tell us what more you wish to know about this article or Clark Philippines, which can be something about Clark investment, about Clark resorts, about Clark Swimming and Leisure or simply general news about Clark.
---
Please send questions to
Editor@ClarkPhilippines.com
. Leave your name, email address, contact numbers and we will get back to you as soon as possible. Information received will not be disclosed.
---
Random
Search
Contact Clark Philippines
Politics & Opinion
Promote Your Business
Recent News & Press Releases
Flight Schedules
Diosdado Macapagal International Airport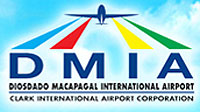 Check flight schedules to and from Clark Freeport
here
Exchange Rate
<!-Currency Converter widget - HTML code - fx-rate.net -->
   Philippine Peso Exchange Rate
<!-end of code-->
Clark Pampanga Weather
<!-Weather in Angeles City, Philippines on your site - HTML code - weatherforecastmap.com -- ><!-end of code-->