Oct 9 (Reuters) – North American winemakers are having a near perfect harvest this year in stark contrast to their European counterparts, who have suffered from bad timing and worse weather.
In Portugal some vineyards are reporting yields down 40 percent and in parts of Burgundy in France hail storms have destroyed nearly 80 percent of the harvest.
But in California's Napa Valley, after three years of below average temperatures and inopportune rain, winemakers are enjoying a banner year.
"Neither too early, nor too late; neither too hot, nor too cold, 2012 looks to be the 'Goldilocks' vintage, where everything is just right," said Christopher Howell, general manager of Cain Vineyard and Winery, referring to the story book character.
The good fortune is not limited to Californians. Winemakers in Oregon, Washington, New York state and Canada are also excited by this year's harvest.
Josie Tyabji, head of the British Columbia Wine Institute in Canada, said it has "come in right on time," and although it is a bit earlier than normal in Oregon's Willamette Valley, winemaker Luisa Ponzi says she has no complaints.
"We've been blessed with quite a bit of sun," said Ponzi, who trained in Burgundy and is the winemaker for her family's winery.
Although there were some concerns in Washington state that the harvest would be tainted by wildfires in September, tests have shown nothing wrong.
The white wines are halfway done and much of the Merlot is halfway picked, according to Kari Leitch, of Washington's Chateau Ste. Michelle Wines Estate, where the vintage is shaping up to be one of its best.
NEW NORMAL
Conditions were similar at the opposite end of the country in New York's wine-growing regions. The Hudson-Chatham winery north of New York City reported that its harvest of Seyval Blanc was well under way. It also expected good yields for their other varietals including Vidal Blanc and DeChaunac.
Richard Olsen-Harbich, of the Bedell Cellars on Long Island's North Fork, said he was harvesting a week or two early.
"Guess that's the new normal," he said, adding that his wines are similar to those produced in France and Italy.
Despite the shortage of European wines, prices globally are expected to remain little changed, except for some top level Bordeaux and Burgundies.
"The market for wine is global," said David Jaeger, a member of the American Association of Wine Economists, "so there is pressure on the Old World producers, even in tough years, to keep their prices roughly in line with the global market, with the possible exception of Premier Crus in Bordeaux and some in Burgundy.
"Most vintners will claim that their wines are a unique expression of their terroir, but consumers can likely find pretty close New World substitutes to most wines produced in Europe," he added. (Terroir refers to the local conditions that give a wine its unique characteristics.)
Rob Sands, the chief executive of Constellation Brands , which produces Robert Mondavi, Kim Crawford, Inniskillin and Ravenswood wines among many others, said he is seeing little or no movement on lower-priced wines.
http://www.reuters.com/article/2012/10/09/wine-harvest-americas-idUSL1E8L3JMJ20121009
Residents of Manila and Angeles City Pampanga are looking for a safe and convenient place to celebrate special occasions or take a shot vacation in the Philippines. Many travel north to Clark to swim at Clearwater Beach Resort which also has lake and picnic grounds to unwind and relax, a very good way to spend quality time with the family and children. Fine dining Yats Restaurant offers sumptuous cozy Christmas dinner, for wine lovers, Clark Wine Center provides exciting shopping options.
Clark Philippines also known as Clark Freeport Zone is now the preferred destination for foreign and local investments because it offers many attractive advantages including tax, safety and its own international airport
Where to go in Clark? Hotel Clark Philippines is a De Luxe Hotel in Clark and Subic, a risk free place to stay, cozy and nice ambience, a nice function place for special occasion
You might want to check also the Yats Restaurant is the best restaurant for special dinner, best restaurant for dinner with friends near Manila, also the best place to celebrate special events.
Famous Restaurant in Pampanga, a place to dine with friends in Clark, cozy restaurant with a nice ambience, a nice function place for special occasions. Yats Restaurant is one of the good restaurants in Pampanga, a restaurant with good food, a place that is nice for celebration, ideal for business dinner meeting, a good place to enjoy family reunion, and an attractive restaurant that serves good wines for dinner.
Are you looking for an attractive restaurant or a nice place to eat with friends in Clark, Angeles City Pampanga? Yats Restaurant and Wine Bar is a restaurant with good food and good wines for dinner located at Clark Angeles City Pampanga. Perfect for exclusive dinner venues for groups, recommended for private dinner in Philippines. A Restaurant in Clark for business dinner meeting. Private dinner place or dinner restaurant in Clark Subic Near Manila Angeles City Pampanga. Yats Restaurant is one of the Good Restaurant in Pampanga Angeles City Clark near Manila.
The advantages for making the move from a country like UK, USA, Japan, Korea, Hong Kong, Singapore and Australia for example, to a country like Philippines are enormous. Heavily in your favor are factors like asset values differentials and substantial reduction in cost of living. Selling off your home probably gives you enough capital to not only live comfortably in a bigger property in Philippines but also to re-establish yourself in the business community by starting a business here too.
Looking for a party venue in town?
Clearwater Resort and Country Club is one of the ideal venues for birthday party because it is a risk free venue. Not only Birthday Parties but also a good place to enjoy family reunion. A good place to celebrate special occasions. Clearwater Resort and Country Club is one of the resorts in Subic Clark Angeles City Pampanga or near Manila with activity amenities, place that are nice for celebration.
This web site contains articles and information that will be helpful to visitors, residents and tourists traveling out of town from Manila on a short getaway to Subic, Angeles City, Pampanga and Clark Philippines. There are several web sites that contain information that might also be pertinent to what is happening in North Luzon, Subic, Tarlac, Pampanga, Clark Freeport Philippines.
Looking for interesting hotels near Manila Subic Clark Angeles City Pampanga?
Trouble free hotels and well recognized hotels in Subic Clark Angeles City Pampanga
Clearwater Resort and Country Club offers a good place to stay in Subic Clark Angeles City Pampanga. In offers nice place to have rest in Subic Pampanga outside Manila.
One of the Philippines top hotels in north Luzon.
Wedding couples looking for wedding reception venues and beach wedding venues can log on to this Philippines Wedding Venue web site for free information and assistance:

For assistance with lodgings, accommodations, hotels and resorts near Manila in Subic, Pampanga, Angels City and Clark Philippines log on to http://www.HotelClarkPhilippines.com
While in Clark, one might as well add to the itinerary a visit to the famous Clark Wine Center, the largest wine shop in Philippines which offers over 2000 selections of fine vintage wine from all wine regions, vintages spanning over 50 years covering all price ranges.
http://www.ClarkWineCenter.com
---
If this article about Clark is useful to you,
please click here to contact us
to tell us what more you wish to know about this article or Clark Philippines, which can be something about Clark investment, about Clark resorts, about Clark Swimming and Leisure or simply general news about Clark.
---
Please send questions to
Editor@ClarkPhilippines.com
. Leave your name, email address, contact numbers and we will get back to you as soon as possible. Information received will not be disclosed.
---
Random
Search
Contact Clark Philippines
Politics & Opinion
Promote Your Business
Recent News & Press Releases
Flight Schedules
Diosdado Macapagal International Airport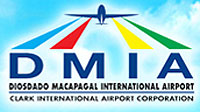 Check flight schedules to and from Clark Freeport
here
Exchange Rate
<!-Currency Converter widget - HTML code - fx-rate.net -->
   Philippine Peso Exchange Rate
<!-end of code-->
Clark Pampanga Weather
<!-Weather in Angeles City, Philippines on your site - HTML code - weatherforecastmap.com -- ><!-end of code-->