Following two of the coolest vintages on record, Oregon winemakers are now struggling to cope with one of the driest.
Gone are worries about low sugar levels and worrisome prospects of entire vineyards never fully ripening because of the long, cold springs in 2010 and 2011.
Bumping those concerns aside this year for the state's $2.7 billion commercial wine industry are soaring sugars, which can yield wines with too much alcohol, and widespread shriveling of grape clusters brought on by an almost complete lack of rainfall since July.
The result is that many vintners, feeling the need to limit potential losses, are forsaking the extended hang time needed for ideal flavor development.
"We're seeing a lot of drought stress out there, depending on the site," said Jessica Cortell, an Amity-based consultant who manages 15 vineyards and consults on another handful. "Canopies are turning yellow and leaves are dropping, forcing people to harvest sooner than later."
Continuing dry conditions mean that vineyards with irrigation systems appear to be in superior shape when compared with those pursuing dry-land farming, Cortell said.
"We've irrigated some vineyards the last few weeks and are definitely seeing a difference," she said. "Some feel strongly about not irrigating, but I see it as a powerful tool. It gives you more options."
Kevin Chambers, former president of the Oregon Wine Board and owner of Resonance Vineyard near Carlton, is among the many feeling the pinch to harvest now, before sugar levels soar out of sight.
"I'm picking like a mad man," Chambers said. "And in the end, I think we will get some very good wines from 2012."
But, since growing conditions in any particular year are so tied to the wines that vintage will produce, he elaborated — perhaps at his own peril — on his preference for cool over warm years.
"This year's wines will be big fruit bombs, very California-like," Chambers said. "I'll get shot by my cohorts for saying that, but I'd rather have years like 2008, 2010 and 2011. We truly make better wines in those years."
Elsewhere in the state's main wine-grape growing areas, similar concerns are playing out.
At Agate Ridge Vineyard in Eagle Point, increased irrigation is being credited for keeping any shriveling of grape clusters to a minimum.
"We've done a lot more short irrigation sets than we typically do, but it seems to be paying off nicely," said Kim Kinderman, the operation's general manager. "Things have been very, very dry, but the fruit is beautiful."
Kinderman expects to wrap up harvest within two weeks. Last year, by contrast, crews were still out in the vineyards well into November.
"Every year I say I wish we could have a normal harvest," she said. "I don't know that one even exists."
Scott Hagee, owner of Pheasant Valley Winery in Hood River, is thankful to have drip irrigation lines snaking through his vineyards.
"I'm only down about 10 percent from last year's crop, but people without irrigation are down considerably more than that," said Hagee, who started growing wine grapes after the bottom fell out of the apple and pear markets he'd been serving for 20 years. "If we can just get through this harvest without any extended frosts, we should be fine."
Greg Jones, a professor and research climatologist at Southern Oregon University in Ashland, forecast last winter what is happening now in vineyards across Oregon. Drawing on data from ocean and atmospheric temperature studies, he predicted that 2012 would be a rebound year from the prior two colder-than-normal seasons.
"We still have some cold water out there, but nowhere near as cold as 2010 and 2011," he said. "Some things have changed just a little bit to make this year much more normal." Another meteorological bonus is a high-altitude blocking system that's been shunting rainstorms north toward Alaska, he said.
"By now, the state of Oregon should have had three or four major rain events and we haven't had any," Jones said. "And while a lot of people had to pick a little earlier than they'd have liked this year, you are still going to see a lot of smiles on peoples' faces by the time this harvest is over."
– Dana Tims
Related topics: agate ridge vineyard, carlton, greg jones, hood river, jessica cortell, oregon wine board, pheasant valley winery, resonance vineyard, southern oregon university
http://www.oregonlive.com/business/index.ssf/2012/10/2012_oregon_wine_grape_harvest.html
Manila residents and tourists spending a vacation in Philippines prefer to travel out of town from Manila to the north to visit Subic, Pampanga, Angeles City and Clark Philippines. While many areas of the Philippines are plagued by crime and security concerns, Clark Pampanga continues to impress the travel and tourism observers with its immaculately low crime records. Other features of Pampanga Angeles City Clark that attract family tourists and those visitors that are health sensitive include low pollution, peace and quiet ambiance and a most welcome absence of traffic congestion.
Yats Restaurant is one of the good restaurants in Pampanga, a restaurant with good food, a place that is nice for celebration, ideal for business dinner meeting, a good place to enjoy family reunion, and an attractive restaurant that serves good wines for dinner.
Families with small children prefer outdoor resort in Manila clean and safe place in Pampanga Clark to bring kids to relax and unwind. Family bonding is much more effective and enjoyable in a private resort that offers large outdoor facilities, picnic grounds, beautiful scenery, peaceful and quiet ambience.
Many are selling off their assets to start a new life in Philippines, taking advantage of the standard-of-living differential to start a business or just enjoy living in a tropical country. With careful planning, the move to Philippines can work out brilliantly or it can be a painful mistake. Clark Pampanga has been the preferred destination for retirement also.
You might want to check also the Yats Restaurant is the best restaurant for special dinner, best restaurant for dinner with friends near Manila, also the best place to celebrate special events.
Are you looking for an attractive restaurant or a nice place to eat with friends in Clark, Angeles City Pampanga? Yats Restaurant and Wine Bar is a restaurant with good food and good wines for dinner located at Clark Angeles City Pampanga. Perfect for exclusive dinner venues for groups, recommended for private dinner in Philippines. A Restaurant in Clark for business dinner meeting. Private dinner place or dinner restaurant in Clark Subic Near Manila Angeles City Pampanga. Yats Restaurant is one of the Good Restaurant in Pampanga Angeles City Clark near Manila.
Famous Restaurant in Pampanga, a place to dine with friends in Clark, cozy restaurant with a nice ambience, a nice function place for special occasions
Looking for a party venue in town?
Clearwater Resort and Country Club is one of the ideal venues for birthday party because it is a risk free venue. Not only Birthday Parties but also a good place to enjoy family reunion. A good place to celebrate special occasions. Clearwater Resort and Country Club is one of the resorts in Subic Clark Angeles City Pampanga or near Manila with activity amenities, place that are nice for celebration.
This web site contains articles and information that will be helpful to visitors, residents and tourists traveling out of town from Manila on a short getaway to Subic, Angeles City, Pampanga and Clark Philippines. There are several web sites that contain information that might also be pertinent to what is happening in North Luzon, Subic, Tarlac, Pampanga, Clark Freeport Philippines.
Looking for interesting hotels near Manila Subic Clark Angeles City Pampanga?
Trouble free hotels and well recognized hotels in Subic Clark Angeles City Pampanga
Clearwater Resort and Country Club offers a good place to stay in Subic Clark Angeles City Pampanga. In offers nice place to have rest in Subic Pampanga outside Manila.
One of the Philippines top hotels in north Luzon.
Wedding couples looking for wedding reception venues and beach wedding venues can log on to this Philippines Wedding Venue web site for free information and assistance:

For assistance with lodgings, accommodations, hotels and resorts near Manila in Subic, Pampanga, Angels City and Clark Philippines log on to http://www.HotelClarkPhilippines.com
While in Clark, one might as well add to the itinerary a visit to the famous Clark Wine Center, the largest wine shop in Philippines which offers over 2000 selections of fine vintage wine from all wine regions, vintages spanning over 50 years covering all price ranges.
http://www.ClarkWineCenter.com
---
If this article about Clark is useful to you,
please click here to contact us
to tell us what more you wish to know about this article or Clark Philippines, which can be something about Clark investment, about Clark resorts, about Clark Swimming and Leisure or simply general news about Clark.
---
Please send questions to
Editor@ClarkPhilippines.com
. Leave your name, email address, contact numbers and we will get back to you as soon as possible. Information received will not be disclosed.
---
Random
Search
Contact Clark Philippines
Politics & Opinion
Promote Your Business
Recent News & Press Releases
Flight Schedules
Diosdado Macapagal International Airport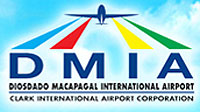 Check flight schedules to and from Clark Freeport
here
Exchange Rate
<!-Currency Converter widget - HTML code - fx-rate.net -->
   Philippine Peso Exchange Rate
<!-end of code-->
Clark Pampanga Weather
<!-Weather in Angeles City, Philippines on your site - HTML code - weatherforecastmap.com -- ><!-end of code-->