NEW YORK (Reuters) – Greek winemakers are not pricing their wares in drachmas – yet.
The winemakers, visiting New York as part of an international promotional tour, doubted Athens would leave the euro-zone even after Fitch Ratings Agency downgraded Greece's sovereign debt on Thursday, calling the country's exit from the monetary union "probable.
"No, no, no. That is not going to happen," Stellios Boutaris, whose family owns the Kir-Yianni winery, insisted. "And if that happens, we will have bigger problems than just pricing wine in drachmas."
Boutaris said he was "a guy who always sees the glass half-full…There have been so many journalists coming to talk about Greek wines because they are looking for a positive story about Greece. And right now, it is."
Attempts in Greece to form a new government collapsed this week, jolting the European single currency on prospects Greek leftists opposed to terms of an EU bailout could win a June election and the country could exit the euro.
The Greek winemakers in New York ranged from big producers to boutique vineyards and one-man shops but all said they wanted Greece to keep the single currency because of the cheaper credit and relative economic stability it brought before the current crisis.
Angelos Iatridis, a University of Bordeaux-trained winemaker who worked harvests in France and Spain before buying his own vineyard, Alpha Estate, in 1999, thought the euro's hovering near its 2012 low of $1.2623 [ID:nL1E8GHCNN] was actually good for Greek winemakers.
"It's good for us because we will be able to sell more wine abroad," Iatridis said, noting that he exports approximately 45 percent of the 300,000 bottles he produces annually.
"The political situation is not stable right now, but I believe in the next election (on June 17) that we will have a much more stable government," he said.
Credit, or the lack of it during the debt crisis, is a major problem as wine production is a capital intensive business. At any one time, Iatridis has three vintages on his estate in Amyndeon, the country's northern-most growing region.
"There is no credit. That is why we work very hard going around to promote our wines," he said, adding that before he was in New York, the New Wines of Greece promotional tour had been to Denver, Chicago, Montreal and Toronto. Next month, while other Greeks are voting, he will be trying to sell his wines in Australia.
Panagiotis Papagiannopoulos, winemaker for the tiny Tetramythos vineyards in the village of Ano Diakopto not far from the Gulf of Corinth, took a long view of the political problems: "We have seen much worse things in the past four or five decades. This is just a blip."
http://articles.chicagotribune.com/2012-05-17/news/sns-rt-us-usa-greece-winebre84g1gq-20120517_1_kir-yianni-greek-winemakers-new-wines
With new golf courses springing up in and around Clark Philippines and an ever-increasing patronage by tourists from neighboring South Korea, Clark Freeport is short on hotel accommodation.
Even with the addition of 27 holes in 2009 and 2010, there is an acute shortage golf tee times for at least 5-6 months each year. Local players compete with frustrated (golf) tourists from Korea and China for tee times. Unfortunately Clark Philippines doesn't have the luxury of vast tracts of land suitable for this type of development.
Mimosa offers 36 holes of championship golf, visitors can pay and play, busy during the weekends but not that difficult to get on or join up with a group to form a 4-ball. The new FAKCC offers 27 holes of world-class golf.
Where to go in Clark? Hotel Clark Philippines is a De Luxe Hotel in Clark and Subic, a risk free place to stay, cozy and nice ambience, a nice function place for special occasion
You might want to check also the Yats Restaurant is the best restaurant for special dinner, best restaurant for dinner with friends near Manila, also the best place to celebrate special events.
Famous Restaurant in Pampanga, a place to dine with friends in Clark, cozy restaurant with a nice ambience, a nice function place for special occasions. Yats Restaurant is one of the good restaurants in Pampanga, a restaurant with good food, a place that is nice for celebration, ideal for business dinner meeting, a good place to enjoy family reunion, and an attractive restaurant that serves good wines for dinner.
Are you looking for an attractive restaurant or a nice place to eat with friends in Clark, Angeles City Pampanga? Yats Restaurant and Wine Bar is a restaurant with good food and good wines for dinner located at Clark Angeles City Pampanga. Perfect for exclusive dinner venues for groups, recommended for private dinner in Philippines. A Restaurant in Clark for business dinner meeting. Private dinner place or dinner restaurant in Clark Subic Near Manila Angeles City Pampanga. Yats Restaurant is one of the Good Restaurant in Pampanga Angeles City Clark near Manila.
What many tourists and residents of Manila, Subic, Pampanga Angeles City and Clark Philippines found out over the holidays when they traveled out of town going north to Pampanga for a short getaway and a nice vacation was that there is a highly recommended hotel in Clark is also a very night out place.
Looking for a party venue in town?
Clearwater Resort and Country Club is one of the ideal venues for birthday party because it is a risk free venue. Not only Birthday Parties but also a good place to enjoy family reunion. A good place to celebrate special occasions. Clearwater Resort and Country Club is one of the resorts in Subic Clark Angeles City Pampanga or near Manila with activity amenities, place that are nice for celebration.
This web site contains articles and information that will be helpful to visitors, residents and tourists traveling out of town from Manila on a short getaway to Subic, Angeles City, Pampanga and Clark Philippines. There are several web sites that contain information that might also be pertinent to what is happening in North Luzon, Subic, Tarlac, Pampanga, Clark Freeport Philippines.
Looking for interesting hotels near Manila Subic Clark Angeles City Pampanga?
Trouble free hotels and well recognized hotels in Subic Clark Angeles City Pampanga
Clearwater Resort and Country Club offers a good place to stay in Subic Clark Angeles City Pampanga. In offers nice place to have rest in Subic Pampanga outside Manila.
One of the Philippines top hotels in north Luzon.
Wedding couples looking for wedding reception venues and beach wedding venues can log on to this Philippines Wedding Venue web site for free information and assistance:

For assistance with lodgings, accommodations, hotels and resorts near Manila in Subic, Pampanga, Angels City and Clark Philippines log on to http://www.HotelClarkPhilippines.com
While in Clark, one might as well add to the itinerary a visit to the famous Clark Wine Center, the largest wine shop in Philippines which offers over 2000 selections of fine vintage wine from all wine regions, vintages spanning over 50 years covering all price ranges.
http://www.ClarkWineCenter.com
---
If this article about Clark is useful to you,
please click here to contact us
to tell us what more you wish to know about this article or Clark Philippines, which can be something about Clark investment, about Clark resorts, about Clark Swimming and Leisure or simply general news about Clark.
---
Please send questions to
Editor@ClarkPhilippines.com
. Leave your name, email address, contact numbers and we will get back to you as soon as possible. Information received will not be disclosed.
---
Random
Search
Contact Clark Philippines
Politics & Opinion
Promote Your Business
Recent News & Press Releases
Flight Schedules
Diosdado Macapagal International Airport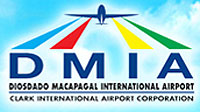 Check flight schedules to and from Clark Freeport
here
Exchange Rate
<!-Currency Converter widget - HTML code - fx-rate.net -->
   Philippine Peso Exchange Rate
<!-end of code-->
Clark Pampanga Weather
<!-Weather in Angeles City, Philippines on your site - HTML code - weatherforecastmap.com -- ><!-end of code-->