Santa Barbara County is one of the youngest wine growing regions in California, measured by both vine age and the age and experience of its winemakers.
"wonderboy" Gavin Chanin of Chanin Wine Company
Thus it wasnā€™t hard for me to sit around a table at the home of Presquā€™ile winery owner Matt Murphy with eight winemakers and get a passionate discussion going about that perennial favorite topic in California, alcohol level.
While I can be a provocateur, I wasnā€™t here; it just came up. The high-alcohol defenders have a chip on their shoulder, perhaps because one of the big men of the area, Jim Clendenen of Au Bon Climat, has been very aggressive at public forums in attacking the style.
Iā€™ll admit that Iā€™m increasingly on Clendenenā€™s side of the fence. While balance is key, Iā€™d simply rather drink a wine at 13.5% alcohol by volume than 15.5%. But thatā€™s a problem for many vignerons in California because not all grapes in this state will ripen at sugar levels that low.
What made this discussion interesting is that while it was collegial, it brought together proponents of very different styles of wine. Two of the countyā€™s top names in particular are wonderboy Gavin Chanin, 26, named one of Forbesā€™ top 30 food professionals under 30, and Greg Brewer, who isnā€™t a senior citizen but was making some of Santa Barbara Countyā€™s most exciting wines while Chanin was in elementary school.
Chanin, who runs his own Chanin Wine Company and also assists at Au Bon Climat and Qupe, made me swoon with his Chanin Bien Nacido Vineyard Santa Maria Valley Chardonnay 2009 ($35), one of the best Chardonnays Iā€™ve had this year, and I spent a week in Burgundy. Itā€™s chalky initially and leesy with lime fruit and great texture, as it softens and gets comfortable on the tongue but never gets flabby. Itā€™s not at all lean, yet itā€™s only 12.8% alcohol.
Chanin shares many philosophies with Brewer: both exalt terroir, treat their grapes gently, and prefer to do as little to the wine as possible. But the results are so different: Brewerā€™s Chardonnays sometimes top 17% alcohol. I wrote last year about having a problem with that conceptually, which is why he brought a lean, juicy Diatom Hana Shinobu Sta. Rita Hills Chardonnay 2011 ($36) at 13.8% to the table. With its fine texture and strong salinity, this wine would fit in well with the low-alcohol In Pursuit of Balance movement, though the organizers might stop him at the door.
left to right: Cronje, Magdevski, Brewer, Bonnacorsi, Murphy, Schalchin, Chanin, Storm, Law
Other members of the roundtable included:
ā€¢ Dieter Cronje, winemaker for Presquā€™ile, a new winery built by wealthy Hurricane Katrina escapees. Presquā€™ile owner Murphy has given Cronje the proverbial unlimited budget but with an unusual-for-the-type mission to make balanced wines that go well with dinner.
ā€¢ Jenne Bonnacorsi, who came from the high-end restaurant world in Los Angeles to co-found her eponymous winery. She has been making the wines herself since her husband suddenly passed away eight years ago.
ā€¢ Ernst Storm, a South African (like Cronje) who makes RhĆ"ne-style wines for his own eponymous winery and for Curtis (his Curtis Santa Barbara County Mourvedre 2009 [$24] was delicious, fascinating and, at 14.3% alcohol, right in between the battle lines.)
ā€¢ Curt Schalchin of Sans Liege, representing a countercultural style in the Central Coast best epitomized by Sine Qua Non, but also done successfully by Justin Smith at Saxum: ripe fruit with disregard for ā€œrules.ā€ Schalchin brought a non-vintage RhĆ"ne-style white (ā€œCotes du Coast,ā€ $26) at 14.9% alcohol that I loved despite its weight, and a multi-vintage Syrah-MourvĆØdre blend (ā€œThe Prophetessā€ 2009/10) at 15.6% that tasted like roasted fruit.
ā€¢ Sonja Magdevski, a journalist from Macedonia who is doing all the work for her one-person wine company, Casa Dumetz, which specializes in Viognier. Magdevski lives in Malibu and hates it when people ask her about being married to Emilio Estevez. So I didnā€™t.
ā€¢ Apologies to Kevin Law, who makes Pinot Noirs with wonderful texture at his new Luminesce winery that impressed all of us. But Law, whose degree is in meteorology, is soft-spoken and polite and didnā€™t want to get into this particular discussion.
And now, without further ado, the roundtable:
Cronje, Presquā€™ile winemaker: The reason we end up with this low alcohol style is, itā€™s easiest. Whatever we have to do to not have to touch the wine. If itā€™s not high pH than I donā€™t have to worry about it. Itā€™s definitely about low intervention.
Gray: What if you have a hot year in the estate vineyard?
Cronje: Weā€™re not going to water it back. If we have a bad vintage, I wouldnā€™t mind it showing.
Murphy, Presquā€™ile owner: Weā€™re not making Coca-Cola. Weā€™re not homogenizing wine to show no vintage effect at all. I donā€™t know that thereā€™s a ā€œbad vintage.ā€ 2011 was a difficult vintage, but Iā€™m actually looking forward to the ā€™11s because it will force people to make more reasonable wines. Reasonable for my palate, anyway.
Bonnacorsi: Nobodyā€™s aging California Pinot for 15 years.
Chanin: I think it represents the vineyard when you donā€™t have a ton of sweetness. After a year of traveling I noticed ripe wines lose their sense of place anywhere.
Sometimes I think Chardonnay is more telling of terroir than Pinot Noir because you can remove yourself more.
The wines that excite me are high-end wines that donā€™t cut any corners that are aiming for the very top we can do there.
Storm: I think you can have fruit-driven wines at lower alcohols. But it comes down to choosing your site correctly. My whole goal is to make RhĆ"ne varietals in a way thatā€™s balanced and represents Santa Ynez Valley. I donā€™t think we have the vine age yet where weā€™re going to make big structure MourvĆØdres. Made in a more balanced style, we can see some of the southern RhĆ"ne style, where itā€™s not just about fruit, but thereā€™s also an earthiness and a fungal component. I sometimes get a forest floor, mushroomy note in the MourvĆØdre that I like to see.
http://palatepress.com/2012/05/wine/round-table-on-balancing-alcohol-in-california-wines/
Residents or Manila travel out of town to head north to Pampanga to relax, unwind and spend a few nights in the new hotel rooms situated right on the lake of Clearwater Resort in Clark Airbase. Many visitors and tourists enjoy the feeling of waking up by the lake. The sunrise produces a spectacular sight with the sunlight reflection on the calm surface of the three-hectare fresh water lake of this famous resort in Clark.
Families with small children prefer outdoor hotel in Manila, clean and safe place in Pampanga Clark to bring kids to relax and unwind. Outdoor space is an important criterion affecting the selection of a suitable hotel in Clark Pampanga for family bonding or to relax and unwind with friends. Best hotel in Clark Pampanga offers good outdoor facilities, large picnic grounds, lake and beach and other outdoor amenities making it possible for guests of this frequently visited hotel in Clark to relax and unwind with no stress.
The safest getaway destination vacation spot near Manila convenient safe and accessible is Clearwater Beach Resort in Clark Pampanga, great for family bonding, hang out to unwind and relax near lake and trees, camping too.
Where to go in Clark? Hotel Clark Philippines is a De Luxe Hotel in Clark and Subic, a risk free place to stay, cozy and nice ambience, a nice function place for special occasion
Are you looking for an attractive restaurant or a nice place to eat with friends in Clark, Angeles City Pampanga? Yats Restaurant and Wine Bar is a restaurant with good food and good wines for dinner located at Clark Angeles City Pampanga. Perfect for exclusive dinner venues for groups, recommended for private dinner in Philippines. A Restaurant in Clark for business dinner meeting. Private dinner place or dinner restaurant in Clark Subic Near Manila Angeles City Pampanga. Yats Restaurant is one of the Good Restaurant in Pampanga Angeles City Clark near Manila.
You might want to check also the Yats Restaurant is the best restaurant for special dinner, best restaurant for dinner with friends near Manila, also the best place to celebrate special events.
Famous Restaurant in Pampanga, a place to dine with friends in Clark, cozy restaurant with a nice ambience, a nice function place for special occasions. Yats Restaurant is one of the good restaurants in Pampanga, a restaurant with good food, a place that is nice for celebration, ideal for business dinner meeting, a good place to enjoy family reunion, and an attractive restaurant that serves good wines for dinner.
Looking for a party venue in town?
Clearwater Resort and Country Club is one of the ideal venues for birthday party because it is a risk free venue. Not only Birthday Parties but also a good place to enjoy family reunion. A good place to celebrate special occasions. Clearwater Resort and Country Club is one of the resorts in Subic Clark Angeles City Pampanga or near Manila with activity amenities, place that are nice for celebration.
When in Clark, make plans to relax and enjoy an evening at The London Pub located in Mimosa Leisure Estate of Clark Pampanga. This highly recommended resto bar where all the local executives of Pampanga, local and foreign tourists visiting Angeles City, Subic and Clark Philippines gather after a full day of fun or work.
Looking for interesting hotels near Manila Subic Clark Angeles City Pampanga?
Trouble free hotels and well recognized hotels in Subic Clark Angeles City Pampanga
Clearwater Resort and Country Club offers a good place to stay in Subic Clark Angeles City Pampanga. In offers nice place to have rest in Subic Pampanga outside Manila.
One of the Philippines top hotels in north Luzon.
The London Pub is a very popular resto bar for residents, tourists, business executives and visitors from Manila to hang out, drink, relax and unwind after work or a game of golf during the day. Fine English cuisine, family comfort food is served. It is also very famous for the best fish n chips in the Philippines.
http://www.LondonPubClark.com
This web site contains articles and information that will be helpful to visitors, residents and tourists traveling out of town from Manila on a short getaway to Subic, Angeles City, Pampanga and Clark Philippines. There are several web sites that contain information that might also be pertinent to what is happening in North Luzon, Subic, Tarlac, Pampanga, Clark Freeport Philippines.
Wedding couples looking for wedding reception venues and beach wedding venues can log on to this Philippines Wedding Venue web site for free information and assistance:

For assistance with lodgings, accommodations, hotels and resorts near Manila in Subic, Pampanga, Angels City and Clark Philippines log on to http://www.HotelClarkPhilippines.com
While in Clark, one might as well add to the itinerary a visit to the famous Clark Wine Center, the largest wine shop in Philippines which offers over 2000 selections of fine vintage wine from all wine regions, vintages spanning over 50 years covering all price ranges.
http://www.ClarkWineCenter.com
---
If this article about Clark is useful to you,
please click here to contact us
to tell us what more you wish to know about this article or Clark Philippines, which can be something about Clark investment, about Clark resorts, about Clark Swimming and Leisure or simply general news about Clark.
---
Please send questions to
Editor@ClarkPhilippines.com
. Leave your name, email address, contact numbers and we will get back to you as soon as possible. Information received will not be disclosed.
---
Random
Search
Contact Clark Philippines
Politics & Opinion
Promote Your Business
Recent News & Press Releases
Flight Schedules
Diosdado Macapagal International Airport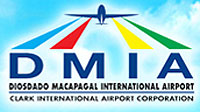 Check flight schedules to and from Clark Freeport
here
Exchange Rate
<!-Currency Converter widget - HTML code - fx-rate.net -->
   Philippine Peso Exchange Rate
<!-end of code-->
Clark Pampanga Weather
<!-Weather in Angeles City, Philippines on your site - HTML code - weatherforecastmap.com -- ><!-end of code-->