When I was a young buck wine merchant, back in the day, I used to look forward to visits from John Avery, of Avery's of Bristol, an English wine broker and negociant. A "negociant" is someone who buys wine from someone else and then bottles it under his own label.
Being a negociant is a very old and noble profession in Europe, begun in the years when winemakers weren't bottling and shipping businesses too. A negociant was a wine's necessary link to a family's table.
Avery would always show me a slew of reds from Burgundy, each with labels that simply said "Avery's Bourgogne Rouge." In order to distinguish one Bourgogne Rouge from another, Avery had given them all magical monikers, such as Cardinal Richelieu or Eminence de Cluny.
Avery swore the wine inside was a lot more than mere Bourgogne Rouge. "Cardinal Richelieu is declassified Gevrey-Chambertin; he is, Bill."
Was he? I had no idea. All I knew is that the wine was superlative red Burgundy and instead of selling for $75, as a good Gevrey-Chambertin would, "Cardinal Richelieu" went home with my many happy customers for just $20.
I trusted John Avery; my customers trusted me. Everyone went to bed with a smile.
Many John Averys abound today; well, lots of John Avery types. They buy wine from someone else and label it as their own. Such wines are everywhere, behind the "private labels" at Whole Foods, Trader Joe's and Costco. They're brandished on online "wine clubs" such as wsjwine.com, zagatwine.com or vinesse.com where you can buy six or a dozen "richly rewarding wines" delivered to your door monthly for "one low price."
All the wines, both in the stores and on the sites, claim to be "expertly selected," as I am sure they are. You can get your money back "if any wine ever fails to delight," as I am sure you can.
But you or I have no idea ahead of time, before whipping out the credit card at the store or boldly going into cyberspace, if anything behind the label is really, truly, actually any good.
We need our John Averys. (My friend the John Avery died of a heart attack in March.) I have a couple John Averys to recommend to you. I trust them; so can you.
Since 2001, Cameron Hughes has sold wine under his name (and some spinoffs such as Hughes Wellman or Zin Your Face). His portfolio, widely distributed across the country in stores such as Costco, Sam's Club and Whole Foods and from his website chwine.com, offers wines from both hemispheres and several countries.
A second negociant label, Boston-based 90+ Cellars, isn't distributed as widely, but it's gaining in retail outlets outside its primary market of the Northeast U.S.
These two new-age negociants sell wine that they buy on the spot market (that is, already finished wine that would otherwise sell under a winery's own label). In addition, Hughes "takes up excess capacity," he says, "at wineries or with grape growers" and, employing two winemakers, crafts wine as a "virtual winery" at diverse cellars around the world before bottling it behind one of his labels.
The great lure of wine from these two sellers is, as it was with Avery's of Bristol, the spread between the price you'd pay for the wine as it would sell from its own place of origin and the price Hughes or 90+ Cellars charges for it. The difference is always substantial.
http://www.chicagotribune.com/features/food/sc-food-0518-wine-private-label-20120523,0,7907987.story
Tourists and residents of Manila travel out of town to the north on a short getaway look for the best place in Clark for rest and relaxation.
Companies, even organizers, wedding planners and families are looking for Resorts and beaches near Manila for events and retreats. Frequently visited destinations for vacation spots this summer in Philippines are found in Angeles City, Clark, Pampanga, which is very accessible from Manila, Subic and Cebu.
Frequent travelers and visitors staying in Angeles City Pampanga Clark Philippines look for restaurants, coffee shops, bars, pubs, hotels and resorts in Clark that offer free internet connection to guests. There are some highly recommended places in Clark that offer good WIFI internet services.
Where to go in Clark? Hotel Clark Philippines is a De Luxe Hotel in Clark and Subic, a risk free place to stay, cozy and nice ambience, a nice function place for special occasion
You might want to check also the Yats Restaurant is the best restaurant for special dinner, best restaurant for dinner with friends near Manila, also the best place to celebrate special events.
Famous Restaurant in Pampanga, a place to dine with friends in Clark, cozy restaurant with a nice ambience, a nice function place for special occasions. Looking for a restaurant in Clark for a Business meeting? Or a place to eat with friends? Yats Restaurant offers exclusive dinner venue for groups, a good place to celebrate special occasions, it can be a party venue in town. Yats Restaurant is a recommended restaurant for private dinner in Philippines, a well-recognized restaurant that serves good food and good wines for dinner.
Are you looking for an attractive restaurant or a nice place to eat with friends in Clark, Angeles City Pampanga? Yats Restaurant and Wine Bar is a restaurant with good food and good wines for dinner located at Clark Angeles City Pampanga. Perfect for exclusive dinner venues for groups, recommended for private dinner in Philippines. A Restaurant in Clark for business dinner meeting. Private dinner place or dinner restaurant in Clark Subic Near Manila Angeles City Pampanga. Yats Restaurant is one of the Good Restaurant in Pampanga Angeles City Clark near Manila.
Yats Restaurant and Wine Bar has its own special attraction for January 2010. Featured on the "special" menu are luxurious items that are guaranteed to make the dinners memorable. Saturdays in January are BYOB dinners which means that wine lovers can bring their own bottles to dine at Yats Restaurant without being charged corkage. BYO (Bring Your Own) is a special theme of Yats Restaurant which offers the biggest selection of fine and everyday wines anywhere in Asia.
http://www.YatsRestaurant.com
Looking for a party venue in town?
Clearwater Resort and Country Club is one of the ideal venues for birthday party because it is a risk free venue. Not only Birthday Parties but also a good place to enjoy family reunion. A good place to celebrate special occasions. Clearwater Resort and Country Club is one of the resorts in Subic Clark Angeles City Pampanga or near Manila with activity amenities, place that are nice for celebration.
This web site contains articles and information that will be helpful to visitors, residents and tourists traveling out of town from Manila on a short getaway to Subic, Angeles City, Pampanga and Clark Philippines. There are several web sites that contain information that might also be pertinent to what is happening in North Luzon, Subic, Tarlac, Pampanga, Clark Freeport Philippines.
Looking for interesting hotels near Manila Subic Clark Angeles City Pampanga?
Trouble free hotels and well recognized hotels in Subic Clark Angeles City Pampanga
Clearwater Resort and Country Club offers a good place to stay in Subic Clark Angeles City Pampanga. In offers nice place to have rest in Subic Pampanga outside Manila.
One of the Philippines top hotels in north Luzon.
Wedding couples looking for wedding reception venues and beach wedding venues can log on to this Philippines Wedding Venue web site for free information and assistance:

For assistance with lodgings, accommodations, hotels and resorts near Manila in Subic, Pampanga, Angels City and Clark Philippines log on to http://www.HotelClarkPhilippines.com
While in Clark, one might as well add to the itinerary a visit to the famous Clark Wine Center, the largest wine shop in Philippines which offers over 2000 selections of fine vintage wine from all wine regions, vintages spanning over 50 years covering all price ranges.
http://www.ClarkWineCenter.com
---
If this article about Clark is useful to you,
please click here to contact us
to tell us what more you wish to know about this article or Clark Philippines, which can be something about Clark investment, about Clark resorts, about Clark Swimming and Leisure or simply general news about Clark.
---
Please send questions to
Editor@ClarkPhilippines.com
. Leave your name, email address, contact numbers and we will get back to you as soon as possible. Information received will not be disclosed.
---
Random
Search
Contact Clark Philippines
Politics & Opinion
Promote Your Business
Recent News & Press Releases
Flight Schedules
Diosdado Macapagal International Airport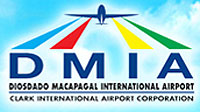 Check flight schedules to and from Clark Freeport
here
Exchange Rate
<!-Currency Converter widget - HTML code - fx-rate.net -->
   Philippine Peso Exchange Rate
<!-end of code-->
Clark Pampanga Weather
<!-Weather in Angeles City, Philippines on your site - HTML code - weatherforecastmap.com -- ><!-end of code-->