Enjoying good wine in the great outdoors is fun, but toting glass bottles on the trail is no picnic.
Enter the new crop of alternatively packaged wines in cartons, cans and other trail-ready options.
Sure, for actual hydration you'll want to tote along water or whatever energy drink you favor. But for that moment when the hike is done, the mountain bike path conquered, or you're just relaxing and grilling a few steaks on a lazy Sunday, these wines make it easy to blend libations with explorations.
As Brad Day, a wine lover and outdoorsman who runs the outdoor activities website WeekendSherpa.com puts it, "It adds a nice element to sitting back and enjoying the natural surroundings."
So here are some wines that make good traveling partners.
_ PACK A POUCH
The Climber is billed as "all-terrain wine transport," and it is. Available in chardonnay or cabernet sauvignon, this wine comes in a foil pouch with a hole punched at the top so it can be clipped to a backpack with a carabiner hook.
It shouldn't come as a big surprise that The Climber comes from Clif Family Winery founded by Gary Erickson and wife Kit Crawford, the people behind the Clif energy bar. The Climber is widely available and also can be found at the Clif winery tasting room Vela Vino in St. Helena, a popular spot with bicyclists.
The pouch holds the equivalent of two regular bottles and has a suggested retail of $17, so the wine is light on your wallet as well as your pack.
The winery works with the group 1 Percent for the Planet, and 1 percent of Climber sales go to charity, in this case a partnership with Trees for the Future. What to pair with it? Gorp is good, or if you want to go a little more upscale you might try the Smoked Paprika Almonds from the Gary & Kit's Napa Valley line of snacks.
_ HAVE A CAN-DO ATTITUDE
You may be more used to seeing beer in cans, but there are a few wines available in aluminum. A fun wine to try is Sophia minis from the Francis Ford Coppola winery. This is the winery's Sophia blanc de blancs sparkling wine that is a blend of pinot noir, sauvignon blanc and muscat, but in a pink 187-milliliter can, complete with a tiny straw (suggested retail $5).
Another option is FLASQ wines from JT Wines. These are sold in 375-milliliter aluminum half bottles that chill quickly and are recyclable. Available in chardonnay, merlot and a cuvee blanc (a white blend), they come with a suggested retail of $5.99 to $7.99.
Finally… a wine you can drop.
_ BET ON A BOX
Several wines are available in cartons and a reliable line is Bandit wines from Napa Valley winemaker Joel Gott. Available in several varietals and blends, including sangria, the wines are available in 1-liter or 500-milliliter boxes and are priced at around $9 for the liter.
Or, if you're going to be gone for a while or have a crowd with you, you could kick it old-school and go with one of the bag-in-box wines that hold the equivalent of four bottles. Day recalls going for a backpacking trip with friends and toting along some Black Box Wines, one of the pioneers in putting quality wine in a box.
Since every ounce counts when you're hiking the trails, they disposed of the box and carried only the bag. The hike was hiked. The wine was drunk. And when they were done, they blew the bag back up to make a pillow. Now that's a versatile varietal.
http://www.sfgate.com/cgi-bin/article.cgi?f=/n/a/2012/05/24/lifestyle/l080326D98.DTL
Manila families with small children looking for an accessible place for kids to have fun frequently visit private resort in Clark Pampanga to unwind relax in family bonding, top venue for reunion.
Some hotels and resorts offer free WIFI Internet connection to guests. This includes beach resort of Clearwater which also offers free Internet connection in the room as well as in the outdoor areas even near the beach and by the lake.
Fine dining restaurants like Yats Restaurants and Wine Bar also offers good internet connection to their guests. Highly recommended bar, pub and nightlife spot The London Pub located inside Mimosa also offers good internet connection to guests.
The London Pub is a classic English Gastropub frequented by local expats and business community. It serves up good food, plenty of excellent vintage wine by the glass and a good selection of Cuban cigars. The ambience is old English, dark wood, comfortable and relaxed.
Where to go in Clark? Hotel Clark Philippines is a De Luxe Hotel in Clark and Subic, a risk free place to stay, cozy and nice ambience, a nice function place for special occasion
You might want to check also the Yats Restaurant is the best restaurant for special dinner, best restaurant for dinner with friends near Manila, also the best place to celebrate special events.
Famous Restaurant in Pampanga, a place to dine with friends in Clark, cozy restaurant with a nice ambience, a nice function place for special occasions. Yats Restaurant is one of the good restaurants in Pampanga, a restaurant with good food, a place that is nice for celebration, ideal for business dinner meeting, a good place to enjoy family reunion, and an attractive restaurant that serves good wines for dinner.
Are you looking for an attractive restaurant or a nice place to eat with friends in Clark, Angeles City Pampanga? Yats Restaurant and Wine Bar is a restaurant with good food and good wines for dinner located at Clark Angeles City Pampanga. Perfect for exclusive dinner venues for groups, recommended for private dinner in Philippines. A Restaurant in Clark for business dinner meeting. Private dinner place or dinner restaurant in Clark Subic Near Manila Angeles City Pampanga. Yats Restaurant is one of the Good Restaurant in Pampanga Angeles City Clark near Manila.
Frequent travelers and visitors staying in Angeles City Pampanga Clark Philippines look for restaurants, coffee shops, bars, pubs, hotels and resorts in Clark that serve high quality Nespresso coffee to guests. Here are some of the highly recommended places in Clark that offer good gourmet Nespresso coffee.
Looking for interesting hotels near Manila Subic Clark Angeles City Pampanga?
Trouble free hotels and well recognized hotels in Subic Clark Angeles City Pampanga
Clearwater Resort and Country Club offers a good place to stay in Subic Clark Angeles City Pampanga. In offers nice place to have rest in Subic Pampanga outside Manila.
One of the Philippines top hotels in north Luzon.
This web site contains articles and information that will be helpful to visitors, residents and tourists traveling out of town from Manila on a short getaway to Subic, Angeles City, Pampanga and Clark Philippines. There are several web sites that contain information that might also be pertinent to what is happening in North Luzon, Subic, Tarlac, Pampanga, Clark Freeport Philippines.
Looking for a party venue in town?
Clearwater Resort and Country Club is one of the ideal venues for birthday party because it is a risk free venue. Not only Birthday Parties but also a good place to enjoy family reunion. A good place to celebrate special occasions. Clearwater Resort and Country Club is one of the resorts in Subic Clark Angeles City Pampanga or near Manila with activity amenities, place that are nice for celebration.
Wedding couples looking for wedding reception venues and beach wedding venues can log on to this Philippines Wedding Venue web site for free information and assistance:

For assistance with lodgings, accommodations, hotels and resorts near Manila in Subic, Pampanga, Angels City and Clark Philippines log on to http://www.HotelClarkPhilippines.com
While in Clark, one might as well add to the itinerary a visit to the famous Clark Wine Center, the largest wine shop in Philippines which offers over 2000 selections of fine vintage wine from all wine regions, vintages spanning over 50 years covering all price ranges.
http://www.ClarkWineCenter.com
---
If this article about Clark is useful to you,
please click here to contact us
to tell us what more you wish to know about this article or Clark Philippines, which can be something about Clark investment, about Clark resorts, about Clark Swimming and Leisure or simply general news about Clark.
---
Please send questions to
Editor@ClarkPhilippines.com
. Leave your name, email address, contact numbers and we will get back to you as soon as possible. Information received will not be disclosed.
---
Random
Search
Contact Clark Philippines
Politics & Opinion
Promote Your Business
Recent News & Press Releases
Flight Schedules
Diosdado Macapagal International Airport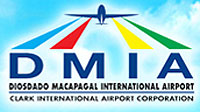 Check flight schedules to and from Clark Freeport
here
Exchange Rate
<!-Currency Converter widget - HTML code - fx-rate.net -->
   Philippine Peso Exchange Rate
<!-end of code-->
Clark Pampanga Weather
<!-Weather in Angeles City, Philippines on your site - HTML code - weatherforecastmap.com -- ><!-end of code-->