MANILA — The House prosecution panel said Sunday that Chief Justice Renato Corona is not likely to speak up on the witness stand, despite going on a media blitz last week to proclaim his innocence.
Corona has been appearing in television and radio interviews to insist that the impeachment complaint is rooted in the Supreme Court decision to distribute land in Hacienda Luisita, owned by President Benigno Aquino III's relatives, to tenant farmers.
He also accused Senator Teofisto Guingona III of trying to convince him to go into early retirement so Supreme Court Associate Justice Antonio Carpio could be appointed in his place.
Guingona has denied this. He confirmed, however, that he had lunch with Corona last year.
Corona also said the closure of three peso time deposit accounts at Philippine Savings Bank (PSBank) on the same day he was impeached was a coincidence. He said loss of confidence in the bank prompted him to close down the accounts.
β€œWe guess the Chief Justice is making all these noise so he can shift to a mute mode when the trial resumes. His tack is to seek an acquittal through media interviews," Marikina Representative Romero Quimbo, prosecution spokesman, said Sunday.
Corona said he is willing to testify but that the decision is up to his lawyers.
"If the Chief Justice wants to tell the truth, then his place should be on the witness stand, not in the radio booth. The latter is where DJs spin music, not where a CJ can spin his version of events," Aurora Representative Juan Edgardo Angara, another prosecution spokesman, said.
"He has a mouthful to say on supposed meetings and pressures for him to quit but on the most important issue of his undeclared and unexplained wealth, his lips are sealed," Deputy Speaker Lorenzo TaΓ±ada III said.
Senate President Juan Ponce-Enrile, who has called on the Chief Justice to testify to clear his name, assured Corona that he will be treated with respect during the trial.
"The Chief Justice is head of an equal branch of government and should be respected, not disrespected. (If you do) it is like you disrespect your own country, your own Constitution. Until he (Corona) is pronounced guilty he is presumed innocent," Enrile, presiding officer of the impeachment court, said in a radio interview over dzBB.
He said anyone who disrespects Corona will be ruled out of order and that he will stand by that ruling.
"They can remove me if they want," he said, adding he would resign if Corona is not shown respect.
Senators will also be disallowed from cross-examining the Chief Justice. He said although senators are allowed to ask clarificatory questions, "(Senators) would be partisan if they cross-examine."
Enrile said the cross-examination of witnesses for the defense should be left to the prosecution panel.
"We respect his right to explain to the public, but that is not evidence for us unless presented before the impeachment court," Enrile said.
Corona earlier said he will open his bank accounts to the court. His wife, Cristina, is expected to testify on their bank accounts.
http://www.sunstar.com.ph/manila/local-news/2012/03/11/prosecution-doubts-corona-will-testify-210671
Good picnic spots can be found in some of the best resorts in Pampanga. The good resorts and hotels in Clark Philippines offer safe and clean outdoor facilities for family bonding and picnics. For many reasons Manila families and residents of Angeles City Pampanga as well as Subic and Baguio consider Clearwater as one of the best resorts in Pampanga and certainly the best hotel in Clark Philippines. Guests of this child friendly resort in Clark Pampanga often relax and unwind by the beautiful lake and beach. Hotel accommodation is also available here in this resort in Clark. Function room for meetings and seminars is also available in this popular resort in Clark Philippines. This hotel in Clark is also a favorite holiday destination near Manila during Holy Week, Easter, Christmas and New Year holidays.
Residents or Manila travel out of town to head north to Pampanga to relax, unwind and spend a few nights in the new hotel rooms situated right on the lake of Clearwater Resort in Clark Airbase. Many visitors and tourists enjoy the feeling of waking up by the lake. The sunrise produces a spectacular sight with the sunlight reflection on the calm surface of the three-hectare fresh water lake of this famous resort in Clark.
Families with small children prefer outdoor hotel in Manila, clean and safe place in Pampanga Clark to bring kids to relax and unwind. Outdoor space is an important criterion affecting the selection of a suitable hotel in Clark Pampanga for family bonding or to relax and unwind with friends. Best hotel in Clark Pampanga offers good outdoor facilities, large picnic grounds, lake and beach and other outdoor amenities making it possible for guests of this frequently visited hotel in Clark to relax and unwind with no stress.
The safest getaway destination vacation spot near Manila convenient safe and accessible is Clearwater Beach Resort in Clark Pampanga, great for family bonding, hang out to unwind and relax near lake and trees, camping too.
Where to go in Clark? Hotel Clark Philippines is a De Luxe Hotel in Clark and Subic, a risk free place to stay, cozy and nice ambience, a nice function place for special occasion
Are you looking for an attractive restaurant or a nice place to eat with friends in Clark, Angeles City Pampanga? Yats Restaurant and Wine Bar is a restaurant with good food and good wines for dinner located at Clark Angeles City Pampanga. Perfect for exclusive dinner venues for groups, recommended for private dinner in Philippines. A Restaurant in Clark for business dinner meeting. Private dinner place or dinner restaurant in Clark Subic Near Manila Angeles City Pampanga. Yats Restaurant is one of the Good Restaurant in Pampanga Angeles City Clark near Manila.
You might want to check also the Yats Restaurant is the best restaurant for special dinner, best restaurant for dinner with friends near Manila, also the best place to celebrate special events.
Famous Restaurant in Pampanga, a place to dine with friends in Clark, cozy restaurant with a nice ambience, a nice function place for special occasions. Yats Restaurant is one of the good restaurants in Pampanga, a restaurant with good food, a place that is nice for celebration, ideal for business dinner meeting, a good place to enjoy family reunion, and an attractive restaurant that serves good wines for dinner.
Looking for a party venue in town?
Clearwater Resort and Country Club is one of the ideal venues for birthday party because it is a risk free venue. Not only Birthday Parties but also a good place to enjoy family reunion. A good place to celebrate special occasions. Clearwater Resort and Country Club is one of the resorts in Subic Clark Angeles City Pampanga or near Manila with activity amenities, place that are nice for celebration.
When in Clark, make plans to relax and enjoy an evening at The London Pub located in Mimosa Leisure Estate of Clark Pampanga. This highly recommended resto bar where all the local executives of Pampanga, local and foreign tourists visiting Angeles City, Subic and Clark Philippines gather after a full day of fun or work.
Looking for interesting hotels near Manila Subic Clark Angeles City Pampanga?
Trouble free hotels and well recognized hotels in Subic Clark Angeles City Pampanga
Clearwater Resort and Country Club offers a good place to stay in Subic Clark Angeles City Pampanga. In offers nice place to have rest in Subic Pampanga outside Manila.
One of the Philippines top hotels in north Luzon.
The London Pub is a very popular resto bar for residents, tourists, business executives and visitors from Manila to hang out, drink, relax and unwind after work or a game of golf during the day. Fine English cuisine, family comfort food is served. It is also very famous for the best fish n chips in the Philippines.
http://www.LondonPubClark.com
This web site contains articles and information that will be helpful to visitors, residents and tourists traveling out of town from Manila on a short getaway to Subic, Angeles City, Pampanga and Clark Philippines. There are several web sites that contain information that might also be pertinent to what is happening in North Luzon, Subic, Tarlac, Pampanga, Clark Freeport Philippines.
Wedding couples looking for wedding reception venues and beach wedding venues can log on to this Philippines Wedding Venue web site for free information and assistance:

For assistance with lodgings, accommodations, hotels and resorts near Manila in Subic, Pampanga, Angels City and Clark Philippines log on to http://www.HotelClarkPhilippines.com
While in Clark, one might as well add to the itinerary a visit to the famous Clark Wine Center, the largest wine shop in Philippines which offers over 2000 selections of fine vintage wine from all wine regions, vintages spanning over 50 years covering all price ranges.
http://www.ClarkWineCenter.com
---
If this article about Clark is useful to you,
please click here to contact us
to tell us what more you wish to know about this article or Clark Philippines, which can be something about Clark investment, about Clark resorts, about Clark Swimming and Leisure or simply general news about Clark.
---
Please send questions to
Editor@ClarkPhilippines.com
. Leave your name, email address, contact numbers and we will get back to you as soon as possible. Information received will not be disclosed.
---
Random
Search
Contact Clark Philippines
Politics & Opinion
Promote Your Business
Recent News & Press Releases
Flight Schedules
Diosdado Macapagal International Airport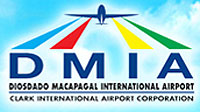 Check flight schedules to and from Clark Freeport
here
Exchange Rate
<!-Currency Converter widget - HTML code - fx-rate.net -->
   Philippine Peso Exchange Rate
<!-end of code-->
Clark Pampanga Weather
<!-Weather in Angeles City, Philippines on your site - HTML code - weatherforecastmap.com -- ><!-end of code-->