LAWYERS of Chief Justice Renato Corona are set to present in Mondayโ€™s impeachment trial Navotas Representative Tobias Tiangco and House Secretary General Marilyn Barua-Yap.
Defense spokesman Ramon Esguerra said Tiangco and Yap will prove that the impeachment complaint, signed by 188 members of the House of Representatives, lack probable cause and the required verification when it was transmitted to the Senate, which sat as an impeachment court.
Tiangco's testimony will focus on the manner by which the 188 congressmen allegedly "railroaded" the hasty resolution to transmit the eight articles of impeachment to the Senate.
Tiangco left the majority bloc after he did not sign the complaint, along with other House members, including Deputy Speaker and Cavite Representative Jesus Crispin Remulla and Batangas Representative Hermilando Mandanas.
Afterwards, Tiangco delivered a privilege speech saying that while he supports the campaign of President Benigno Aquino III to make his predecessor, Gloria Macapagal-Arroyo, accountable for her sins, "in pursuing justice, it must be done in a manner that does not destroy our institutions and more importantly the co-equal status guaranteed by the Constitution."
He also said the railroading of Corona's impeachment showed that the leadership could no longer protect the integrity and independence of the chamber.
Barua-Yap, on the other hand, will testify on what transpired on the day the House voted to impeach Corona.
Earlier, Corona's defense team said the Chief Justiceโ€™s wife, Cristina, will testify during the presentation of evidence, particularly on the supposed P37-million deposits of the Basa-Guidote Enterprises Inc. (BGEI) in their bank account at the Philippine Savings Bank.
Corona's camp said the P11 million that appeared in the Chief Justiceโ€™s 2003 statement of assets, liabilities and net worth (SALN) was a loan from BGEI, a company owned by Cristina's family.
PSBank president Pascual Garcia III, on cross examination by defense lead counsel Serafin Cuevas, earlier testified that the Coronas withdrawn their account from the bank's Katipunan branch on December 12, 2011, the same day that the House impeached Corona.
Another defense counsel Tranquil Salvador III, meanwhile, said there is a strong possibility that Corona will personally testify in his own defense, a fact that the chief magistrate acknowledged in one of his media interviews last week.
But Salvador said there are risks involved in the magistrate personally testifying in the trial, such as being harassed or provoked by prosecution lawyers or some senator-judges.
The Supreme Court chief earlier said in a radio interview that he is open to testifying, but it will all depend on the advice of his lawyers.
http://www.sunstar.com.ph/manila/local-news/2012/03/11/defense-present-2-witnesses-corona-trial-monday-210684
Camping is one of the popular outdoor activities that take place in Clearwater Resort which is generally regarded as one of the best hotels in Clark Philippines. Here in this popular resort in Pampanga there is a safe and clean campsite that comes also with a private campfire ground for a complete camping experience outside of Manila. Guests and families camping at this private resort in Pampanga often enjoy outdoor facilities by the lake, the beach and picnic grounds also. Clearwater Resort is considered by schools, event organizers and social groups as one of the best campsites in the Philippines.
Manila residents and tourists spending a vacation in Philippines prefer to travel out of town from Manila to the north to visit Subic, Pampanga, Angeles City and Clark Philippines. While many areas of the Philippines are plagued by crime and security concerns, Clark Pampanga continues to impress the travel and tourism observers with its immaculately low crime records. Other features of Pampanga Angeles City Clark that attract family tourists and those visitors that are health sensitive include low pollution, peace and quiet ambiance and a most welcome absence of traffic congestion.
Yats Restaurant is one of the good restaurants in Pampanga, a restaurant with good food, a place that is nice for celebration, ideal for business dinner meeting, a good place to enjoy family reunion, and an attractive restaurant that serves good wines for dinner.
Families with small children prefer outdoor resort in Manila clean and safe place in Pampanga Clark to bring kids to relax and unwind. Family bonding is much more effective and enjoyable in a private resort that offers large outdoor facilities, picnic grounds, beautiful scenery, peaceful and quiet ambience.
Many are selling off their assets to start a new life in Philippines, taking advantage of the standard-of-living differential to start a business or just enjoy living in a tropical country. With careful planning, the move to Philippines can work out brilliantly or it can be a painful mistake. Clark Pampanga has been the preferred destination for retirement also.
You might want to check also the Yats Restaurant is the best restaurant for special dinner, best restaurant for dinner with friends near Manila, also the best place to celebrate special events.
Are you looking for an attractive restaurant or a nice place to eat with friends in Clark, Angeles City Pampanga? Yats Restaurant and Wine Bar is a restaurant with good food and good wines for dinner located at Clark Angeles City Pampanga. Perfect for exclusive dinner venues for groups, recommended for private dinner in Philippines. A Restaurant in Clark for business dinner meeting. Private dinner place or dinner restaurant in Clark Subic Near Manila Angeles City Pampanga. Yats Restaurant is one of the Good Restaurant in Pampanga Angeles City Clark near Manila.
Famous Restaurant in Pampanga, a place to dine with friends in Clark, cozy restaurant with a nice ambience, a nice function place for special occasions
Looking for a party venue in town?
Clearwater Resort and Country Club is one of the ideal venues for birthday party because it is a risk free venue. Not only Birthday Parties but also a good place to enjoy family reunion. A good place to celebrate special occasions. Clearwater Resort and Country Club is one of the resorts in Subic Clark Angeles City Pampanga or near Manila with activity amenities, place that are nice for celebration.
This web site contains articles and information that will be helpful to visitors, residents and tourists traveling out of town from Manila on a short getaway to Subic, Angeles City, Pampanga and Clark Philippines. There are several web sites that contain information that might also be pertinent to what is happening in North Luzon, Subic, Tarlac, Pampanga, Clark Freeport Philippines.
Looking for interesting hotels near Manila Subic Clark Angeles City Pampanga?
Trouble free hotels and well recognized hotels in Subic Clark Angeles City Pampanga
Clearwater Resort and Country Club offers a good place to stay in Subic Clark Angeles City Pampanga. In offers nice place to have rest in Subic Pampanga outside Manila.
One of the Philippines top hotels in north Luzon.
Wedding couples looking for wedding reception venues and beach wedding venues can log on to this Philippines Wedding Venue web site for free information and assistance:

For assistance with lodgings, accommodations, hotels and resorts near Manila in Subic, Pampanga, Angels City and Clark Philippines log on to http://www.HotelClarkPhilippines.com
While in Clark, one might as well add to the itinerary a visit to the famous Clark Wine Center, the largest wine shop in Philippines which offers over 2000 selections of fine vintage wine from all wine regions, vintages spanning over 50 years covering all price ranges.
http://www.ClarkWineCenter.com
---
If this article about Clark is useful to you,
please click here to contact us
to tell us what more you wish to know about this article or Clark Philippines, which can be something about Clark investment, about Clark resorts, about Clark Swimming and Leisure or simply general news about Clark.
---
Please send questions to
Editor@ClarkPhilippines.com
. Leave your name, email address, contact numbers and we will get back to you as soon as possible. Information received will not be disclosed.
---
Random
Search
Contact Clark Philippines
Politics & Opinion
Promote Your Business
Recent News & Press Releases
Flight Schedules
Diosdado Macapagal International Airport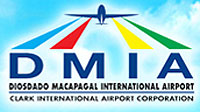 Check flight schedules to and from Clark Freeport
here
Exchange Rate
<!-Currency Converter widget - HTML code - fx-rate.net -->
   Philippine Peso Exchange Rate
<!-end of code-->
Clark Pampanga Weather
<!-Weather in Angeles City, Philippines on your site - HTML code - weatherforecastmap.com -- ><!-end of code-->