THE government is losing cases to fully recover the ill-gotten wealth of former President Ferdinand Marcos and his family due to the bungling of the prosecutors in the previous administrations, the Presidential Commission on Good Government (PCGG) said.
PCGG Chairman Andy Bautista made the admission after a recent ruling of the Supreme Court (SC) ordering the Commission and the Office of the Solicitor General (OSG) to conduct an investigation of the prosecutors assigned to go after the Marcoses and their dummies.
The order was contained in a resolution by the High Court ordering the reinstatement of Senator Ferdinand "Bong Bong" Marcos and his sisters, Irene Marcos-Araneta and Ilocos Norte Governor Imee Marcos as defendants in the P200 billion ill-gotten wealth case filed by the government in 1987.
The SC said the prosecutors handling the case disregarded procedures and failed to present available crucial evidence that could have proven the guilt or innocence of the Marcos siblings.
Bautista said they were surprised at the apparent bungling of the prosecutors from the previous administrations, adding the Commission would support any investigations against them.
Asked if there were orders coming from above for the prosecutors to do that, Bautista said he could not say for sure but he added the mistake is glaring, citing the recent SC order.
A study funded by the United States Agency for International Development (USAid) and conducted by the American Bar Association (ABA) released last year showed that there are still 84 cases pending before various courts.
Likewise, the study showed that live cases stay pending before the Sandiganbayan for an average of nine years while those appealed from the Ombudsman to the SC remain for at least six years.
It added that litigation at the anti-graft court usually takes 20 years.
But the study placed more of the blame on legal maneuverings by the defendants rather than the bungling of the prosecution.
Bautista's immediate predecessor at the PCGG, Camilo Sabio pointed to the first Commission's chairman, Jovito Salonga for the government's failure to fully recover the Marcos ill-gotten wealth.
Sabio said that contrary to common knowledge, it was Salonga that should be blamed for the Commission's failure to recover the ill-gotten wealth despite the powers at his disposal in the aftermath of the 1986 Edsa People Power uprising that toppled the Marcos dictatorship.
He said President Corazon "Cory" Aquino has dictatorial powers at that time that Salonga could have utilized to recover all documents, traced the ill-gotten wealth and recover it if he "had only the political will" to do so.
The former PCGG chief said this resulted in the succeeding administrations being blamed by the public for the failure to fully recover the ill-gotten wealth.
At the same time, he also said the Commission's meager resources are hampering its efforts to recover the ill-gotten wealth which authorities said could reach as much as $3 trillion.
http://www.sunstar.com.ph/manila/local-news/2012/03/06/state-prosecutors-bungle-case-vs-marcos-pcgg-says-209811
Pampanga Angeles City and Clark Philippines is a popular choice for event organizers and company event planners because it is safe, secure and conveniently accessible from Manila. The short travel time from Manila to Clark means there is more time for participants to enjoy the programs, relax and unwind in the outdoor facilities of this highly recommended resort hotel in Clark.
Travelers going north to Clark Pampanga frequently look for enjoyable hotel for family bonding during summer vacation in the Philippines. Many visitors to Angeles City, Pampanga Clark Philippines prefer to stay in private resorts located in a secure and safe destination. Staying in a private place makes it possible to enjoy a peaceful holiday with no stress.
Subic is a popular destination for visitors from Manila bringing family out of town for a short getaway to the north. Subic is well known for its diving sites, the sea and water sports that come with the territory. However one thing that Subic is not famous for is dining options. For years, visitors to Subic have complained about the quality of the restaurants and dining establishments but it is only until recently that travelers to Subic discovered the best restaurant to wine and dine, even for visitors with families and children.
Where to go in Clark? Hotel Clark Philippines is a De Luxe Hotel in Clark and Subic, a risk free place to stay, cozy and nice ambience, a nice function place for special occassion
You might want to check also the Yats Restaurant is the best restaurant for special dinner, best restaurant for dinner with friends near Manila, also the best place to celebrate special events.
Famous Restaurant in Pampanga, a place to dine with friends in Clark, cozy restaurant with a nice ambience, a nice function place for special occasions. Looking for a restaurant in Clark for a Business meeting? Or a place to eat with friends? Yats Restaurant offers exclusive dinner venue for groups, a good place to celebrate special occasions, it can be a party venue in town. Yats Restaurant is a recommended restaurant for private dinner in Philippines, a well-recognized restaurant that serves good food and good wines for dinner.
Are you looking for an attractive restaurant or a nice place to eat with friends in Clark, Angeles City Pampanga? Yats Restaurant and Wine Bar is a restaurant with good food and good wines for dinner located at Clark Angeles City Pampanga. Perfect for exclusive dinner venues for groups, recommended for private dinner in Philippines. A Restaurant in Clark for business dinner meeting. Private dinner place or dinner restaurant in Clark Subic Near Manila Angeles City Pampanga. Yats Restaurant is one of the Good Restaurant in Pampanga Angeles City Clark near Manila.
Looking for interesting hotels near Manila Subic Clark Angeles City Pampanga?
Trouble free hotels and well recognized hotels in Subic Clark Angeles City Pampanga
Clearwater Resort and Country Club offers a good place to stay in Subic Clark Angeles City Pampanga. In offers nice place to have rest in Subic Pampanga outside Manila.
One of the Philippines top hotels in north Luzon.
This web site contains articles and information that will be helpful to visitors, residents and tourists traveling out of town from Manila on a short getaway to Subic, Angeles City, Pampanga and Clark Philippines. There are several web sites that contain information that might also be pertinent to what is happening in North Luzon, Subic, Tarlac, Pampanga, Clark Freeport Philippines.
Looking for a party venue in town?
Clearwater Resort and Country Club is one of the ideal venues for birthday party because it is a risk free venue. Not only Birthday Parties but also a good place to enjoy family reunion. A good place to celebrate special occasions. Clearwater Resort and Country Club is one of the resorts in Subic Clark Angeles City Pampanga or near Manila with activity amenities, place that are nice for celebration.
Wedding couples looking for wedding reception venues and beach wedding venues can log on to this Philippines Wedding Venue web site for free information and assistance:

For assistance with lodgings, accommodations, hotels and resorts near Manila in Subic, Pampanga, Angels City and Clark Philippines log on to http://www.HotelClarkPhilippines.com
While in Clark, one might as well add to the itinerary a visit to the famous Clark Wine Center, the largest wine shop in Philippines which offers over 2000 selections of fine vintage wine from all wine regions, vintages spanning over 50 years covering all price ranges.
http://www.ClarkWineCenter.com
---
If this article about Clark is useful to you,
please click here to contact us
to tell us what more you wish to know about this article or Clark Philippines, which can be something about Clark investment, about Clark resorts, about Clark Swimming and Leisure or simply general news about Clark.
---
Please send questions to
Editor@ClarkPhilippines.com
. Leave your name, email address, contact numbers and we will get back to you as soon as possible. Information received will not be disclosed.
---
Random
Search
Contact Clark Philippines
Politics & Opinion
Promote Your Business
Recent News & Press Releases
Flight Schedules
Diosdado Macapagal International Airport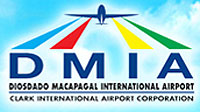 Check flight schedules to and from Clark Freeport
here
Exchange Rate
<!-Currency Converter widget - HTML code - fx-rate.net -->
   Philippine Peso Exchange Rate
<!-end of code-->
Clark Pampanga Weather
<!-Weather in Angeles City, Philippines on your site - HTML code - weatherforecastmap.com -- ><!-end of code-->