THE Department of Education (DepEd) has started the preparations for this yearโ€™s edition of the Palarong Pambansa, which will be held in Lingayen, Pangasinan, from May 6 to 12.
Education Secretary Armin Luistro said the department has earmarked P136.5 million for the Palaro in which 10,000 athletes, coaches and sports officials from 17 regions are expected to participate in the countryโ€™s biggest sporting spectacle.
Though the main venue of the Palaro is the Narciso Ramos Sports Center in Lingayen, Luistro said some of the games will also be held in the neighboring cities of San Carlos and Dagupan, as well as the municipalities of Bugallon and Binmaley.
Lingayen was chosen over Laguna and Marikina after a strenuous bidding process last year.
Luistro admitted that DepEd had a hard time coming up with the decision as the other two bidders were equally qualified to host the sporting event but in the end, they chose Pangasinan.
"As an overall assessment of the three bids, we are very, very happy to announce that all three presented themselves as very ready for Palaro 2012. If it is possible, we would have three hosts for Palaro, but since that is not possible, the committee had to choose one with the hope that the other two can offer their facilities and organization in the future," he added.
The official described the Palaro as "an important component of the basic education curriculum because it promotes physical education and sports which are part of the full development of the youth's potential."
Studentโ€"athletes who stand out from the Palaro, according to the DepEd, serve as feeder to the National Sports Associations for further training for international competitions.
"In a way, the results of the Palaro provide a database for a more sound and relevant school development program," Luistro added.
Among the event to be played are arnis, athletics, archery, badminton, baseball, basketball (including womenโ€™s basketball for the second time in the Palaro), boxing, chess, football, gymnastics, sepak takraw, arnis, swimming, softball, table tennis, volleyball and taekwondo.
Special games in athletics and swimming will continue to be played in the event, Luistro said, adding they expect bigger participant in the special games compared to the previous events.
"Our purpose in the special games is to show that no kids get left behind," the DepEd chief said.
Innovations have also been introduced for the event such as staking ranking points in tennis and having live streaming and video postings of some of the games.
Last year's Palaro was hosted by Dapitan, Zamboanga Del Norte. In 2010, Talac played host while in the 2008 and 2009, gathering it was Puerto Princesa, Palawan and Tacloban, respectively.
But the City Government of Dapitan was criticized after it charged an entrance fee to those who want to see the games, a matter that the DepEd said it did not approve and asked the former to halt the practice.
http://www.sunstar.com.ph/manila/local-news/2012/03/02/education-office-steps-preparation-2013-palaro-209176
Tourists and residents of Manila travel out of town to the north on a short getaway look for the best place in Clark for rest and relaxation.
Companies, even organizers, wedding planners and families are looking for Resorts and beaches near Manila for events and retreats. Frequently visited destinations for vacation spots this summer in Philippines are found in Angeles City, Clark, Pampanga, which is very accessible from Manila, Subic and Cebu.
Frequent travelers and visitors staying in Angeles City Pampanga Clark Philippines look for restaurants, coffee shops, bars, pubs, hotels and resorts in Clark that offer free internet connection to guests. There are some highly recommended places in Clark that offer good WIFI internet services.
Where to go in Clark? Hotel Clark Philippines is a De Luxe Hotel in Clark and Subic, a risk free place to stay, cozy and nice ambience, a nice function place for special occasion
You might want to check also the Yats Restaurant is the best restaurant for special dinner, best restaurant for dinner with friends near Manila, also the best place to celebrate special events.
Famous Restaurant in Pampanga, a place to dine with friends in Clark, cozy restaurant with a nice ambience, a nice function place for special occasions. Looking for a restaurant in Clark for a Business meeting? Or a place to eat with friends? Yats Restaurant offers exclusive dinner venue for groups, a good place to celebrate special occasions, it can be a party venue in town. Yats Restaurant is a recommended restaurant for private dinner in Philippines, a well-recognized restaurant that serves good food and good wines for dinner.
Are you looking for an attractive restaurant or a nice place to eat with friends in Clark, Angeles City Pampanga? Yats Restaurant and Wine Bar is a restaurant with good food and good wines for dinner located at Clark Angeles City Pampanga. Perfect for exclusive dinner venues for groups, recommended for private dinner in Philippines. A Restaurant in Clark for business dinner meeting. Private dinner place or dinner restaurant in Clark Subic Near Manila Angeles City Pampanga. Yats Restaurant is one of the Good Restaurant in Pampanga Angeles City Clark near Manila.
Yats Restaurant and Wine Bar has its own special attraction for January 2010. Featured on the "special" menu are luxurious items that are guaranteed to make the dinners memorable. Saturdays in January are BYOB dinners which means that wine lovers can bring their own bottles to dine at Yats Restaurant without being charged corkage. BYO (Bring Your Own) is a special theme of Yats Restaurant which offers the biggest selection of fine and everyday wines anywhere in Asia.
http://www.YatsRestaurant.com
Looking for a party venue in town?
Clearwater Resort and Country Club is one of the ideal venues for birthday party because it is a risk free venue. Not only Birthday Parties but also a good place to enjoy family reunion. A good place to celebrate special occasions. Clearwater Resort and Country Club is one of the resorts in Subic Clark Angeles City Pampanga or near Manila with activity amenities, place that are nice for celebration.
This web site contains articles and information that will be helpful to visitors, residents and tourists traveling out of town from Manila on a short getaway to Subic, Angeles City, Pampanga and Clark Philippines. There are several web sites that contain information that might also be pertinent to what is happening in North Luzon, Subic, Tarlac, Pampanga, Clark Freeport Philippines.
Looking for interesting hotels near Manila Subic Clark Angeles City Pampanga?
Trouble free hotels and well recognized hotels in Subic Clark Angeles City Pampanga
Clearwater Resort and Country Club offers a good place to stay in Subic Clark Angeles City Pampanga. In offers nice place to have rest in Subic Pampanga outside Manila.
One of the Philippines top hotels in north Luzon.
Wedding couples looking for wedding reception venues and beach wedding venues can log on to this Philippines Wedding Venue web site for free information and assistance:

For assistance with lodgings, accommodations, hotels and resorts near Manila in Subic, Pampanga, Angels City and Clark Philippines log on to http://www.HotelClarkPhilippines.com
While in Clark, one might as well add to the itinerary a visit to the famous Clark Wine Center, the largest wine shop in Philippines which offers over 2000 selections of fine vintage wine from all wine regions, vintages spanning over 50 years covering all price ranges.
http://www.ClarkWineCenter.com
---
If this article about Clark is useful to you,
please click here to contact us
to tell us what more you wish to know about this article or Clark Philippines, which can be something about Clark investment, about Clark resorts, about Clark Swimming and Leisure or simply general news about Clark.
---
Please send questions to
Editor@ClarkPhilippines.com
. Leave your name, email address, contact numbers and we will get back to you as soon as possible. Information received will not be disclosed.
---
Random
Search
Contact Clark Philippines
Politics & Opinion
Promote Your Business
Recent News & Press Releases
Flight Schedules
Diosdado Macapagal International Airport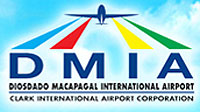 Check flight schedules to and from Clark Freeport
here
Exchange Rate
<!-Currency Converter widget - HTML code - fx-rate.net -->
   Philippine Peso Exchange Rate
<!-end of code-->
Clark Pampanga Weather
<!-Weather in Angeles City, Philippines on your site - HTML code - weatherforecastmap.com -- ><!-end of code-->