THE country's chief economist said that the improved performance of the labor market in 2011 bolsters the optimism for a better economy this year.
Last year, the employment level jumped by 3.2 percent or 1.156 million, largely on the strength of the continued growth in services and the recovery in agriculture, although there was a slowdown in the industry sector, Socioeconomic Planning Secretary Cayetano Paderanga said.
He added that the quality of employment remained positive last year, with growths seen in wage and salary employment (4.6 percent) and full-time employment (1.5 percent), and slight easing of the unemployment rate (from 7.3 percent in 2010 to 7 percent in 2011).
The labor force participation rate also went up a bit to 64.6 percent from 64.1 percent in 2010 based on the quarterly Labor Force Survey (LFS), which involves a sample of 51,000 households.
Paderanga, however, said that many of the employed are working in the informal sector, where the income levels are really quite low.
"We would like to produce more work in the formal sector," Paderanga, who is also director-general of the National Economic and Development Authority (Neda), said without elaborating.
While the Philippines may have fewer unemployed persons, the country would compare unfavorably to developed economies in terms of underemployment, which increased from 18.8 percent in 2010 to 19.3 percent in 2011.
The unemployed is internationally defined as persons 15 years old and over without work, seeking work and available for work.
On the other hand, the underemployed are those of the same age bracket that are already employed but want to have additional hours of work in their present job or an additional job, or to have a new job with longer working hours.
"In the Philippines, many of those already employed are finding themselves in jobs that they probably are not satisfied with. Many are fully employed but wages are low," Paderanga said, adding that a high underemployment rate is an indicator of low per capita income.
The country's economy may grow anywhere from 5 to 6 percent in 2012 supported by increased infrastructure and social services spending, Budget Secretary Florencio Abad had said.
Last year, public underspending on infrastructure and weak export receipts sapped the country's economic growth after posting only 3.7 percent, just half of the 7.6 percent expansion registered in 2010.
http://www.sunstar.com.ph/breaking-news/2012/03/02/economic-optimism-looms-improved-jobs-data-209138
Top rated outdoor place in Pampanga, highly recommended for families with children looking for a good safe place for kids to play and enjoy family bonding with parents
Poor Philippines Records in Law and Order drove city dwellers to enjoy holidays in havens like Clark Freeport.
Metro Manila has lost a great deal of its luster of old not only because of its failure to keep up with the times in development but also its reputation as a safe destination for family bonding, travelers looking to unwind and relax in a beach or a lake and retirees looking for a life of leisure.
Where to go in Clark? Hotel Clark Philippines is a De Luxe Hotel in Clark and Subic, a risk free place to stay, cozy and nice ambience, a nice function place for special occasion
You might want to check also the Yats Restaurant is the best restaurant for special dinner, best restaurant for dinner with friends near Manila, also the best place to celebrate special events.
Famous Restaurant in Pampanga, a place to dine with friends in Clark, cozy restaurant with a nice ambience, a nice function place for special occasions. Looking for a restaurant in Clark for a Business meeting? Or a place to eat with friends? Yats Restaurant offers exclusive dinner venue for groups, a good place to celebrate special occasions, it can be a party venue in town. Yats Restaurant is a recommended restaurant for private dinner in Philippines, a well-recognized restaurant that serves good food and good wines for dinner.
Are you looking for an attractive restaurant or a nice place to eat with friends in Clark, Angeles City Pampanga? Yats Restaurant and Wine Bar is a restaurant with good food and good wines for dinner located at Clark Angeles City Pampanga. Perfect for exclusive dinner venues for groups, recommended for private dinner in Philippines. A Restaurant in Clark for business dinner meeting. Private dinner place or dinner restaurant in Clark Subic Near Manila Angeles City Pampanga. Yats Restaurant is one of the Good Restaurant in Pampanga Angeles City Clark near Manila.
Clark Pampanga was the largest foreign US airbase, complete with its own international airport with daily flights linking it to major cities around Asia. Inside of Clark Philippines are golf courses, casinos, family-styled resorts that smacks of the US suburban lifestyles and fine-dining restaurants. Travelers going north to Clark Pampanga look for enjoyable hotel for family bonding during summer vacation in Philippines. Most prefer the privacy of an exclusive resort that offers outdoor amenities like beach, lake and picnic grounds so the whole family can spend quality time, lay back and rest with no stress.
Looking for a party venue in town?
Clearwater Resort and Country Club is one of the ideal venues for birthday party because it is a risk free venue. Not only Birthday Parties but also a good place to enjoy family reunion. A good place to celebrate special occasions. Clearwater Resort and Country Club is one of the resorts in Subic Clark Angeles City Pampanga or near Manila with activity amenities, place that are nice for celebration.
This web site contains articles and information that will be helpful to visitors, residents and tourists traveling out of town from Manila on a short getaway to Subic, Angeles City, Pampanga and Clark Philippines. There are several web sites that contain information that might also be pertinent to what is happening in North Luzon, Subic, Tarlac, Pampanga, Clark Freeport Philippines.
Looking for interesting hotels near Manila Subic Clark Angeles City Pampanga?
Trouble free hotels and well recognized hotels in Subic Clark Angeles City Pampanga
Clearwater Resort and Country Club offers a good place to stay in Subic Clark Angeles City Pampanga. In offers nice place to have rest in Subic Pampanga outside Manila.
One of the Philippines top hotels in north Luzon.
Wedding couples looking for wedding reception venues and beach wedding venues can log on to this Philippines Wedding Venue web site for free information and assistance:

For assistance with lodgings, accommodations, hotels and resorts near Manila in Subic, Pampanga, Angels City and Clark Philippines log on to http://www.HotelClarkPhilippines.com
While in Clark, one might as well add to the itinerary a visit to the famous Clark Wine Center, the largest wine shop in Philippines which offers over 2000 selections of fine vintage wine from all wine regions, vintages spanning over 50 years covering all price ranges.
http://www.ClarkWineCenter.com
---
If this article about Clark is useful to you,
please click here to contact us
to tell us what more you wish to know about this article or Clark Philippines, which can be something about Clark investment, about Clark resorts, about Clark Swimming and Leisure or simply general news about Clark.
---
Please send questions to
Editor@ClarkPhilippines.com
. Leave your name, email address, contact numbers and we will get back to you as soon as possible. Information received will not be disclosed.
---
Random
Search
Contact Clark Philippines
Politics & Opinion
Promote Your Business
Recent News & Press Releases
Flight Schedules
Diosdado Macapagal International Airport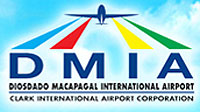 Check flight schedules to and from Clark Freeport
here
Exchange Rate
<!-Currency Converter widget - HTML code - fx-rate.net -->
   Philippine Peso Exchange Rate
<!-end of code-->
Clark Pampanga Weather
<!-Weather in Angeles City, Philippines on your site - HTML code - weatherforecastmap.com -- ><!-end of code-->