If you are planning to trek on a high peak this vacation you should be well equipped with everything that you may need while trekking. From the packing to preparation, from sunglasses to first aid you should
carefully pick and choose the things you need to take on the trekking. Read on for here are some trekking tips for amateurs.
Get ready by packing the required provisions that can prove to be handy while trekking. You should also be well prepared for the high altitude by staying at a high spot for a couple of days before starting your expedition.
Fitness is one of the major factors to be concerned with when considering trekking. You should be healthy and proactive to get yourself to the peak. If you suffer from breathing problems, asthma, palpitations or other health issues, sorry to say, but trekking is probably not for you. Always consult with your physician regarding physical exertion.
Adaptation to various types of environment is probably the toughest part of the show. Just feeling fit cannot solve the problem. What is important is how well you can acclimate yourself to the high altitudes and the thin air.
Maintain your own speed as different people have different paces while trekking. Do not rush and make yourself out of breath because you may have to store some energy and air to survive up there. Take your time and if possible get adequate rest while camping and at the same time enjoy the enchanting beauty of the landscape.
Get yourself trekking shoes or boots that fit well and is also comfortable to walk in. Don't compromise on your trekking shoes because they can hurt your feet, spoiling the whole fun of the hiking. Also carry spare socks that can provide warmth on cold nights and also help you when your shoes are hurting you.
Don't forget your second skin and medical kit. You may need them as the pressure up there may demand such conditions where these will prove handy. Get support like a walking stick to balance while walking on narrow paths or steep elevation. These walking sticks I might add are quite trendy and colorful as they are quite popular among trekkers.
Carry light snacks, something that you can suck on to so that it gives you enough energy and also diverts you off the fear of walking in narrow tracks. Candies and chocolates are some snacks that are light to carry.
Gear yourself with sunglasses as they will be of use in either sunny or snowy conditions. Sunglasses are very helpful, especially to reduce the risk of snow blindness.
Act responsibly while trekking, for all your frivolity can put you or your co-trekkers into deep trouble in a place where there are few or no aids available. Take your time to understand the process of trekking and share some thoughts with the guide.
A well-planned trip can never go futile and can be worth the money and effort spent. Make sure you have the right person to guide you through the narrow valleys and paths of the mountains.
Source: http://www.associatedcontent.com/article/1202145/trekking_tips_for_amateurs_pg2.html?cat=16
drove city dwellers to enjoy holidays in havens like Clark Freeport.
Metro Manila has lost a great deal of its luster of old not only because of its failure to keep up with the times in development but also its reputation as a safe destination for family bonding, travelers looking to unwind and relax in a beach or a lake and retirees looking for a life of leisure.
Where to go in Clark? Hotel Clark Philippines is a De Luxe Hotel in Clark and Subic, a risk free place to stay, cozy and nice ambience, a nice function place for special occasion
You might want to check also the Yats Restaurant is the best restaurant for special dinner, best restaurant for dinner with friends near Manila, also the best place to celebrate special events.
Famous Restaurant in Pampanga, a place to dine with friends in Clark, cozy restaurant with a nice ambience, a nice function place for special occassions
Are you looking for an attractive restaurant or a nice place to eat with friends in Clark, Angeles City Pampanga? Yats Restaurant and Wine Bar is a restaurant with good food and good wines for dinner located at Clark Angeles City Pampanga. Perfect for exclusive dinner venues for groups, recommended for private dinner in Philippines. A Restaurant in Clark for business dinner meeting. Private dinner place or dinner restaurant in Clark Subic Near Manila Angeles City Pampanga. Yats Restaurant is one of the Good Restaurant in Pampanga Angeles City Clark near Manila.
Clark Pampanga was the largest foreign US airbase, complete with its own international airport with daily flights linking it to major cities around Asia. Inside of Clark Philippines are golf courses, casinos, family-styled resorts that smacks of the US suburban lifestyles and fine-dining restaurants. Travelers going north to Clark Pampanga look for enjoyable hotel for family bonding during summer vacation in Philippines. Most prefer the privacy of an exclusive resort that offers outdoor amenities like beach, lake and picnic grounds so the whole family can spend quality time, lay back and rest with no stress.
Looking for a party venue in town?
Clearwater Resort and Country Club is one of the ideal venues for birthday party because it is a risk free venue. Not only Birthday Parties but also a good place to enjoy family reunion. A good place to celebrate special occasions. Clearwater Resort and Country Club is one of the resorts in Subic Clark Angeles City Pampanga or near Manila with activity amenities, place that are nice for celebration.
This web site contains articles and information that will be helpful to visitors, residents and tourists traveling out of town from Manila on a short getaway to Subic, Angeles City, Pampanga and Clark Philippines. There are several web sites that contain information that might also be pertinent to what is happening in North Luzon, Subic, Tarlac, Pampanga, Clark Freeport Philippines.
Looking for interesting hotels near Manila Subic Clark Angeles City Pampanga?
Trouble free hotels and well recognized hotels in Subic Clark Angeles City Pampanga
Clearwater Resort and Country Club offers a good place to stay in Subic Clark Angeles City Pampanga. In offers nice place to have rest in Subic Pampanga outside Manila.
One of the Philippines top hotels in north Luzon.
Wedding couples looking for wedding reception venues and beach wedding venues can log on to this Philippines Wedding Venue web site for free information and assistance:

For assistance with lodgings, accommodations, hotels and resorts near Manila in Subic, Pampanga, Angels City and Clark Philippines log on to http://www.HotelClarkPhilippines.com
While in Clark, one might as well add to the itinerary a visit to the famous Clark Wine Center, the largest wine shop in Philippines which offers over 2000 selections of fine vintage wine from all wine regions, vintages spanning over 50 years covering all price ranges.
http://www.ClarkWineCenter.com
---
If this article about Clark is useful to you,
please click here to contact us
to tell us what more you wish to know about this article or Clark Philippines, which can be something about Clark investment, about Clark resorts, about Clark Swimming and Leisure or simply general news about Clark.
---
Please send questions to
Editor@ClarkPhilippines.com
. Leave your name, email address, contact numbers and we will get back to you as soon as possible. Information received will not be disclosed.
---
Random
Search
Contact Clark Philippines
Politics & Opinion
Promote Your Business
Recent News & Press Releases
Flight Schedules
Diosdado Macapagal International Airport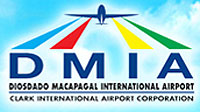 Check flight schedules to and from Clark Freeport
here
Exchange Rate
<!-Currency Converter widget - HTML code - fx-rate.net -->
   Philippine Peso Exchange Rate
<!-end of code-->
Clark Pampanga Weather
<!-Weather in Angeles City, Philippines on your site - HTML code - weatherforecastmap.com -- ><!-end of code-->