After reading some of the advice on the "how fit for Mera" thread I thought it would be a good idea to put together a hints and tips thread to help out any prospective trekkers.
I have done 7 treks in Nepal and a couple of climbs. I have whittled down my kit list from 22kgs the first time and I went through 17kgs, 14kgs, 24kgs (climbing) to finally 8kgs. So this list works for me (it may not for everyone). I am not taking unnecessary risks with this amount of stuff it is based upon my experience of trekking and climbing in Britain, the Alps, the Pyrenees, the Andes and Nepal and contains only the stuff I do use and nothing else, even when conditions have been bad. I would not recommend for everyone to wear trainers but I am happy carrying 30kgs in them. I find my feet are a lot less tired and more comfortable when I use trainers, but sometimes they get wet and they aren't great on snow, and for anyone without much trekking experience ankle support is very important. If you aren't used to it it is easy to turn an ankle. You might want to take more first aid stuff too and if you suffer from the cold a warmer bag and another layer.
Also I acclimatise very fast and very well (at least so far) so I must add that the advice I have written here works for me and you use this advice at your own risk! For me the trekking is much more enjoyable with a very light pack and in trainers, that at least allows me to take two cameras, a tripod and four lenses without needing a herd of yaks to carry them!
The trick for me is to take as many things as possible that have a dual use, 8kgs is for everything including what I am wearing (but does not include my camera equipment):-
(I can't remember how much all this stuff weighs individually but it weighs around 8kgs including pack, 1 litre of water plus everything I am wearing including shoes)
1) 35 litre pack – 700grms
2) Down jacket – 850grms
3) -5 down bag – 850grms (the coldest it has ever been in my room in a lodge outside of January/February was -5 apart from once on the Annapurna Circuit – that's from 7 treks)
4) 2 long sleeve tops (1 merino, 1 synthetic) 300-400grms each
5) 2 pairs merino underwear
6) 3 pairs walking socks
7) 3 pairs liner socks
8) lightweight trainers (I walk in these and don't bother with boots) 350grms
9) 1 pair lightweight trekking trousers (zip off into shorts) 200grms
10) 1 pair schoeller mountaineering trousers (the pants I use are made by Haglofs and button down over the top of boots meaning there is no need for gaiters)
11) 1 lightweight insulated windproof (like a RAB photon) doubles up as insulation layer and windproof – is also pretty waterproof too – these are fantastic – 350grms
12) Warm hat
13) pair of gloves
14) Jag bags silk liner (very light)
15) 1 carbon fibre pole 200grms
16) 1 litre water bottle
17) Aqua Mira water treatment
18) Sunblock
19) E45 moisturiser
20) Anti bac handwash
21) Toilet roll
22) Ear plugs
23) 1 gig MP3 player and 1 battery and headphones – 50 grms
24) Couple of strips of ibuprofen
25) couple of strips of aspirin
26) Sunglasses
27) Toothbrush and toothpaste
28) Headtorch including batteries – 90grms
29) Superfeet insoles for my trainers
30) a couple of stuff sacks
31) Notepad and pen
32) book
33) Map
34) Watch (includes compass)
35) Sometime down slippers!
36) Passport
37) Money
38) Wide brimmed sun hat
39) 2 x lip balm
40) A little bit of travel wash
41) Maybe a pair of scissors (lighter than a knife and can be used as a screwdriver if you have the right sort)
I think that is it!
Tips:-
1) I keep my toilet roll and handwash together in a plastic zip bag. Then I always wash my hands when I go to the loo – no germs, you don't get ill
2) The antibac dry handwash I use requires no water and I use it all the time – all the time before eating or handling food, again no germs you don't get ill.
3) I have one stuff sack that I keep all my stuff that I need in the lodge of an evening (toilet roll, book, hat, gloves, mp3 player, wate rtreatment, ear plugs, notepad and pen, headtorch, etc). When I arrive at a lodge I get a room, lay out my sleeping bag, change into dry clothes, put on my down jacket, grab my evening stuff sack and put on my down slippers if I have them. Then when you go into the dining room you have everything you need. I don't need to go back to the room to get my headtorch or any more warm clothing, or loo roll to go to the toilet. I can hang my clothes out to dry, kick back and relax. Read my book, listen to music, write my journal without having to go to and fro. This has taken a bit of practice though and always on the first few days of a trip I have got the list wrong and have to make a few extra trips to the room.
4) If it is cold and the foam mattresses on the bed are a bit thin I try and get a room on my own and steal the foam mattress from the other bed to double up
5) If it is cold, wear only thermal underwear to bed (you need to warm the bag with your body to be warm), run around or on the spot before you go to bed and get into your bag warm (you get in cold you will be cold), wear a hat and put your down jacket over the top of your sleeping bag (don't wear it)
6) At drink stops and lunch stops, take off your shoes and socks, take out your insoles from your shoes/boots and dry them in the sun, look after your feet and they will look after you.
7) When ascending at altitude take little steps and you will find it easier going
8) From breakfast through to late afternoon (around 3 to 4pm) drink lots and lots (4-5 litres plus if you can). I drink a litre as soon as I get out of bed. That way you will be well hydrated but hopefully avoid having to get up in the middle of the night. Note you only know you are hydrated when your pee is clear. If it isn't keep drinking until it is.
9) If I am having difficulty dropping off to sleep I take half a ibuprofen and it helps me to drop off (an old mountaineers trick). If you are worried at all about masking a headache and AMS then don't do it.
10) Take half an aspirin a couple of times a day, it will help to thin your blood.
11) Monitor your pulse rate. This is how I tell I am acclimatised. For example your resting pulse rate might be 60. Your resting, acclimatised pulse rate at altitude might be 80. Your pulse rate will increase even when resting while you are acclimatising to probably somewhere over 100. Learn how your pulse operates and you will start to work out when you are acclimatised. Here is how it works for me:-
For instance if I trek up Namche hill to Namche, when I arrive I will check my pulse, it is normally 80 while acclimatising at this height. After 8 hours it will go down to 60. This is my resting pulse for around this height. I know at this point I am acclimatised (see above for disclaimer)!
12) I prefer to cover up than plaster myself in sunblock. I wear a long sleeved high necked merino top and brimmed sun hat which means I don't have to put any sunblock on unless I am walking on snow. Then the reflections off the snow mean it is important to put sunblock on your face and when really high even up your nostrils! Sunburnt nostrils are no fun I can tell you!
13) I always wrap some gaffa/duck tape around my trekking pole. You can repair everything with it from tent poles, holes in tents to treating blisters (I have done this on my own blisters as I found this stuff was the only thing that stuck to my feet, regular blister treatements didn't work for me).
14) You may notice the lack of toiletries! Well merino wool is the secret you can wear it for weeks and you don't stink, honestly!
I hope this is of some help to some of you.
So come on you experienced trekkers please add you hints and tips for the newbies out there.
Happy trekking everyone!
Escher
Source: http://www.trekinfo.com/forums/showthread.php?t=3066
With new golf courses springing up in and around Clark Philippines and an ever-increasing patronage by tourists from neighboring South Korea, Clark Freeport is short on hotel accommodation.
Even with the addition of 27 holes in 2009 and 2010, there is an acute shortage golf tee times for at least 5-6 months each year. Local players compete with frustrated (golf) tourists from Korea and China for tee times. Unfortunately Clark Philippines doesn't have the luxury of vast tracts of land suitable for this type of development.
Mimosa offers 36 holes of championship golf, visitors can pay and play, busy during the weekends but not that difficult to get on or join up with a group to form a 4-ball. The new FAKCC offers 27 holes of world-class golf.
Where to go in Clark? Hotel Clark Philippines is a De Luxe Hotel in Clark and Subic, a risk free place to stay, cozy and nice ambience, a nice function place for special occasion
You might want to check also the Yats Restaurant is the best restaurant for special dinner, best restaurant for dinner with friends near Manila, also the best place to celebrate special events.
Famous Restaurant in Pampanga, a place to dine with friends in Clark, cozy restaurant with a nice ambience, a nice function place for special occassions
Are you looking for an attractive restaurant or a nice place to eat with friends in Clark, Angeles City Pampanga? Yats Restaurant and Wine Bar is a restaurant with good food and good wines for dinner located at Clark Angeles City Pampanga. Perfect for exclusive dinner venues for groups, recommended for private dinner in Philippines. A Restaurant in Clark for business dinner meeting. Private dinner place or dinner restaurant in Clark Subic Near Manila Angeles City Pampanga. Yats Restaurant is one of the Good Restaurant in Pampanga Angeles City Clark near Manila.
What many tourists and residents of Manila, Subic, Pampanga Angeles City and Clark Philippines found out over the holidays when they traveled out of town going north to Pampanga for a short getaway and a nice vacation was that there is a highly recommended hotel in Clark is also a very night out place.
Looking for a party venue in town?
Clearwater Resort and Country Club is one of the ideal venues for birthday party because it is a risk free venue. Not only Birthday Parties but also a good place to enjoy family reunion. A good place to celebrate special occasions. Clearwater Resort and Country Club is one of the resorts in Subic Clark Angeles City Pampanga or near Manila with activity amenities, place that are nice for celebration.
This web site contains articles and information that will be helpful to visitors, residents and tourists traveling out of town from Manila on a short getaway to Subic, Angeles City, Pampanga and Clark Philippines. There are several web sites that contain information that might also be pertinent to what is happening in North Luzon, Subic, Tarlac, Pampanga, Clark Freeport Philippines.
Looking for interesting hotels near Manila Subic Clark Angeles City Pampanga?
Trouble free hotels and well recognized hotels in Subic Clark Angeles City Pampanga
Clearwater Resort and Country Club offers a good place to stay in Subic Clark Angeles City Pampanga. In offers nice place to have rest in Subic Pampanga outside Manila.
One of the Philippines top hotels in north Luzon.
Wedding couples looking for wedding reception venues and beach wedding venues can log on to this Philippines Wedding Venue web site for free information and assistance:

For assistance with lodgings, accommodations, hotels and resorts near Manila in Subic, Pampanga, Angels City and Clark Philippines log on to http://www.HotelClarkPhilippines.com
While in Clark, one might as well add to the itinerary a visit to the famous Clark Wine Center, the largest wine shop in Philippines which offers over 2000 selections of fine vintage wine from all wine regions, vintages spanning over 50 years covering all price ranges.
http://www.ClarkWineCenter.com
---
If this article about Clark is useful to you,
please click here to contact us
to tell us what more you wish to know about this article or Clark Philippines, which can be something about Clark investment, about Clark resorts, about Clark Swimming and Leisure or simply general news about Clark.
---
Please send questions to
Editor@ClarkPhilippines.com
. Leave your name, email address, contact numbers and we will get back to you as soon as possible. Information received will not be disclosed.
---
Random
Search
Contact Clark Philippines
Politics & Opinion
Promote Your Business
Recent News & Press Releases
Flight Schedules
Diosdado Macapagal International Airport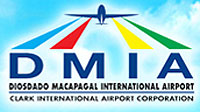 Check flight schedules to and from Clark Freeport
here
Exchange Rate
<!-Currency Converter widget - HTML code - fx-rate.net -->
   Philippine Peso Exchange Rate
<!-end of code-->
Clark Pampanga Weather
<!-Weather in Angeles City, Philippines on your site - HTML code - weatherforecastmap.com -- ><!-end of code-->