Let's face it, sometimes we just don't have the right energy when we go for a ride. It's no fun when you feel like you're struggling to get over every obstacle or up every inch of every hill.
There are a few things you can do to minimize these not so great rides. Most of it is common sense, but some of it may just do the trick for you.
First, eat well. Keep a good, healthy, energy-promoting diet. Sometimes, an energy drink or a bar before your ride can get you going as well. Eating and drinking during a long ride is also important. Your body needs fuel to keep going and you're the only one who can supply it.
Second, warm up. Take a minute before your rides to stretch and get your blood pumping. If your ride starts with a hard hill right off the line, pedal around the parking lot for a minute before you give yourself a heart attack. Try to keep things under control until your body figures out what it's doing.
Third, get your balance. Sometimes, when things are feeling a little off, it helps to take a few minutes to work on your balance. Try to track stand, ride as slow as you can, play around on some obstacles, or try riding along a curb or following a tight line.
I find that sometimes this stuff will get my brain into the right mode and my balance will feel great for the whole ride.
If none of that works, don't torture yourself, go home, riding probably won't suck tomorrow.
Source: http://mountainbike.about.com/od/tipsandtechniques/a/Biking_energy.htm
There are numerous opportunities for investments between US$100,000 and $500,000. These opportunities are especially attractive for semi-retirement lifestyles. The best, easiest and safest way to go about with this kind of investments is to deal with an existing business – a locator as business in Clark is called – so the investor is spared of the hassle of dealing with red-tape and bureaucracy that is always present in third-world countries. The existing locator has already cleared the path so to speak and even if it means asking for small premium for a partnership, it is very much worth the while of a new investor to take this route. Business opportunities depend largely on the skills, interests and experiences of the investors but there is a strong demand for more establishments in these areas: entertainment, shops, office space, construction and engineering services, restaurants and bars, transportation and travel assistance.
Clark Freeport is one of the most attractive business propositions the Philippines has to offer for investors in many kinds of businesses from BPO, hospitality, resorts and leisure facilities to condos, retirement homes, restaurants, bars and shops.
This web site contains articles and information that will be helpful to visitors, residents and tourists traveling out of town from Manila on a short getaway to Subic, Angeles City, Pampanga and Clark Philippines. There are several web sites that contain information that might also be pertinent to what is happening in North Luzon, Subic, Tarlac, Pampanga, Clark Freeport Philippines.
Wedding couples looking for wedding reception venues and beach wedding venues can log on to this Philippines Wedding Venue web site for free information and assistance:

For assistance with lodgings, accommodations, hotels and resorts near Manila in Subic, Pampanga, Angels City and Clark Philippines log on to http://www.HotelClarkPhilippines.com
While in Clark, one might as well add to the itinerary a visit to the famous Clark Wine Center, the largest wine shop in Philippines which offers over 2000 selections of fine vintage wine from all wine regions, vintages spanning over 50 years covering all price ranges.
http://www.ClarkWineCenter.com
---
If this article about Clark is useful to you,
please click here to contact us
to tell us what more you wish to know about this article or Clark Philippines, which can be something about Clark investment, about Clark resorts, about Clark Swimming and Leisure or simply general news about Clark.
---
Please send questions to
Editor@ClarkPhilippines.com
. Leave your name, email address, contact numbers and we will get back to you as soon as possible. Information received will not be disclosed.
---
Random
Search
Contact Clark Philippines
Politics & Opinion
Promote Your Business
Recent News & Press Releases
Flight Schedules
Diosdado Macapagal International Airport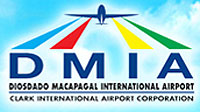 Check flight schedules to and from Clark Freeport
here
Exchange Rate
<!-Currency Converter widget - HTML code - fx-rate.net -->
   Philippine Peso Exchange Rate
<!-end of code-->
Clark Pampanga Weather
<!-Weather in Angeles City, Philippines on your site - HTML code - weatherforecastmap.com -- ><!-end of code-->