Hurt by the recession and less-than-ideal weather for growing, wine-grape gross sales in Monterey County dropped 27 percent in 2010, to the lowest level since 2004.
Growers "will probably want a glass of wine" when they see the figures, said Rhonda Motil executive director of the county Vintners and Growers Association, at a news conference for the county crop report Tuesday.
Gross sales were $173 million, down from $238 million in 2008 and 2009. The harvest in 2010 was 177,000 tons, a drop of 13 percent from the year before.
The wine industry is more susceptible than some other industries to recession because wine is a discretionary item, said Paul Johnson of J&L Farms in Salinas.
"We got hit by a double whammy," Johnson said at the news conference. It was particularly cold in spring 2010, Johnson said, which isn't good for the grape crop. "We got hit pretty hard."
Motil said sales of the higher-priced wines were hit hardest, while midpriced bottles in the $8 to $13 range increased.
Chardonnay, the most common grape in the county, took the biggest drop in sales, going from $89 million in 2009 to $60 million last year.
The second most common grape, pinot noir, dropped from $50 million to $35 million. The figures are for gross sales and growers' costs are not figured in.
While 2010 was an off year for the local industry, Motil chose to see the glass as half full.
There's been no indication growers are ripping out or abandoning crops, she said, and there are indications this will be a better year.
Growers "are seeing positive trends," Motil said. "A lot have had early contacts" for selling this year's crop, and there are indications that store sales are improving.
While the spring of 2010 was unusually cold, Johnson said, this year was even colder, making it likely that there will be a lower-than-average crop.
It's possible that this year's production could be good, Johnson said, but that would take perfect weather through the early-fall harvest.
But if Mother Nature doesn't cooperate and production is down, he said, that could be offset by higher wholesale prices
Source: http://www.santacruzsentinel.com/localnews/ci_18275710
TRAILER 6
There are numerous opportunities for investments between US$100,000 and $500,000. These opportunities are especially attractive for semi-retirement lifestyles. The best, easiest and safest way to go about with this kind of investments is to deal with an existing business – a locator as business in Clark is called – so the investor is spared of the hassle of dealing with red-tape and bureaucracy that is always present in third-world countries. The existing locator has already cleared the path so to speak and even if it means asking for small premium for a partnership, it is very much worth the while of a new investor to take this route. Business opportunities depend largely on the skills, interests and experiences of the investors but there is a strong demand for more establishments in these areas: entertainment, shops, office space, construction and engineering services, restaurants and bars, transportation and travel assistance.
Clark Freeport is one of the most attractive business propositions the Philippines has to offer for investors in many kinds of businesses from BPO, hospitality, resorts and leisure facilities to condos, retirement homes, restaurants, bars and shops.
This web site contains articles and information that will be helpful to visitors, residents and tourists traveling out of town from Manila on a short getaway to Subic, Angeles City, Pampanga and Clark Philippines. There are several web sites that contain information that might also be pertinent to what is happening in North Luzon, Subic, Tarlac, Pampanga, Clark Freeport Philippines.
Wedding couples looking for wedding reception venues and beach wedding venues can log on to this Philippines Wedding Venue web site for free information and assistance:

For assistance with lodgings, accommodations, hotels and resorts near Manila in Subic, Pampanga, Angels City and Clark Philippines log on to http://www.HotelClarkPhilippines.com
While in Clark, one might as well add to the itinerary a visit to the famous Clark Wine Center, the largest wine shop in Philippines which offers over 2000 selections of fine vintage wine from all wine regions, vintages spanning over 50 years covering all price ranges.
http://www.ClarkWineCenter.com
---
If this article about Clark is useful to you,
please click here to contact us
to tell us what more you wish to know about this article or Clark Philippines, which can be something about Clark investment, about Clark resorts, about Clark Swimming and Leisure or simply general news about Clark.
---
Please send questions to
Editor@ClarkPhilippines.com
. Leave your name, email address, contact numbers and we will get back to you as soon as possible. Information received will not be disclosed.
---
Random
Search
Contact Clark Philippines
Politics & Opinion
Promote Your Business
Recent News & Press Releases
Flight Schedules
Diosdado Macapagal International Airport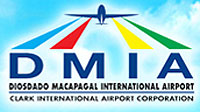 Check flight schedules to and from Clark Freeport
here
Exchange Rate
<!-Currency Converter widget - HTML code - fx-rate.net -->
   Philippine Peso Exchange Rate
<!-end of code-->
Clark Pampanga Weather
<!-Weather in Angeles City, Philippines on your site - HTML code - weatherforecastmap.com -- ><!-end of code-->