PORTLAND, Ore. (AP) β€" Winemakers around the state are coping with another late growing season as persistently cool spring weather delays the growth of the grape crop, The Oregonian reported.
Oregon's $1.4 billion wine industry has grown to more than 400 commercial wineries where managers try to balance the effects of weather that can range from cool and wet to hot and dry in short order.
At Seven of Hearts winery in Carlton, owner Byron Dooley said the cool early spring has set him back about two weeks from where he would like to be. If he's jittery, it's because the conditions are reminiscent of last year, when only an extended burst of sun at harvest in early October saved a wholesale washout.
"I always remind myself that it's not what happens in June but what happens in October that's most crucial," Dooley said. "But 2010 was the most white-knuckled vintage I've been through. I would love not to have to do that all again."
A late start to the growing season makes it difficult to ever fully catch up. And when it does heat up under summer sunshine, unseasonable heat spikes can flood grapes with too much sugar, resulting in flabby, unbalanced wines.
If the harvest is delayed too long, autumn rains can threaten a crop that needs a long hanging time on the vine to develop the right mix of acids and sugars.
The timing is always tricky, but key to any successful harvest, winemakers say.
"In my mind, wines from later vintages are always better than wines from earlier vintages," said Sam Tannahill, Oregon Wine Board chairman and a partner in Rex Hill Vineyards and A to Z Wineworks in Newberg. "Later vintages, of course, require longer hang time, which then introduces rain into the equation."
A couple of days of sunshine that recently broke through the otherwise gray days of the waning spring sparked activity at many vineyards.
"We're seeing two to three inches growth on warm days right now," said Harry Peterson-Nedry, founder and winemaker at Chehalem winery in Newberg. "It's pretty stunning to watch."
Winemakers and vineyard managers around the state say they are feeling more optimistic than they were a few weeks ago.
"We were saying, we're really late," said Mark Wisnovsky, an owner of Valley View Winery in Jacksonville. "Now, we're just late."
___
Information from: The Oregonian, http://www.oregonlive.com
Source: http://www.kval.com/news/local/124020289.html
TRAILER 3
Residents of Manila and Angeles City Pampanga are looking for a safe and convenient place to celebrate special occasions or take a shot vacation in the Philippines. Many travel north to Clark to swim at Clearwater Beach Resort which also has lake and picnic grounds to unwind and relax, a very good way to spend quality time with the family and children. Fine dining Yats Restaurant offers sumptuous cozy Christmas dinner, for wine lovers, Clark Wine Center provides exciting shopping options.
Clark Philippines also known as Clark Freeport Zone is now the preferred destination for foreign and local investments because it offers many attractive advantages including tax, safety and its own international airport
The advantages for making the move from a country like UK, USA, Japan, Korea, Hong Kong, Singapore and Australia for example, to a country like Philippines are enormous. Heavily in your favor are factors like asset values differentials and substantial reduction in cost of living. Selling off your home probably gives you enough capital to not only live comfortably in a bigger property in Philippines but also to re-establish yourself in the business community by starting a business here too.
This web site contains articles and information that will be helpful to visitors, residents and tourists traveling out of town from Manila on a short getaway to Subic, Angeles City, Pampanga and Clark Philippines. There are several web sites that contain information that might also be pertinent to what is happening in North Luzon, Subic, Tarlac, Pampanga, Clark Freeport Philippines.
Wedding couples looking for wedding reception venues and beach wedding venues can log on to this Philippines Wedding Venue web site for free information and assistance:

For assistance with lodgings, accommodations, hotels and resorts near Manila in Subic, Pampanga, Angels City and Clark Philippines log on to http://www.HotelClarkPhilippines.com
While in Clark, one might as well add to the itinerary a visit to the famous Clark Wine Center, the largest wine shop in Philippines which offers over 2000 selections of fine vintage wine from all wine regions, vintages spanning over 50 years covering all price ranges.
http://www.ClarkWineCenter.com
---
If this article about Clark is useful to you,
please click here to contact us
to tell us what more you wish to know about this article or Clark Philippines, which can be something about Clark investment, about Clark resorts, about Clark Swimming and Leisure or simply general news about Clark.
---
Please send questions to
Editor@ClarkPhilippines.com
. Leave your name, email address, contact numbers and we will get back to you as soon as possible. Information received will not be disclosed.
---
Random
Search
Contact Clark Philippines
Politics & Opinion
Promote Your Business
Recent News & Press Releases
Flight Schedules
Diosdado Macapagal International Airport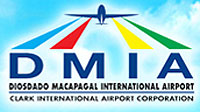 Check flight schedules to and from Clark Freeport
here
Exchange Rate
<!-Currency Converter widget - HTML code - fx-rate.net -->
   Philippine Peso Exchange Rate
<!-end of code-->
Clark Pampanga Weather
<!-Weather in Angeles City, Philippines on your site - HTML code - weatherforecastmap.com -- ><!-end of code-->