Yats Wine Cellars and the Embassy of The Czech Republic are organizing a wine tasting of the fine wines from Czech Republic as a special treat to food and wine lovers in Manila, Pampanga Philippines. Food of Czech Republic and Eastern Europe will be provided by Ambassador Josef Rychtar who is gracious enough to offer his new residence as the venue for this special wine tasting.
This special wine tasting to be held later this month features fine wines From Czech Republic
29th June 2011
At Private Residence Of
His Excellency, Josef Rychtar, Ambassador of Czech Republic
Narra 30, South Forbes Park, Makati.
โ€ƒ
Dress Code is smart casual and the party will start at 5:30pm and ends at 9:30pm.
Climate change and global warming have given wine producers all over the world a wake-up call that the time has come for sights to be set on other wine growing regions. Many locations did not produce the caliber of wine that merited the attention of wine lovers before mainly because of harsh growing conditions that prevented the grapes from maturing properly. In many cases, the average temperature is too low for grapes to achieve the necessary sugar level to ferment into wines that appeal to a more international market.
Global warming has begun to bring these locations back into play. Quality of wines from Eastern Europe for one has risen steadily to a level that they can legitimately compete in the first-tier arena. Rising prices of more illustrious wine regions such as Germany, France and Italy has created a window of opportunity for wines from these secondary locations to be taken seriously.
Tonight, Yats Wine Cellars is honored to present to you, the wine lovers, connoisseurs and captains of the wine industry in Philippines, a comprehensive profile of some of the best wines of the beautiful country of Czech Republic.
We are indebted to the generosity of our gracious host for tonightโ€™s wine tasting event, His Excellency Josef Rychtar, Ambassador of Czech Republic, for offering his private residence as a venue for us to enjoy these fine wines in style and comfort.
Yats Wine Cellars also wishes to thank Ludwig Wineries, a leading producer of fine wines from Czech Republic for the fine collection of wines for this tasting.
Lineup for this wine tasting
Muscat Ottonel sparkling wine
Archiv Cellar Pinot Gris dry 2008
Ludwig XX. Ryzlink / Aurelius late harvest 2009, dry (4 g residual sugar)
Ludwig Culinary Neuburg selection of grapes 2008, semisweet
Ludwig Pinot Noir rosรฉ selection of grapes 2009 semidry
Archiv Cellar Portugieser 2009 dry
Archiv Cellar Dornfelder late harvest dry 2009
Ludwig Barrique Andrรฉ late harvest 2009 (6 months in oak barrels)
Beerenauslese Veltliner/Riesling 2007
Eiswein cuvee 2006
You may click here to contact Yats Wine Cellars for inquiries and orders
For a long time, residents and tourists staying in Manila have complained of the meager selection of fine wines at their disposal. Wine shops and supermarkets offer a small line-up of wines that does not make for an interesting wine shopping experience. Wine lovers in Manila have recently discovered a large wine shop just outside Manila. Yats Wine Cellars offer a remarkably large selection of fine vintage wines at competitive prices.
Yats Wine Cellars is well known as the best supplier of fine vintage wines from all international wine regions. Wine lovers and visitors of Manila have discovered this wine shop as the only place where they can shop for rare vintage wines. Yats Wine Cellars not only carry famous wines but also wines that are not so well known. Many selections of matured vintage wines from Pomerol, Medoc, St. Emilion, St. Julien, Burgundy, Rhone, Loire, South Africa, Germany, Spain, Italy and California offer excellent value for money. Yats Wine Cellars is generally recognized as a connoisseurโ€™s wine shop.
YATS Wine Cellars cater to private wine tasting parties and from time to time offers public wine tasting events called Yats Wine Experience. Yats Wine Experience is a public wine appreciation event. Because there are no sponsors, participants are never exposed to pushy wine salesmen or subjected to boring sales pitches and speeches. Every event has a different theme designed to highlight a certain aspect in wine appreciation. Although the whole point about Yats Wine Experience is really to have a wonderful time with wine and congenial company, many participants leave the event knowing more about wine.
For more information email Wine@Yats-International.com or log on to http://www.YatsWineCellars.com.
Yats Wine Cellars Philippines
3003C East Tower, Philippines Stock Exchange Center (Tektite)
Exchange Road, Ortigas Center, Metro Manila, Philippines
(632) 637-5019 0917-520-4393 ask for Rea or Kristine
If Philippines is part of an upcoming travel and holiday plan, wine lovers might want to visit Clark Freeport Zone just 70 minutes from Manila. This bustling new city that is slated to replace Manila as the new capital of the Philippines has the largest wine shop called Clark Wine Center. For more information, log on to
http://www.ClarkWineCenter.com
Getting to this wine shop in Angeles City Clark Philippines
Getting to Clark Wine Center is quite simple: after entering Clark Freeport from Dau and Angeles City, proceed straight along the main highway M A Roxas. Clark Wine Center is the stand-along white building on the right, at the corner A Bonifacio Ave.
For wine lovers in Hong Kong, Macau and China:
Yats International HK Sales Office,
Room 1302, 13/F., The Centre Mark
287-299 Queen's Road Central Sheung Wan,
Hong Kong SAR
Tel: (852) 2788-0738 ask for Miss Eva Leung
Best restaurant in Clark Philippines offers award winning restaurant wine list, top rated fine dining resto bar outside Manila, one in 650 restaurants in the world to win the Wine Spectator's Best of Awards of Excellence for its fabulous restaurant wine list, the only restaurant in the Philippines to be given this award.
Each year, world leading wine and dining magazine called Wine Spectator gives out a special award to restaurants offering the best wine selections. The Best of Awards of Excellence is given out to less than 700 of the best restaurants worldwide. Here in the Philippines, Yats Restaurant and Wine Bar is the only one to receive this prestigious international award. This restaurant in Clark Pampanga is already well known as one of the best restaurants in the Philippines. With this award, this fine dining establishment puts Philippines, Clark Pampanga on the map of the international dining scene.
Restaurant wine lists are judged not for the number of impressive bad names on the wine list but more on how interesting the wine selection is for the dining guests. Breadth of selection covering all the major wine producing regions of the world is an important aspect of a restaurant wine list and so is the depth of vintages offered. Yats Restaurant has long been recognized internationally as one of the best places to wine and dine for wine lovers and those who are used to world class gourmet dining. Winning this international restaurant award places the Philippines on the map of international travelers who are accustomed to fine dining at a world-class level. The famous restaurant wine list of this top rated restaurant in Clark Pampanga serves as an icon in the Philippines for international wine lovers coming over to visit the Philippines on business or leisure.
Wine lovers and foodies visiting the Philippines might want to wine and dine at the best fine dining restaurant near Manila. Yats Restaurant offers an award winning 2700-line wine list sure to please wine connoisseurs and enthusiasts. Log on to
Besides good restaurants to wine and dine near Manila, Subic or in Angeles City Pampanga, Clark Philippines, those requiring assistance for hotel and resort bookings in Clark, Pampanga, Philippines may log on to http://www.HotelClarkPhilippines.com for more information and reservations.
Clark Pampanga is not only frequently visited for its good restaurants and fine dining establishments, it is also a highly recommended wedding destination especially for couples looking for outdoor garden reception venues and beach weddings. For assistance and information on wedding venues and how to organize a wedding reception, log on to http://www.PhilippinesWeddingVenue.com
---
If this article about Clark is useful to you,
please click here to contact us
to tell us what more you wish to know about this article or Clark Philippines, which can be something about Clark investment, about Clark resorts, about Clark Swimming and Leisure or simply general news about Clark.
---
Please send questions to
Editor@ClarkPhilippines.com
. Leave your name, email address, contact numbers and we will get back to you as soon as possible. Information received will not be disclosed.
---
Random
Search
Contact Clark Philippines
Politics & Opinion
Promote Your Business
Recent News & Press Releases
Flight Schedules
Diosdado Macapagal International Airport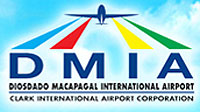 Check flight schedules to and from Clark Freeport
here
Exchange Rate
<!-Currency Converter widget - HTML code - fx-rate.net -->
   Philippine Peso Exchange Rate
<!-end of code-->
Clark Pampanga Weather
<!-Weather in Angeles City, Philippines on your site - HTML code - weatherforecastmap.com -- ><!-end of code-->