For centries,the Koreans have eaten the the products of the sea,the field, and the moutain because of the features of Korean peninsula and a distinguish climate makes Korean food more abundant.Korean foods are very special,exotic,and particular. The most distingushing feature of the Korean food is the spiceness. The basic seasonings-red pepper,green onion,soysauce,bean paste, garlic,ginger,sesame,mustard,vinegar,wine have been combined in various ways to enhance Korean foods.
Korean food has various side dish. Favorite side dishes are beantaste soup, broiled beef,fish,cabbage "kimchi", and steamed vegetables. "the full course Korean meal "is called "Hanjoungshik".It is composed of grilled fish, steamed short ribs, and other meat and vegetable dishes with steamed rice,soup,and"kimchi".
"Kimchi" is the best known Korean food. It is vegetable dish, highly seasoned with pepper,garlic,etc. It is served with every kinds of Korean meals and it stimulates the appetite like pickles. Large quantities of "kimchi" are usually made in late fall or early winter for the winter. the making at this time is called "kimchang". "kimchi" contains amounts of good nutritions such as vitamin C,and fiber.
Koreans also like meat dishes. is one of the famous dish to Westerners. "pulgoki" is generally called "Korean barbecue". It is marinated in a sause made with soysauce,garlic,sugar,sesame oil ,and other seasonings, and cooked over a fire in front of table. For the other special food, "kalbi" , the short ribs of beef or pork is also good.The recipe is similar to "pulgoki".
Soups ,"guk" and "cchigue" in Korean vary in taste and potency. Through the history, the soup culture was developed because of the famine or cold weather.When our ancestors were short of food, they made soup with small amount of vegetables and beef bones . Also the hot soup could play a role in protecting the cold . "maeuntang" is spicy,hot seafood soup that includes white fish,vegetables,boybean curd,redpepper powder. "twoenjang-guk" is a fermented soybean paste soup with baby clams in its broth. For the soups, there are other kinds of soups such as "miyok-guk","kimchi-cchigue".
Vegetable dish is also popular in Korea. We, Korean traditionally eat more vegetables with rice in main meal than meats and the vegetable dishes are various in kinds and tastes. Korean call dishes made with only vegetables "namool".There are two kinds of which are "saengche" , cold and raw "namool" and "saengche" , warm and steamed "namool".
Korean table settings are classified into the 3-"chop",the 5-"chop", the 7-"chop",9-"chop",12-"chop" setting according to the number of side dishes served except rice,soup, and"kimchi". The average family takes three or four sidishes. When a family hold celebrations or party ,a dozon or more delightful dishes are served. Korean food is shared by diners in one table,except rice and soup. All the dishes but hot soups are set at one time on a low table at which diners sit to eat.Chopstick and spoons are used for eating. Different from Japanese and Chinese,Korean use more thin chopstick made by metal,not wood.
Generally, the Korean diet uses much grains and vegetables which add fiber and protain from both vegetables (bean curd, beansprouts,bean paste, ,soy sauce) and meats.Korean food has moderate calories and low fat and sweet taste- very healthy and well-balanced. The Korean diet is changing and the Korean food industry is developing as fast as the speed of train. Even though the Western style and fast food diet are more and more famous in Korea in terms of curiosity and conveinence, the basic diet remains.
Source: http://iml.jou.ufl.edu/projects/students/hwang/character1.htm
Residents or Manila travel out of town to head north to Pampanga to relax, unwind and spend a few nights in the new hotel rooms situated right on the lake of Clearwater Resort in Clark Airbase. Many visitors and tourists enjoy the feeling of waking up by the lake. The sunrise produces a spectacular sight with the sunlight reflection on the calm surface of the three-hectare fresh water lake of this famous resort in Clark.
Families with small children prefer outdoor hotel in Manila, clean and safe place in Pampanga Clark to bring kids to relax and unwind. Outdoor space is an important criterion affecting the selection of a suitable hotel in Clark Pampanga for family bonding or to relax and unwind with friends. Best hotel in Clark Pampanga offers good outdoor facilities, large picnic grounds, lake and beach and other outdoor amenities making it possible for guests of this frequently visited hotel in Clark to relax and unwind with no stress.
The safest getaway destination vacation spot near Manila convenient safe and accessible is Clearwater Beach Resort in Clark Pampanga, great for family bonding, hang out to unwind and relax near lake and trees, camping too.
When in Clark, make plans to relax and enjoy an evening at The London Pub located in Mimosa Leisure Estate of Clark Pampanga. This highly recommended resto bar where all the local executives of Pampanga, local and foreign tourists visiting Angeles City, Subic and Clark Philippines gather after a full day of fun or work.
The London Pub is a very popular resto bar for residents, tourists, business executives and visitors from Manila to hang out, drink, relax and unwind after work or a game of golf during the day. Fine English cuisine, family comfort food is served. It is also very famous for the best fish n chips in the Philippines.
http://www.LondonPubClark.com
This web site contains articles and information that will be helpful to visitors, residents and tourists traveling out of town from Manila on a short getaway to Subic, Angeles City, Pampanga and Clark Philippines. There are several web sites that contain information that might also be pertinent to what is happening in North Luzon, Subic, Tarlac, Pampanga, Clark Freeport Philippines.
Wedding couples looking for wedding reception venues and beach wedding venues can log on to this Philippines Wedding Venue web site for free information and assistance:

For assistance with lodgings, accommodations, hotels and resorts near Manila in Subic, Pampanga, Angels City and Clark Philippines log on to http://www.HotelClarkPhilippines.com
While in Clark, one might as well add to the itinerary a visit to the famous Clark Wine Center, the largest wine shop in Philippines which offers over 2000 selections of fine vintage wine from all wine regions, vintages spanning over 50 years covering all price ranges.
http://www.ClarkWineCenter.com
---
If this article about Clark is useful to you,
please click here to contact us
to tell us what more you wish to know about this article or Clark Philippines, which can be something about Clark investment, about Clark resorts, about Clark Swimming and Leisure or simply general news about Clark.
---
Please send questions to
Editor@ClarkPhilippines.com
. Leave your name, email address, contact numbers and we will get back to you as soon as possible. Information received will not be disclosed.
---
Random
Search
Contact Clark Philippines
Politics & Opinion
Promote Your Business
Recent News & Press Releases
Flight Schedules
Diosdado Macapagal International Airport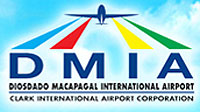 Check flight schedules to and from Clark Freeport
here
Exchange Rate
<!-Currency Converter widget - HTML code - fx-rate.net -->
   Philippine Peso Exchange Rate
<!-end of code-->
Clark Pampanga Weather
<!-Weather in Angeles City, Philippines on your site - HTML code - weatherforecastmap.com -- ><!-end of code-->