To throw a stress-free dinner party serving Korean food, it's important to choose a few dishes that can be made in advance and are still delicious when warmed up. This easy Korean dinner party menu includes rice, broiled salmon, noodles (chapchae), braised short ribs (galbi jim), kimchi and spinach side dishes, bean sprout soup, and barley tea. Everything but the salmon and short ribs can be made well in advance, and even these two gorgeous main dishes require very little hands-on time.
1. Kimchi
It's not a Korean dinner without kimchi, so plan to make this at least 2 days before your party. If you eat a lot of Korean food at home like I do, then you might already have this in your refrigerator. If you're a late planner, then I hope you're lucky enough to live close to an Asian grocery store!
2. Bean Sprout Soup (Kongnamulgook)
You can make this the day before your dinner party and it will still taste fresh reheated. Put it in a soup pot and bring to simmer. Take it off the burner, cover it, and ladle it into bowls when you are ready to serve dinner.
3. Seasoned Spinach (Sigumchi Namul)
Sigumchi Namul is served as a cold side dish, so you can make it the day before or the morning of your dinner party and store it in your refrigerator. You can plate it and serve it directly whenever you are setting the table.
4. Stir Fried Korean Noodles (Chapchae)
These sweet potato noodles reheat well, whether you choose to warm them up on the stove or in the microwave. You can make this dish the day before your dinner party or the morning of, and then just reheat and plate it as your guests arrive.
5. Braised Short Ribs (Galbi Jim)
These Korean short ribs require a couple hours of cooking, but then almost no hands-on time after the initial prep work.
6. Barley Tea (Bori Cha)
Barley tea is an easy thing to make after the short ribs are cooking in your pot, and you can serve it directly from your stove since it is good served hot, warm, or cold on ice.
7. Broiled Salmon with Soy Honey Glaze
Broiled fish tastes best when eaten immediately, so this is the one dish that I would try to make right before you are about to eat. But the good thing about this menu is that everything else should be done: kimchi, rice, spinach, and sweet potato noodles waiting on the table, and the short ribs, bean sprout soup, and tea waiting on the stove to be plated and served. Enjoy!
Source: http://koreanfood.about.com/od/reviewsandrecommendations/tp/Korean-Dinner-Party.htm
Top rated outdoor place in Pampanga, highly recommended for families with children looking for a good safe place for kids to play and enjoy family bonding with parents
Poor Philippines Records in Law and Order drove city dwellers to enjoy holidays in havens like Clark Freeport.
Metro Manila has lost a great deal of its luster of old not only because of its failure to keep up with the times in development but also its reputation as a safe destination for family bonding, travelers looking to unwind and relax in a beach or a lake and retirees looking for a life of leisure.
Clark Pampanga was the largest foreign US airbase, complete with its own international airport with daily flights linking it to major cities around Asia. Inside of Clark Philippines are golf courses, casinos, family-styled resorts that smacks of the US suburban lifestyles and fine-dining restaurants. Travelers going north to Clark Pampanga look for enjoyable hotel for family bonding during summer vacation in Philippines. Most prefer the privacy of an exclusive resort that offers outdoor amenities like beach, lake and picnic grounds so the whole family can spend quality time, lay back and rest with no stress.
This web site contains articles and information that will be helpful to visitors, residents and tourists traveling out of town from Manila on a short getaway to Subic, Angeles City, Pampanga and Clark Philippines. There are several web sites that contain information that might also be pertinent to what is happening in North Luzon, Subic, Tarlac, Pampanga, Clark Freeport Philippines.
Wedding couples looking for wedding reception venues and beach wedding venues can log on to this Philippines Wedding Venue web site for free information and assistance:

For assistance with lodgings, accommodations, hotels and resorts near Manila in Subic, Pampanga, Angels City and Clark Philippines log on to http://www.HotelClarkPhilippines.com
While in Clark, one might as well add to the itinerary a visit to the famous Clark Wine Center, the largest wine shop in Philippines which offers over 2000 selections of fine vintage wine from all wine regions, vintages spanning over 50 years covering all price ranges.
http://www.ClarkWineCenter.com
---
If this article about Clark is useful to you,
please click here to contact us
to tell us what more you wish to know about this article or Clark Philippines, which can be something about Clark investment, about Clark resorts, about Clark Swimming and Leisure or simply general news about Clark.
---
Please send questions to
Editor@ClarkPhilippines.com
. Leave your name, email address, contact numbers and we will get back to you as soon as possible. Information received will not be disclosed.
---
Random
Search
Contact Clark Philippines
Politics & Opinion
Promote Your Business
Recent News & Press Releases
Flight Schedules
Diosdado Macapagal International Airport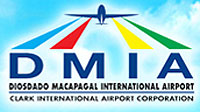 Check flight schedules to and from Clark Freeport
here
Exchange Rate
<!-Currency Converter widget - HTML code - fx-rate.net -->
   Philippine Peso Exchange Rate
<!-end of code-->
Clark Pampanga Weather
<!-Weather in Angeles City, Philippines on your site - HTML code - weatherforecastmap.com -- ><!-end of code-->