April 18, 2011
Maintaining proper food temperature should be a constant process in your restaurant or commercial kitchen, from the time it arrives through your back door to the time it arrives on the customer's plate.
When the delivery truck arrives, immediately check food products for temperature. Reject food that arrives above 41 degrees Fahrenheit. Once you have ensured that the food has arrived in good condition, store it immediately.
Use a good thermometer. Make good thermometers available to your staff to help with the temperature monitoring process. Make sure you and your staff are trained in proper thermometer use:
Insert the thermometer into the thickest part of what you want to measure, and make sure the tip is in about the center.
Wait about five minutes for a proper reading. Newer digital thermometers will beep when they have reached the absolute temperature.
Sanitize the thermometer before and after each use.
Constantly monitor food temperatures. Develop and post a temperature monitoring schedule for all the different food types you are currently storing and prepping.
Train other employees to help you maintain this schedule. Stay out of the food temperature danger zone between 41 degrees and 145 degrees Fahrenheit.
For heated foods, post a safe temperature chart for cooked foods and train your employees to properly use a thermometer to check food temps during heating.
Safe Chilling and Heating Instructions
Keeping out of the 41 degrees to 145 degrees danger zone should be the top priority for all foods and ingredients. The one exception to the danger zone rule is freshly cooked food, which can be held at 140 degrees before serving, although you should establish a deadline for hot held food after which you should either rapidly chill and store the product or dispose of it.
If you are chilling food that was heated, chilling it rapidly is the best way to prevent bacterial growth. Use a blast chiller or a cold paddle to bring food temperature down quickly.
This also retains maximum food freshness. After food has been rapidly cooled, store it in a commercial refrigerator or freezer. Use storage containers to maintain freshness.
If you are serving cold foods, use a chill pan with built-in refrigerant and ice to ensure food maintains the correct temperature. Monitor temperature to make sure food items are not rising above 40 degrees Fahrenheit.
Philippines Clark Freeport offers attractive investment opportunities. Assistance in law, taxes and other business and investment matters can be obtained from Clark Business and Investment Assistance.
Clark Philippines operates under a slightly set of rules from the rest of the country. There are many advantages but as usual, there are also areas that investors need to be well apprised to avoid unnecessary problems.
Clark Freeport Zone offers many attractive incentives that collectively make it a good business investment opportunity as well as a wonderful choice for semi- or full-retirement. In addition to the tax incentives of a Freeport Zone, Clark has a remarkably good record in terms of crime rate. In fact, there is no recollection of any major crimes inside Clark Freeport Zone at all and even minor crimes are rare and far between. Whereas traffic and pollution are two major deterrents to retiring, living or setting up a business in major cities in the Philippines such as Manila and Cebu, Clark Freeport are not marred by these problems. Clark is blessed by good infra structures left behind by the Americans built when Clark was their largest foreign airbase.
Investors are well advised to obtain legal counseling as the first step of their exploration of investment opportunities in Clark Freeport. Clark Business and Investment Assistance is well experienced to offer this service to would-be investors – called locators. This outfit can also address tax concerns but more importantly helps investors navigate the tricky waters of finalizing a deal.
This web site contains articles and information that will be helpful to visitors, residents and tourists traveling out of town from Manila on a short getaway to Subic, Angeles City, Pampanga and Clark Philippines. There are several web sites that contain information that might also be pertinent to what is happening in North Luzon.
For assistance with organizing and planning weddings and garden receptions, log on to http://www.PhilippinesWeddingVenue.com
For assistance with lodgings, accommodations, hotels and resorts near Manila in Subic, Pampanga, Angels City and Clark Philippines log on to http://www.HotelClarkPhilippines.com
---
If this article about Clark is useful to you,
please click here to contact us
to tell us what more you wish to know about this article or Clark Philippines, which can be something about Clark investment, about Clark resorts, about Clark Swimming and Leisure or simply general news about Clark.
---
Please send questions to
Editor@ClarkPhilippines.com
. Leave your name, email address, contact numbers and we will get back to you as soon as possible. Information received will not be disclosed.
---
Random
Search
Contact Clark Philippines
Politics & Opinion
Promote Your Business
Recent News & Press Releases
Flight Schedules
Diosdado Macapagal International Airport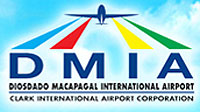 Check flight schedules to and from Clark Freeport
here
Exchange Rate
<!-Currency Converter widget - HTML code - fx-rate.net -->
   Philippine Peso Exchange Rate
<!-end of code-->
Clark Pampanga Weather
<!-Weather in Angeles City, Philippines on your site - HTML code - weatherforecastmap.com -- ><!-end of code-->