Philippine tribal gunmen have freed 13 hostages they were holding in a remote jungle area for four days, the government said yesterday.
Negotiators convinced the near-illiterate gunmen from the forest-dwelling Manobo tribe late on Tuesday to let the group of 11 teachers, a student and a driver go free in exchange for the fair treatment of a relative jailed for kidnap, a government statement said.
"We are happy to announce that at six o'clock this morning, all of the 13 hostages had been recovered and are already safe with us. Our troops found the hostages abandoned by their captors," it said.
The statement was read by Alvin Magdamit, the mayor of the nearby town of La Prosperidad on the largely lawless southern island of Mindanao, at a news conference broadcast live on national television.
"They are now undergoing medical check-ups and stress debriefing," he said, adding that the hostages were in good physical condition, although some had bruises and mosquito bites.
The hostages, wearing white t-shirts and looking exhausted after their ordeal, were paraded at a media conference at Magdamit's house. They said the gunmen treated them well during captivity and they were never harmed.
The total number of hostages was one more than the government had said earlier.
A rickshaw driver had also been abducted along with the 11 school teachers and staff and a minor, Magdamit said.
Five Manobo gunmen seized 16 teachers and children on Mindanao and held them at their jungle hideout for just over four days in a bid to get the government to free Ondo Perez, a jailed relative.
Perez is awaiting trial for murder and for kidnapping a group of 79 people, including teachers and schoolchildren, in La Prosperidad in 2009. His crimes stem from a longstanding feud with another Manobo clan.
The gunmen, whom police said did not understand Philippine legal processes, freed three of the hostages on Sunday and Monday and later received assurances from the government that Perez would be tried fairly.
No ransom was sought and their demand for an outright release was rejected, while the gunmen were warned the government would use force if the hostages were not freed soon, Interior Minister Jesse Robredo said. "They will be made to account for what they did," he said. "President [Benigno] Aquino had standing orders to be patient in negotiations, but he was very firm in saying that certain things cannot be negotiated."
Resource-rich but impoverished Mindanao makes up roughly the southern third of the Philippines. Communist and Muslim insurgencies have claimed thousands of lives on the island over recent decades.
Robredo said the kidnappers were former members of local militia forces numbering several thousand that were given guns to help defend remote communities in Mindanao and elsewhere from guerilla attacks.
"After they were separated from the (government-backed militia force), their guns were not recovered and that is why they are armed," he said. He had ordered the police forces, which come under his direct supervision, to take steps to disarm former militiamen so they could not use government-issued weapons to commit crimes.
Source: SCMP Agence France-Presse in Manila Apr 07, 2011
http://www.scmp.com/portal/site/SCMP/menuitem.2af62ecb329d3d7733492d9253a0a0a0/?vgnextoid=299dcc965ea2f210VgnVCM100000360a0a0aRCRD&ss=Asia+%26+World&s=News
Manila residents and tourists spending a vacation in Philippines prefer to travel out of town from Manila to the north to visit Subic, Pampanga, Angeles City and Clark Philippines. While many areas of the Philippines are plagued by crime and security concerns, Clark continues to impress the travel and tourism observers with its immaculately low crime records. Other features of Clark that attract family tourists and those visitors that are health sensitive include low pollution, peace and quiet ambiance and a most welcome absence of traffic congestion.
Many are selling off their assets to start a new life in Philippines, taking advantage of the standard-of-living differential to start a business or just enjoy living in a tropical country. With careful planning, the move to Philippines can work out brilliantly or it can be a painful mistake.
This web site contains articles and information that will be helpful to visitors, residents and tourists traveling out of town from Manila on a short getaway to Subic, Angeles City, Pampanga and Clark Philippines. There are several web sites that contain information that might also be pertinent to what is happening in North Luzon.
For assistance with organizing and planning weddings and garden receptions, log on to http://www.PhilippinesWeddingVenue.com
For assistance with lodgings, accommodations, hotels and resorts near Manila in Subic, Pampanga, Angels City and Clark Philippines log on to http://www.HotelClarkPhilippines.com
While in Clark, one might as well add to the itinerary a visit to the famous Clark Wine Center, the largest wine shop in Philippines which offers over 2000 selections of fine vintage wine from all wine regions, vintages spanning over 50 years covering all price ranges.

http://www.ClarkWineCenter.com

---
If this article about Clark is useful to you,
please click here to contact us
to tell us what more you wish to know about this article or Clark Philippines, which can be something about Clark investment, about Clark resorts, about Clark Swimming and Leisure or simply general news about Clark.
---
Please send questions to
Editor@ClarkPhilippines.com
. Leave your name, email address, contact numbers and we will get back to you as soon as possible. Information received will not be disclosed.
---
Random
Search
Contact Clark Philippines
Politics & Opinion
Promote Your Business
Recent News & Press Releases
Flight Schedules
Diosdado Macapagal International Airport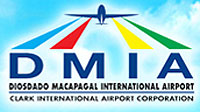 Check flight schedules to and from Clark Freeport
here
Exchange Rate
<!-Currency Converter widget - HTML code - fx-rate.net -->
   Philippine Peso Exchange Rate
<!-end of code-->
Clark Pampanga Weather
<!-Weather in Angeles City, Philippines on your site - HTML code - weatherforecastmap.com -- ><!-end of code-->