Gregorio Mendoza, the younger brother of the Manila death siege gunman Rolando, has been charged with plotting to take hostages on the ill-fated Hong Kong tourist bus.
Mendoza is accused of "serious illegal detention", or conspiring to take hostages with his brother in a turn of events that casts last year's bloodbath in a new light.
It had previously been thought that the gunman had acted alone.
Last month, Mendoza, 53, who denies he was part of a plot, apologised for the tragedy in which seven Hong Kong tourists and a Hong Kong tour guide were shot dead during a bungled attempt to free them from a Hong Thai bus in August last year.
The serving police officer handed himself into justice department officials yesterday.
Earlier in the week he had texted the South China Morning Post (SEHK: 0583, announcements, news) saying that he feared for his life if he was picked up by the Manila Police Department, who he believed were preparing to arrest him.
After several hours of questioning, Mendoza was released on 100,000 pesos (HK$18,000) bail last night.
In his earlier text messages, he told the Post: "If they bring me to the Manila Police Department, I hope you'll be around to cover it to show I voluntarily surrendered. Otherwise I'm worried they'll do something bad to me and later claim I was trying to grab a police officer's gun … I pray."
After he surrendered, he was turned over to the justice department's investigative arm, the National Bureau of Investigation.
Hours later Mendoza was released after his lawyer Romulo Macalintal negotiated down the original 200,000 pesos bail to half that amount. Mendoza's family raised the bail money.
"By God's mercy, nothing happened to me," Mendoza said after posting bail. " I feared ending up with the MPD [Manila Police Department]," he said.
Mendoza, like his brother, is a senior Manila police officer.
The hostage rescue fiasco on August 23 led to the sacking of the department's three top police officers, including the capital's police chief. Manila Mayor Alfredo Lim, who is also a former police officer, was also sanctioned.
In another mobile phone message, Mendoza expressed concern that he wouldn't be able to afford to pay the original bail amount of 200,000 pesos, which he described as "inhuman".
"I was never my brother's accomplice but was merely trying to ease the hostage situation," he said.
Mendoza wondered why he was being singled out. He is the first to be arrested in connection with the hostage crisis.
Earlier, Deputy Ombudsman Emilio Gonzalez was ordered sacked by the Office of the President but he remains defiantly in his post to date.
Yesterday, Mendoza surrendered, accompanied by his lawyer, Macalintal. The latter said his client "wanted to make sure of his safety during his surrender".
He said Mendoza preferred to turn himself in to the National Bureau of Investigation under the Department of Justice "because he feared something [bad] may happen to him."
The justice department had found "probable cause" to charge him with "supplying the material or moral aid in the execution of the crime" and "causing the negotiations to collapse" during the 11-hour stand-off.
Hostage Joe Chan Kwok-chu, who was shot in the hands, said: "I'm happy to see that the Philippine police are taking the responsibility. I hope that they can continue with their efforts to investigate the matter seriously.
"It's hard for me to say whether [Gregorio] was an accomplice … but it's good that the police are following up on it."
Gunman Mendoza went on his rampage after he was sacked from his job as a police officer. He was shot in the head by a police sniper as officers stormed the bus to bring the bus massacre to an end.
The younger Mendoza was the first Filipino to participate in a Hong Kong inquest into the tour bus bloodbath which ended last month. He testified via video link from a conference room in Manila, and made his apology outside the proceedings.
Call for help
Gregorio Mendoza's text messages to SCMP reporter Raissa Robles
April 4, 2011, 4:21 pm
Mendoza: I have a warrant as an accomplice. 200,000 bail. How can I speak out? I am being told to surrender due to the warrant. I have no money [for bail]
April 6, 2011, 8:47 am
Mendoza: Ma'am, when they bring me to the Manila Police Department I hope you'll be around to cover it to show I voluntarily surrendered. Otherwise I'm worried they'll do something bad to me and later claim I was trying to grab a police officer's gun … I pray.
Robles To whom do you want surrender?
April 6, 2011, 8:21 pm
Mendoza: I will text you tomorrow
Source: SCMP Raissa Robles in Manila Apr 09, 2011
http://www.scmp.com/portal/site/SCMP/menuitem.2c913216495213d5df646910cba0a0a0/?vgnextoid=3c84ed266a53f210VgnVCM100000360a0a0aRCRD&vgnextfmt=teaser&ss=Hong+Kong&s=News
Poor Philippines Records in Law and Order drove city dwellers to enjoy holidays in havens like Clark Freeport.
Metro Manila has lost a great deal of its luster of old not only because of its failure to keep up with the times in development but also its reputation as a safe destination for family bonding, travelers looking to unwind and relax in a beach or a lake and retirees looking for a life of leisure.
Clark Pampanga was the largest foreign US airbase, complete with its own international airport with daily flights linking it to major cities around Asia. Inside of Clark Philippines are golf courses, casinos, family-styled resorts that smacks of the US suburban lifestyles and fine-dining restaurants.
This web site contains articles and information that will be helpful to visitors, residents and tourists traveling out of town from Manila on a short getaway to Subic, Angeles City, Pampanga and Clark Philippines. There are several web sites that contain information that might also be pertinent to what is happening in North Luzon.
For assistance with organizing and planning weddings and garden receptions, log on to http://www.PhilippinesWeddingVenue.com
For assistance with lodgings, accommodations, hotels and resorts near Manila in Subic, Pampanga, Angels City and Clark Philippines log on to http://www.HotelClarkPhilippines.com
While in Clark, one might as well add to the itinerary a visit to the famous Clark Wine Center, the largest wine shop in Philippines which offers over 2000 selections of fine vintage wine from all wine regions, vintages spanning over 50 years covering all price ranges.
http://www.ClarkWineCenter.com
---
If this article about Clark is useful to you,
please click here to contact us
to tell us what more you wish to know about this article or Clark Philippines, which can be something about Clark investment, about Clark resorts, about Clark Swimming and Leisure or simply general news about Clark.
---
Please send questions to
Editor@ClarkPhilippines.com
. Leave your name, email address, contact numbers and we will get back to you as soon as possible. Information received will not be disclosed.
---
Random
Search
Contact Clark Philippines
Politics & Opinion
Promote Your Business
Recent News & Press Releases
Flight Schedules
Diosdado Macapagal International Airport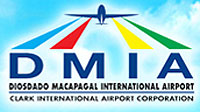 Check flight schedules to and from Clark Freeport
here
Exchange Rate
<!-Currency Converter widget - HTML code - fx-rate.net -->
   Philippine Peso Exchange Rate
<!-end of code-->
Clark Pampanga Weather
<!-Weather in Angeles City, Philippines on your site - HTML code - weatherforecastmap.com -- ><!-end of code-->