April 12, 2011
The following is a short list of way you can begin to improve your life. The advice given is that of a researcher on Hepatitis C, not a doctor. These tips are to be used in conjunction with your own physicians advice.
Eat a very-low-protein, low-fat diet. Digesting protein puts an inordinate workload on the liver, so it is recommended by some dietary experts that you should greatly limit your intake of concentrated protein foods, such as meat, fish, and dairy products. Eat plenty of starches, vegetables, and fruits.
Drink green teas. Many available are rich in herbs that have a soothing effect. Often you can drink a cup and fill up on tea, be careful to always eat nutritiously. Don't ever skip meals if you can help it. You need to work refueling your system everyday.
Avoid all alcohol and tobacco products. Alcohol is toxic to the liver and can accelerate liver disease leading to cirrhosis, while smoking takes a major toll on the immune system.
Try to avoid all drugs, whether prescribed, over-the-counter, or illegal. Most drugs are metabolized by the liver. Even common painkillers such as acetaminophen (Tylenol), when combined with alcohol, have been shown in studies to cause severe liver damage. If you're taking prescription drugs, ask your doctor whether you truly need to stay on them.
Drink plenty of water. Flushing your kidneys with lots of good-quality water (6-8 glasses a day) will allow your body's purification system to do its job and take some of the workload of detoxification off of the liver.
Take frequent steam baths or saunas. Sweating helps the body eliminate toxins and also reduces the liver's workload. Be sure to replace lost fluids by drinking plenty of pure water at the same time.
Get plenty of rest. Give your immune system an edge by cutting down on unnecessary expenditures of energy.
Exercise a couple of times a week. It is difficult to move about sometimes, especially when you are feeling fatigued but it can be very helpful to start off slowly by doing some activity every other day. A short walk can help your system work more efficiently.
Avoid exposure to chemical fumes and vapors (such as gasoline and solvents) as well as pesticides and herbicides. The liver bears most of the burden of metabolizing and detoxifying unwanted substances that enter the body. Toxins of any kind weaken immunity and make the body more susceptible to infections and disease.
Take the liver-protective herb Milk thistle. European research shows that extracts of the seeds of milk thistle (Silybum marianum) stimulate regeneration of liver cells. You'll find this product in most health-food stores. Many physicians don't tell you about the herbs that are out there because the big pharmaceutical companies don't sell them, therefore are not on the doctors list of medicines. Some doctors go so far as to say that there is no helpful herbs for treating Hepatitis C. See your doctor before taking any medicine or herb. A few have been found to be toxic in large doses.
Source: http://www.suite101.com/article.cfm/hepatitis_abc/32700
Companies, even organizers, wedding planners and families are looking for Resorts and beaches near Manila for events and retreats. Frequently visited destinations for vacation spots this summer in Philippines are found in Angeles City, Clark, Pampanga, which is very accessible from Manila, Subic and Cebu.
Frequent travelers and visitors staying in Angeles City Pampanga Clark Philippines look for restaurants, coffee shops, bars, pubs, hotels and resorts in Clark that offer free internet connection to guests. There are some highly recommended places in Clark that offer good WIFI internet services.
Yats Restaurant and Wine Bar has its own special attraction for January 2010. Featured on the "special" menu are luxurious items that are guaranteed to make the dinners memorable. Saturdays in January are BYOB dinners which means that wine lovers can bring their own bottles to dine at Yats Restaurant without being charged corkage. BYO (Bring Your Own) is a special theme of Yats Restaurant which offers the biggest selection of fine and everyday wines anywhere in Asia.
This web site contains articles and information that will be helpful to visitors, residents and tourists traveling out of town from Manila on a short getaway to Subic, Angeles City, Pampanga and Clark Philippines. There are several web sites that contain information that might also be pertinent to what is happening in North Luzon.
For assistance with organizing and planning weddings and garden receptions, log on to http://www.PhilippinesWeddingVenue.com
For assistance with lodgings, accommodations, hotels and resorts near Manila in Subic, Pampanga, Angels City and Clark Philippines log on to http://www.HotelClarkPhilippines.com
While in Clark, one might as well add to the itinerary a visit to the famous Clark Wine Center, the largest wine shop in Philippines which offers over 2000 selections of fine vintage wine from all wine regions, vintages spanning over 50 years covering all price ranges.
http://www.ClarkWineCenter.com
---
If this article about Clark is useful to you,
please click here to contact us
to tell us what more you wish to know about this article or Clark Philippines, which can be something about Clark investment, about Clark resorts, about Clark Swimming and Leisure or simply general news about Clark.
---
Please send questions to
Editor@ClarkPhilippines.com
. Leave your name, email address, contact numbers and we will get back to you as soon as possible. Information received will not be disclosed.
---
Random
Search
Contact Clark Philippines
Politics & Opinion
Promote Your Business
Recent News & Press Releases
Flight Schedules
Diosdado Macapagal International Airport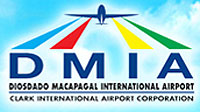 Check flight schedules to and from Clark Freeport
here
Exchange Rate
<!-Currency Converter widget - HTML code - fx-rate.net -->
   Philippine Peso Exchange Rate
<!-end of code-->
Clark Pampanga Weather
<!-Weather in Angeles City, Philippines on your site - HTML code - weatherforecastmap.com -- ><!-end of code-->