Mar 11, 2011
Authorities in the Philippines have offered to set up a notebook computer and a Skype connection to help the brother of gunman Rolando Mendoza give evidence to the inquest into the deaths of eight Hongkongers.
Rolando Mendoza was a disgraced police offer who boarded a Hong Kong tour bus in Manila on August 23 last year with the intention of seeking reinstatement. Of the 25 people initially held hostage on board, seven Hong Kong tourists and their guide were killed and seven injured in the botched rescue attempt. Mendoza was eventually shot by police.
Four weeks into the Hong Kong inquest into the killings, the court was told that the gunman's brother Gregorio, who was on the scene during the incident, wished to give evidence.
Outside the court, Coroner's Officer Jat Sew-tong SC said yesterday: "We need to record [the proceedings] … How will we know if someone holds up a sign behind the witness that says `Don't answer'?"
The offer was made via Philippine Vice-Consul Val Simon Roque. The Hong Kong police needed approval from Philippine authorities to take evidence from a witness in their country, Jat said.
Gregorio Mendoza cannot testify in Hong Kong because he cannot get a passport to leave the country.
Jat said a venue had been found for the video testimony, and pending Philippine government approval, Mendoza's evidence could be heard as early as Tuesday.
Director of Public Prosecutions Kevin Zervos SC was in the court building to meet Jat and other lawyers, but he only revealed that the meeting concerned "logistics".
Transcripts of assistant negotiator Romeo Salvador's testimony at an inquiry held in the Philippines last September were read out as evidence.
The shootings began after Rolando Mendoza saw his brother being arrested as an accessory on televisions aboard the coach, the court heard earlier. Gregorio Mendoza, a traffic police officer, approached the hijacked Hong Thai tour bus at about 1.45 pm, the inquest heard.
At 6.17pm, negotiator Superintendent Orlando Yebra passed a letter from the Ombudsman to the sacked police officer, who demanded to be reinstated.
Gregorio Mendoza and Salvador were also near the bus. After reading the letter, the gunman said: "That is rubbish sir! You are just fooling me!"
Yebra asked the gunman if he would end the situation if he could get a temporary order suspending the dismissal, the inquest heard. The gunman replied: "All right, we talk again later."
Gregorio Mendoza then told his brother that the police had not returned his pistol, which was confiscated earlier, the court heard.
"[Gregorio] Mendoza … said, "If my gun will not be returned, you don't accept the agreement!" Salvador told the inquiry. As the three walked away from the bus, the gunman fired a warning shot.
Yebra said to Gregorio: "Why did you do that? You're just concerned with your gun. You said you could help, but then you caused trouble."
Yebra recommended Gregorio be charged and arrested as an accessory to the crime, the inquest heard.
Salvador, who was not a trained negotiator, first approached the bus alone at 10.30am, the court heard. When Gregorio Mendoza arrived, Salvador was on an ambulance because he was dizzy.
Salvador told the inquiry that he was very close to the gunman and had wanted to grab him. But Yebra would not authorise the action as it was not in accordance with the rules for hostage negotiations.
Salvador told the inquiry he never thought the crisis would turn violent. He believed a temporary order to reinstate Mendoza would end the crisis. Mendoza knew he would be charged for the hostage taking and was willing to take responsibility, he said.
SCMP
Maggie Ng
Source: http://www.scmp.com/portal/site/SCMP/menuitem.2af62ecb329d3d7733492d9253a0a0a0/?vgnextoid=535604a64bf9e210VgnVCM100000360a0a0aRCRD&ss=Hong+Kong&s=News
There are numerous opportunities for investments between US$100,000 and $500,000. These opportunities are especially attractive for semi-retirement lifestyles. The best, easiest and safest way to go about with this kind of investments is to deal with an existing business – a locator as business in Clark is called – so the investor is spared of the hassle of dealing with red-tape and bureaucracy that is always present in third-world countries. The existing locator has already cleared the path so to speak and even if it means asking for small premium for a partnership, it is very much worth the while of a new investor to take this route. Business opportunities depend largely on the skills, interests and experiences of the investors but there is a strong demand for more establishments in these areas: entertainment, shops, office space, construction and engineering services, restaurants and bars, transportation and travel assistance.
Clark Freeport is one of the most attractive business propositions the Philippines has to offer for investors in many kinds of businesses from BPO, hospitality, resorts and leisure facilities to condos, retirement homes, restaurants, bars and shops.
This web site contains articles and information that will be helpful to visitors, residents and tourists traveling out of town from Manila on a short getaway to Subic, Angeles City, Pampanga and Clark Philippines. There are several web sites that contain information that might also be pertinent to what is happening in North Luzon.
For assistance with organizing and planning weddings and garden receptions, log on to http://www.PhilippinesWeddingVenue.com

For assistance with lodgings, accommodations, hotels and resorts near Manila in Subic, Pampanga, Angels City and Clark Philippines log on to http://www.HotelClarkPhilippines.com
While in Clark, one might as well add to the itinerary a visit to the famous Clark Wine Center, the largest wine shop in Philippines which offers over 2000 selections of fine vintage wine from all wine regions, vintages spanning over 50 years covering all price ranges.
http://www.ClarkWineCenter.com

---
If this article about Clark is useful to you,
please click here to contact us
to tell us what more you wish to know about this article or Clark Philippines, which can be something about Clark investment, about Clark resorts, about Clark Swimming and Leisure or simply general news about Clark.
---
Please send questions to
Editor@ClarkPhilippines.com
. Leave your name, email address, contact numbers and we will get back to you as soon as possible. Information received will not be disclosed.
---
Random
Search
Contact Clark Philippines
Politics & Opinion
Promote Your Business
Recent News & Press Releases
Flight Schedules
Diosdado Macapagal International Airport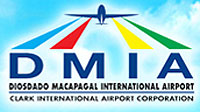 Check flight schedules to and from Clark Freeport
here
Exchange Rate
<!-Currency Converter widget - HTML code - fx-rate.net -->
   Philippine Peso Exchange Rate
<!-end of code-->
Clark Pampanga Weather
<!-Weather in Angeles City, Philippines on your site - HTML code - weatherforecastmap.com -- ><!-end of code-->