Manila residents needing a reprieve from the stress and aggravations of living and working in a crowded and chaotic city travel out of town for some peace and quiet in the north.ย  Many food and wine lovers head out to Pampanga to relax and unwind in Philippines Clark Freeport Zone, play some golf in Mimosa or get a cottage or cabin in the lake hotel called Clearwater Resort located in the central business of Clark Philippines.ย ย  And when the day is done Manila visitors find a good restaurant in Clark Pampanga to wine and dine before heading back home to the big city.
Frequent visitors to Clark have already discovered a really good place to enjoy good food with a bottle of fine wine.ย ย  Well known as one of the best restaurants in the Philippines and certainly a dining establishment of choice for Manila residents traveling north to Pampanga for business, golf or holidays, Yats Restaurant is also famous for its award-winning wine list.ย  In fact it is the only restaurant in the Philippines that earned the prestigious Best of Awards of Excellence title given out to less than 900 of the best restaurants around the world by world leading wine magazine called Wine Spectator.
For more information about good places to wine and dine in Pampanga, log on to:
http://www.yatsrestaurant.com/restaurant-in-pampanga-offers-a-treat-for-wine-and-food-lovers-from-manila
With so many fancy restaurants opening in Manila over the last 3 years, one would have assumed that there are no surprises left for those traveling out of town.ย  That is not totally true.ย  By virtue of its being located inside a special Freeport Zone complete with its own international airport, Clark offers something that restaurants in Manila can only dream of โ€" access to gourmet ingredients flown straight in from all over world delivered to their doorsteps, well almost their doorsteps.ย  Access to special ingredients allows the good restaurants in Clark to offer an unparalleled dining experience to foodies from Manila and other parts of Asia.
Food is not the only thing that interest customers looking for a good restaurant to dine out in Clark or Angeles City Pampanga.ย  Good food has to be paired with fine wine to bring the best out of a good meal in any good restaurants in Pampanga.ย  If the food of these great restaurants in Clark is not enough to set them apart from all the eateries in hotels and streets of Angeles City, then a look at their fabulous wine lists will seal the deal on this subject.
Talking about wine, there is yet another surprise that awaits wine lovers arriving in Clark from Manila and other Asian cities.ย  Now becoming better known than ever before, Clark is fast becoming a shopping haven for wine lovers, especially those with sophisticated palates looking for some older vintage wines.ย  One of the most popular wine shops in Clark that wine lovers never fail to drop in when they are in town is the Clark Wine Center.ย  This 3-storey wine shop offers a staggering 2000 selections of wine from all wine regions around the world covering all price points with vintages spanning over 6 decades.ย  For more information about this amazing wine shop in Clark Pampanga, log on to http://www.ClarkWineCenter.com
When visiting Clark, always remember to slow down and relax.ย  Philippines Clark Freeport Zone is one of the few places left in Asia where one can stroll leisurely in safety and comfort.ย ย  Enjoy your stay in Clark Philippines.
---
If this article about Clark is useful to you,
please click here to contact us
to tell us what more you wish to know about this article or Clark Philippines, which can be something about Clark investment, about Clark resorts, about Clark Swimming and Leisure or simply general news about Clark.
---
Please send questions to
Editor@ClarkPhilippines.com
. Leave your name, email address, contact numbers and we will get back to you as soon as possible. Information received will not be disclosed.
---
Random
Search
Contact Clark Philippines
Politics & Opinion
Promote Your Business
Recent News & Press Releases
Flight Schedules
Diosdado Macapagal International Airport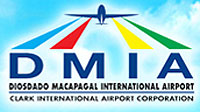 Check flight schedules to and from Clark Freeport
here
Exchange Rate
<!-Currency Converter widget - HTML code - fx-rate.net -->
   Philippine Peso Exchange Rate
<!-end of code-->
Clark Pampanga Weather
<!-Weather in Angeles City, Philippines on your site - HTML code - weatherforecastmap.com -- ><!-end of code-->