NAPA โ€" Backed with new funding, VinPerfect is moving into larger-scale production of its design for a screw cap and liner combination that allows winemakers to control oxygen transfer to the wine after the bottle is sealed.
Use of aluminum screw caps has been growing worldwide for ease of use and reuse as well as to allay concerns about closure-related tainting of the wine. But caps can be too good of a seal or not good enough. Cork wood stoppers can allow oxygen through slowly, helping wine to age without oxidizing from too much air in the headspace between liquid and closure or reducing from not enough oxygen. VinPerfect is aiming to provide the best of caps with the best of cork via an aluminum cap with tiny holes in the top together with a multilayer cap liner to control the rate of gas transfer.
VinPerfect plans to license the patent-pending design for the multilayer screw cap liner seal, shown here, and the aluminum screw cap with tiny holes in the top to allow controlled oxygen transfer.
The seven-person company, started in 2008 from a concept developed by three University of California at Davis MBA students, raised $885,000 from 38 seed-round funders in the past 12 months and is accelerating production after the sale of the first closures last fall.
VinPerfect (707-252-2155, www.vinperfect.com) on May 18 doubled the size of its south Napa development, production and distribution facility with a move to nearly 6,000 square feet at 831 Latour Court, Ste. B1. Expected to arrive in July is equipment that will allow the insertion of 10,000 liners an hour, compared with only 1,500 now.
โ€œWeโ€™re at the point where weโ€™re getting more orders than we can sustain at this rate of production,โ€ said Collin Casper, co-founder and chief operations officer.
Orders have come from 16 wineries so far, including the 25 Brix brand made by VinPerfect co-inventor and Chief Executive Officer Tim Keller, consulting winemaker for Alta Ridge Vineyards near Sonoma Mountain. Some are buying for entire production runs, and some are acquiring some for testing.
VinPerfect has opened a $1 million series A funding round to cover the increased production, finance inventory to keep up with demand and hire a third production worker and two commissioned salespeople in the next three to six months. Coming on board recently as director of investor relations is Chris Gutek, described as an active angel investor who was involved in Keiretsu Forumโ€™s due diligence on VinPerfect.
While VinPerfect is ramping production in Napa, including a special type of laser etching of the caps based on customer designs. But ultimately, large-scale production must happen elsewhere, according to Mr. Casper. More than 21 billion wine closures are sold globally each year, and screw cap share currently is 15 percent and growing. In the next six months, VinPerfect hopes to secure licensing agreements with aluminum screw cap manufacturers to produce the perforated caps and insert the liners. The company is developing international distribution contracts.
The VinPerfect concept came together in 2007 and won the schoolโ€™s Big Bang! business plan contest the following year. VinPerfect moved from Davis to Napa in late 2010.
http://www.northbaybusinessjournal.com/54439/vinperfect-expands-permeable-screw-cap-concept/
Manila residents and tourists spending a vacation in Philippines prefer to travel out of town from Manila to the north to visit Subic, Pampanga, Angeles City and Clark Philippines. While many areas of the Philippines are plagued by crime and security concerns, Clark Pampanga continues to impress the travel and tourism observers with its immaculately low crime records. Other features of Pampanga Angeles City Clark that attract family tourists and those visitors that are health sensitive include low pollution, peace and quiet ambiance and a most welcome absence of traffic congestion.
Yats Restaurant is one of the good restaurants in Pampanga, a restaurant with good food, a place that is nice for celebration, ideal for business dinner meeting, a good place to enjoy family reunion, and an attractive restaurant that serves good wines for dinner.
Families with small children prefer outdoor resort in Manila clean and safe place in Pampanga Clark to bring kids to relax and unwind. Family bonding is much more effective and enjoyable in a private resort that offers large outdoor facilities, picnic grounds, beautiful scenery, peaceful and quiet ambience.
Many are selling off their assets to start a new life in Philippines, taking advantage of the standard-of-living differential to start a business or just enjoy living in a tropical country. With careful planning, the move to Philippines can work out brilliantly or it can be a painful mistake. Clark Pampanga has been the preferred destination for retirement also.
You might want to check also the Yats Restaurant is the best restaurant for special dinner, best restaurant for dinner with friends near Manila, also the best place to celebrate special events.
Are you looking for an attractive restaurant or a nice place to eat with friends in Clark, Angeles City Pampanga? Yats Restaurant and Wine Bar is a restaurant with good food and good wines for dinner located at Clark Angeles City Pampanga. Perfect for exclusive dinner venues for groups, recommended for private dinner in Philippines. A Restaurant in Clark for business dinner meeting. Private dinner place or dinner restaurant in Clark Subic Near Manila Angeles City Pampanga. Yats Restaurant is one of the Good Restaurant in Pampanga Angeles City Clark near Manila.
Famous Restaurant in Pampanga, a place to dine with friends in Clark, cozy restaurant with a nice ambience, a nice function place for special occasions
Looking for a party venue in town?
Clearwater Resort and Country Club is one of the ideal venues for birthday party because it is a risk free venue. Not only Birthday Parties but also a good place to enjoy family reunion. A good place to celebrate special occasions. Clearwater Resort and Country Club is one of the resorts in Subic Clark Angeles City Pampanga or near Manila with activity amenities, place that are nice for celebration.
This web site contains articles and information that will be helpful to visitors, residents and tourists traveling out of town from Manila on a short getaway to Subic, Angeles City, Pampanga and Clark Philippines. There are several web sites that contain information that might also be pertinent to what is happening in North Luzon, Subic, Tarlac, Pampanga, Clark Freeport Philippines.
Looking for interesting hotels near Manila Subic Clark Angeles City Pampanga?
Trouble free hotels and well recognized hotels in Subic Clark Angeles City Pampanga
Clearwater Resort and Country Club offers a good place to stay in Subic Clark Angeles City Pampanga. In offers nice place to have rest in Subic Pampanga outside Manila.
One of the Philippines top hotels in north Luzon.
Wedding couples looking for wedding reception venues and beach wedding venues can log on to this Philippines Wedding Venue web site for free information and assistance:

For assistance with lodgings, accommodations, hotels and resorts near Manila in Subic, Pampanga, Angels City and Clark Philippines log on to http://www.HotelClarkPhilippines.com
While in Clark, one might as well add to the itinerary a visit to the famous Clark Wine Center, the largest wine shop in Philippines which offers over 2000 selections of fine vintage wine from all wine regions, vintages spanning over 50 years covering all price ranges.
http://www.ClarkWineCenter.com
---
If this article about Clark is useful to you,
please click here to contact us
to tell us what more you wish to know about this article or Clark Philippines, which can be something about Clark investment, about Clark resorts, about Clark Swimming and Leisure or simply general news about Clark.
---
Please send questions to
Editor@ClarkPhilippines.com
. Leave your name, email address, contact numbers and we will get back to you as soon as possible. Information received will not be disclosed.
---
Random
Search
Contact Clark Philippines
Politics & Opinion
Promote Your Business
Recent News & Press Releases
Flight Schedules
Diosdado Macapagal International Airport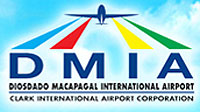 Check flight schedules to and from Clark Freeport
here
Exchange Rate
<!-Currency Converter widget - HTML code - fx-rate.net -->
   Philippine Peso Exchange Rate
<!-end of code-->
Clark Pampanga Weather
<!-Weather in Angeles City, Philippines on your site - HTML code - weatherforecastmap.com -- ><!-end of code-->