If you are heading for an adventurous and unforgettable trekking trip, do keep in mind certain trekking and mountaineering guidelines and tips. Following tips and guidelines cater useful and requisite information about every aspect of trekking including things to be carried and health precautions to be taken before beginning an adventurous trip.
TREKKING SAFETY GUIDE AND TIPS
To make your trip more adventurous and safe, do follow certain safety guidelines and tips mentioned below:-
1. Before heading for your adventure trekking trip, do study weather forecast of that area. Avoid trekking during bad weather or adverse climatic situations.
2. Newbies should always carry a raincoat or windsheeter with them. Climate can change frequently in several trekking points.
3. Do carry multi-pocket carry bag engrafted with zipper closure and cushioned shoulder straps, especially for trekking trips. The bag should be spacious enough to carry all the important trekking essentials while trekking.
4. Must keep a lighter, Swiss army knife, space blanket, water bottle and winter attire in your carry bag or pocket before heading for trekking.
5. To prevent insect bite, do wear full sleeves shirts and full pants.
Do carry sleeping bag and trekking rope of about 50 meters of length with you.
6. A direction compass and topographical map is must while trekking in mountains.
7. An ice cutting axe should always be carried if heading into snowy terrain.
TREKKING HEALTH GUIDE AND TIPS
Accessories add grace to your personality. So during travel keep such accessories which are easy to carry and may add grace to your overall look.
1. While planning your trekking trip, it is preferable to have a medical fitness check up done. It is most essential to be fit and fine before heading for trekking. You may also prefer to have medical precautions against diseases like malaria, cholera, tetanus, typhoid and hepatitis. Do arrange and carry medicines related to ailments from which you are previously suffering.
2. If suffering from any kind of ailment, do carry proper prescribed medicines to prevent serious health problem including heatstroke, sever headache, cough, dehydration and hypothermia.
3. Always wear proper trekking shoes while trekking. Uncomfortable pair of shoes can harshly hurt your feet and can lead to serious foot injuries while trekking. Therefore do spend some time to arrange proper and comfortable trekking shoes before heading for trekking tour.
4. Choose those trekking shoes that are a half-size bigger than your regular shoes to allow space for some swelling caused while trekking and to hold heavier trekking socks.
5. Do carry food items which carry larger amount of carbohydrates.
6. Always take important medicine and first aid box with you.
7. Do always cover your neck area, particularly in frequently changing weather .It can lead to serious neck problems and pains if left uncovered.
8. Do wear thick woolen socks or stockings while trekking. Synthetic blended socks can be used for trekking purpose, as these socks are specially designed to preclude feet moisture.
Proper health and fitness is must for every trekker. Therefore always try to be in proper and fine state of health.
Source: http://www.tourtravelworld.com/travel-guide/trekking-guide-tips.htm
Manila families with small children looking for an accessible place for kids to have fun frequently visit private resort in Clark Pampanga to unwind relax in family bonding, top venue for reunion.
Some hotels and resorts offer free WIFI Internet connection to guests. This includes beach resort of Clearwater which also offers free Internet connection in the room as well as in the outdoor areas even near the beach and by the lake.
Fine dining restaurants like Yats Restaurants and Wine Bar also offers good internet connection to their guests. Highly recommended bar, pub and nightlife spot The London Pub located inside Mimosa also offers good internet connection to guests.
The London Pub is a classic English Gastropub frequented by local expats and business community. It serves up good food, plenty of excellent vintage wine by the glass and a good selection of Cuban cigars. The ambience is old English, dark wood, comfortable and relaxed.
Where to go in Clark? Hotel Clark Philippines is a De Luxe Hotel in Clark and Subic, a risk free place to stay, cozy and nice ambience, a nice function place for special occasion
You might want to check also the Yats Restaurant is the best restaurant for special dinner, best restaurant for dinner with friends near Manila, also the best place to celebrate special events.
Famous Restaurant in Pampanga, a place to dine with friends in Clark, cozy restaurant with a nice ambience, a nice function place for special occassions
Are you looking for an attractive restaurant or a nice place to eat with friends in Clark, Angeles City Pampanga? Yats Restaurant and Wine Bar is a restaurant with good food and good wines for dinner located at Clark Angeles City Pampanga. Perfect for exclusive dinner venues for groups, recommended for private dinner in Philippines. A Restaurant in Clark for business dinner meeting. Private dinner place or dinner restaurant in Clark Subic Near Manila Angeles City Pampanga. Yats Restaurant is one of the Good Restaurant in Pampanga Angeles City Clark near Manila.
Frequent travelers and visitors staying in Angeles City Pampanga Clark Philippines look for restaurants, coffee shops, bars, pubs, hotels and resorts in Clark that serve high quality Nespresso coffee to guests. Here are some of the highly recommended places in Clark that offer good gourmet Nespresso coffee.
Looking for interesting hotels near Manila Subic Clark Angeles City Pampanga?
Trouble free hotels and well recognized hotels in Subic Clark Angeles City Pampanga
Clearwater Resort and Country Club offers a good place to stay in Subic Clark Angeles City Pampanga. In offers nice place to have rest in Subic Pampanga outside Manila.
One of the Philippines top hotels in north Luzon.
This web site contains articles and information that will be helpful to visitors, residents and tourists traveling out of town from Manila on a short getaway to Subic, Angeles City, Pampanga and Clark Philippines. There are several web sites that contain information that might also be pertinent to what is happening in North Luzon, Subic, Tarlac, Pampanga, Clark Freeport Philippines.
Looking for a party venue in town?
Clearwater Resort and Country Club is one of the ideal venues for birthday party because it is a risk free venue. Not only Birthday Parties but also a good place to enjoy family reunion. A good place to celebrate special occasions. Clearwater Resort and Country Club is one of the resorts in Subic Clark Angeles City Pampanga or near Manila with activity amenities, place that are nice for celebration.
Wedding couples looking for wedding reception venues and beach wedding venues can log on to this Philippines Wedding Venue web site for free information and assistance:

For assistance with lodgings, accommodations, hotels and resorts near Manila in Subic, Pampanga, Angels City and Clark Philippines log on to http://www.HotelClarkPhilippines.com
While in Clark, one might as well add to the itinerary a visit to the famous Clark Wine Center, the largest wine shop in Philippines which offers over 2000 selections of fine vintage wine from all wine regions, vintages spanning over 50 years covering all price ranges.
http://www.ClarkWineCenter.com
---
If this article about Clark is useful to you,
please click here to contact us
to tell us what more you wish to know about this article or Clark Philippines, which can be something about Clark investment, about Clark resorts, about Clark Swimming and Leisure or simply general news about Clark.
---
Please send questions to
Editor@ClarkPhilippines.com
. Leave your name, email address, contact numbers and we will get back to you as soon as possible. Information received will not be disclosed.
---
Random
Search
Contact Clark Philippines
Politics & Opinion
Promote Your Business
Recent News & Press Releases
Flight Schedules
Diosdado Macapagal International Airport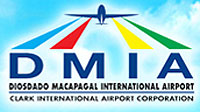 Check flight schedules to and from Clark Freeport
here
Exchange Rate
<!-Currency Converter widget - HTML code - fx-rate.net -->
   Philippine Peso Exchange Rate
<!-end of code-->
Clark Pampanga Weather
<!-Weather in Angeles City, Philippines on your site - HTML code - weatherforecastmap.com -- ><!-end of code-->