A lot of visitors ask me about buying steaks so I thought I would start putting together some tips on buying steaks, describing various cuts and what to look for when purchasing a good steak. I'll start with some basics and add to this page as I learn more from my resources. You may also be interested in How to Grill a Good Steak? and where to buy steaks online and why just below….
Top Steak Buying Tips
1. My #1 tip is get to introduce yourself to your local butcher and become friends.
2. Buy the best grade of meat you can afford…Prime, Choice, Select in that order.
3. When possible, buy from the butchers counter not the pre-packaged section.
4. Look for steaks with fine texture and firm to the touch.
5. You want the color to be a light cherry red color, not deep red. And by all means stay away from gray meat.
6. Look for a steak that has marbling. It is the thin threads of fat running through the meat that makes it Prime and gives it that incredible flavor.
7. Dry aging is considered better than wet aging but that may be a matter of taste. However, avoid meat that has no aging and is too fresh.
8. If you do buy packaged meat, stay away from any with excessive moisture, tears or that are past their sell by date.
9. Just because the label says Angus, doesn't mean it is Certified Black Angus (CBA)
10. Visit the Reluctant Gourmet Web Site often and sign up for my free newsletter!
________________________________________
#1 Getting to know your butcher
It doesn't matter if you buy your steaks at the supermarket or a gourmet butcher shop. If you want to learn about meat, how to purchase it, what's a good buy today, how to cook it, start a relationship with your butcher. These are the folks who know what you don't and will be glad to help if you just ask.
My own local butchers tell me that customers don't take advantage of their knowledge and experience. They come in with their own preconceived ideas of what a good steak should look like and end up buying an inferior product. A good steak is expensive so why not ask the expert who handles the products everyday what they think is a good bargain. You may be surprised by getting better cuts for less money.
#2 Buy the best grade of meat you can afford
Most of us rarely have the opportunity to buy and taste Premium beef. That's because only 1 – 2.5% of all beef processed in this country is good enough to be graded by the USDA as Prime. The inspector takes in all sort of things when grading for Prime but as a consumer, we are mostly looking at marbling, that network of fat that traverses throughout the meat.
Given a choice at the market between a perfectly lean piece of meat and a Prime cut with lines of fat running through it, most of us would pick the lean steak. But it's the marbling that gives the Prime cut the incredible rich, juicy, tender flavor and texture that we are looking for.
Just because Prime isn't that readily available or in a price range we can afford, there is nothing wrong with Choice. There are different grades of Choice so you may want to shop where they consistently buy beef at the higher end of the Choice grade. How will you know? By getting to know your butcher and asking.
Select has the least amount of marbling making it lean but not so tender or tasty. More importantly, you are not going to pay that much more for Choice than you are for Select, so if you can, spend the extra dollars and buy Choice. In my opinion, there's nothing worse then chewing and chewing and chewing through a tough, flavorless piece of meat.
Source: http://www.reluctantgourmet.com/steak_information.htm
Small and medium businesses in Clark Philippines have a lot of interesting and unique products and services to offer but very few outside of Clark Freeport including potential customers in nearby Angeles City, Subic, San Fernando and Manila ever hear about them. Market obscurity has led to slow growth in businesses inside Clark Freeport Zone and this is not being rectified as a new public service web site has been created to allow Clark locators to promote their services and products without any charge.
The ClarkPhilippines.com web site is a community service web site dedicated to helping small businesses operating in Clark Freeport, Angeles City and vicinities like Subic and other cities in Pampanga or Tarlac even, to promote their products and services through internet visibility. There is no charge to these services.
Aside from products and services, news releases and product announcements can also be posted free of charge on ClarkPhilippines.com web site.
This web site contains articles and information that will be helpful to visitors, residents and tourists traveling out of town from Manila on a short getaway to Subic, Angeles City, Pampanga and Clark Philippines. There are several web sites that contain information that might also be pertinent to what is happening in North Luzon.
For assistance with organizing and planning weddings and garden receptions, log on to http://www.PhilippinesWeddingVenue.com
For assistance with lodgings, accommodations, hotels and resorts near Manila in Subic, Pampanga, Angels City and Clark Philippines log on to http://www.HotelClarkPhilippines.com
---
If this article about Clark is useful to you,
please click here to contact us
to tell us what more you wish to know about this article or Clark Philippines, which can be something about Clark investment, about Clark resorts, about Clark Swimming and Leisure or simply general news about Clark.
---
Please send questions to
Editor@ClarkPhilippines.com
. Leave your name, email address, contact numbers and we will get back to you as soon as possible. Information received will not be disclosed.
---
Random
Search
Contact Clark Philippines
Politics & Opinion
Promote Your Business
Recent News & Press Releases
Flight Schedules
Diosdado Macapagal International Airport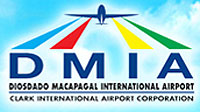 Check flight schedules to and from Clark Freeport
here
Exchange Rate
<!-Currency Converter widget - HTML code - fx-rate.net -->
   Philippine Peso Exchange Rate
<!-end of code-->
Clark Pampanga Weather
<!-Weather in Angeles City, Philippines on your site - HTML code - weatherforecastmap.com -- ><!-end of code-->