April 26, 2011
Address: , 38 Polaris St., Bel Air Subd., Makati City, Metro Manila, Philippines , 1209
The History of Alba
Don Anastacio B. de Alba first set foot in the Philippines in 1952. He worked for the prestigious Casino Espanol until he opened his first restaurant, Alba Cocina Espanola, on Isaac Peral, now United Nations Avenue two years after. It was a modest eatery with only 5 tables to accommodate his clients.
A year after his first restaurant on Isaac Peral, Don Alba had become a byword among Spanish cuisine patrons, which could no longer be accommodated in the Isaac Peral eatery. He transferred to a bigger and better location on Florida Street, now Maria Orosa, closer to the Luneta. Don Alba was now popularly known as the man with the golden touch.
Top names in Philippine officialdom, politics, business, industry and the profession graced Alba's restaurant. Everybody who was somebody went to Alba. Cabinet members, justices, judges, fiscals and lawyers including students and young lovers, queued up at Florida's Alba. Opulent tourists from Europe, America and Asia made it a point to dine at Alba, now renowned as the authentic exponent of the best Spanish cuisine in Manila. Prince Juan Carlos of Spain and his wife Sofia dined at Alba when they visited Manila.
The overwhelming popularity of his eatery prompted Don Alba to expand — and to incorporate. By 1961, he had two more high-class eateries: the Alba Restaurant and Supper Club on Dewey Boulevard and the Taberna Gitana in Quezon City, nightspots which offered exquisite Spanish music as interpreted by top-rate local and international artists.
Soon the Alba chain of restaurants included La Parilla and Patio Flamenco on Roxas Boulevard, the Alba Patio de Makati on the 11th floor of the Dona Narcisa Building and the Jardin de Alba in the Greenhills Complex.
Besides those, he ran two executive canteens: The Bull and Bear Club in the Makati Stock exchange and the DBP canteen. In 1966, he added a cocktail lounge and bar to Florida's Alba, called Las Cuevas, a unique nightclub for the discriminating Manileños. Don Alba was now on top of the world, his eateries and nightspots being run by two separate corporations.
But the greatest pride of his life was the La Mancha, which opened in December of 1975, in the Magallanes Commercial Center. It was the most elegant, ornate and prestigious restaurant cum nightclub that he had ever put up. A three-story tower with a huge windmill dominated La Mancha's facade, a picture straight out of Miguel de Cervantes' Don Quixote. It was Don Alba's quixotic dream come to life.
La Mancha was envisioned as "an exceptional tourist attraction that would offer the choicest Castilian dishes in the finest Spanish tradition of warmth and gaiety". Said Don Alba: "I wanted to bring to Manila a part of Spain and its cultural history. I offered innovative dishes: grilled, steamed, and charcoalbroiled. On the exposed beams of the ceiling, I had my favorite proverbs, taken from Don Cervantes' novel, inscribed in Gothic. I went all-out for La Mancha, which cost more than P4 million".
Unfortunately for Don Alba, the construction of the Magallanes overpass complex destroyed his dream. The heavy traffic that ensued, not to mention the thick cloud of dust that fell in the area, drove away La Mancha's patrons. Even after the Magallanes overpass was complete, La Mancha continued to suffer heavy losses. To salvage the situation, he sold all his holdings and, with his second wife, and seven children, left for Spain.
After two years, he decided to come back to the Philippines to start all over again. He put up Casa Colas on Polaris Street, off Makati Avenue, in Makati, not as classy an eatery but clean and cozy. His menu carried Alba favorites, like pollo al ajillo, solomillo a la pobre, lengua a la Sevillana, pescado en salsa verde, chipirones en su tinta, and paella Valenciana. He even included tuhod y batoc estofado and pato al Jerez, the choice of health freaks.
One could also order pato a la Naranja or venado breseado con castanas. Those who loved wine to go with their meal could ask for Alba's choices, like Senorio de Serria or Bodegas de Secizalia.
After having retired from his fabulous chain of Alba eateries, Don Alba is now priming up to regain his crown in his line of endeavor. His undiminished enthusiasm, energy and industry, not to mention his rich experience and wealth of friends, will serve him well in his quest to bring back quality and class to dining, threatened by fast food and the emerging eat-and-run sub-culture. After 49 years in the country, he is still the man with a dream.
Casa Colas, presently known as Alba Restaurante Espanol, is located in Polaris Street, in Bel-Air, Makati, which is practically a back alley, away from the center of the crowd. Many have already discovered it. Whenever Don Alba goes, it seems, so go his patrons and customers. Why? The great American Ralph Waldo Emerson, provides an answer to that. He says: "If a man has a good corn, or wood, or boards or pigs to sell, or can make better chairs or knives, or crucibles, or church organs, than anybody else, you will find a broad, hard-beaten road to his house, although it be in the woods".
Residents of Manila and Angeles City Pampanga are looking for a safe and convenient place to celebrate special occasions or take a shot vacation in the Philippines. Many travel north to Clark to swim at Clearwater Beach Resort which also has lake and picnic grounds to unwind and relax, a very good way to spend quality time with the family and children. Fine dining Yats Restaurant offers sumptuous cozy Christmas dinner, for wine lovers, Clark Wine Center provides exciting shopping options.
Clark Philippines also known as Clark Freeport Zone is now the preferred destination for foreign and local investments because it offers many attractive advantages including tax, safety and its own international airport
The advantages for making the move from a country like UK, USA, Japan, Korea, Hong Kong, Singapore and Australia for example, to a country like Philippines are enormous. Heavily in your favor are factors like asset values differentials and substantial reduction in cost of living. Selling off your home probably gives you enough capital to not only live comfortably in a bigger property in Philippines but also to re-establish yourself in the business community by starting a business here too.
This web site contains articles and information that will be helpful to visitors, residents and tourists traveling out of town from Manila on a short getaway to Subic, Angeles City, Pampanga and Clark Philippines. There are several web sites that contain information that might also be pertinent to what is happening in North Luzon.
For assistance with organizing and planning weddings and garden receptions, log on to http://www.PhilippinesWeddingVenue.com
For assistance with lodgings, accommodations, hotels and resorts near Manila in Subic, Pampanga, Angels City and Clark Philippines log on to http://www.HotelClarkPhilippines.com
While in Clark, one might as well add to the itinerary a visit to the famous Clark Wine Center, the largest wine shop in Philippines which offers over 2000 selections of fine vintage wine from all wine regions, vintages spanning over 50 years covering all price ranges.
http://www.ClarkWineCenter.com
---
If this article about Clark is useful to you,
please click here to contact us
to tell us what more you wish to know about this article or Clark Philippines, which can be something about Clark investment, about Clark resorts, about Clark Swimming and Leisure or simply general news about Clark.
---
Please send questions to
Editor@ClarkPhilippines.com
. Leave your name, email address, contact numbers and we will get back to you as soon as possible. Information received will not be disclosed.
---
Random
Search
Contact Clark Philippines
Politics & Opinion
Promote Your Business
Recent News & Press Releases
Flight Schedules
Diosdado Macapagal International Airport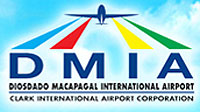 Check flight schedules to and from Clark Freeport
here
Exchange Rate
<!-Currency Converter widget - HTML code - fx-rate.net -->
   Philippine Peso Exchange Rate
<!-end of code-->
Clark Pampanga Weather
<!-Weather in Angeles City, Philippines on your site - HTML code - weatherforecastmap.com -- ><!-end of code-->