April 26, 2011
Address: , 39 Pasig Blvd., Bagong Ilog, Pasig City, Metro Manila, Philippines
Alba Catering and Food services is a combined effort of spouses Ramon and Jeanette Alba. Coming from two big families who love entertaining guests with their great cooking, most training and personal touches were inherited and taught by the Moms and Dads.
From requests, they started cooking for their relatives and friends parties, turning nights into days while Ramon was still working in a multinational food company and Jeanette, a CPA, was still working as a bank auditor.
*The couple studied culinary and presentation . Ramon's has his ability to easily identify food ingredients by mere tasting, innovate food presentation and develop international foods for Filipino palate. Jeanette on the other hand, joined Ramon in his catering business after retiring from working as a Comptroller. To augment the services that Ramon started, she incorporated baking and cooking Filipino and International dishes.
She also studied and practiced set- up dining arrangements such as flowers, balloons and managing entertainment talents. Knowing the dilemna of working moms and dads arranging parties for their kids, Alba packaged The first Kiddy Party with complete menu , amenities and entertainment.
Personalized Service is given to all parties including Wedding, Debut and other catering services. Now they can service a party of more than a thousand guest in a day, Aside from their regular canteen concessionaire business.
One of the challenges for the couple is the logistic side of the food businessÒ€¦ studying the market, offering something new and developing menus. Both love food service, training and teaching people about what really matters in the business.
*Alba Catering and Foods services was formally operative in full scale on May, 1994. Now, Alba Catering and Foods Services has catered to many people in all walks of life, a cut across simple to extravagant gatherings, small to big number of guests from corporate/financial industries,
community and school organizations and political and entertainment figures.
*Known for their quality personalized services, inexpensive yet sumptuous dishes and elegant arrangements (even for low budget), innovation is still top of their priorities.
Philippines Clark Freeport offers attractive investment opportunities. Assistance in law, taxes and other business and investment matters can be obtained from Clark Business and Investment Assistance.
Clark Philippines operates under a slightly set of rules from the rest of the country. There are many advantages but as usual, there are also areas that investors need to be well apprised to avoid unnecessary problems.
Clark Freeport Zone offers many attractive incentives that collectively make it a good business investment opportunity as well as a wonderful choice for semi- or full-retirement. In addition to the tax incentives of a Freeport Zone, Clark has a remarkably good record in terms of crime rate. In fact, there is no recollection of any major crimes inside Clark Freeport Zone at all and even minor crimes are rare and far between. Whereas traffic and pollution are two major deterrents to retiring, living or setting up a business in major cities in the Philippines such as Manila and Cebu, Clark Freeport are not marred by these problems. Clark is blessed by good infra structures left behind by the Americans built when Clark was their largest foreign airbase.
Investors are well advised to obtain legal counseling as the first step of their exploration of investment opportunities in Clark Freeport. Clark Business and Investment Assistance is well experienced to offer this service to would-be investors – called locators. This outfit can also address tax concerns but more importantly helps investors navigate the tricky waters of finalizing a deal.
This web site contains articles and information that will be helpful to visitors, residents and tourists traveling out of town from Manila on a short getaway to Subic, Angeles City, Pampanga and Clark Philippines. There are several web sites that contain information that might also be pertinent to what is happening in North Luzon.
For assistance with organizing and planning weddings and garden receptions, log on to http://www.PhilippinesWeddingVenue.com
For assistance with lodgings, accommodations, hotels and resorts near Manila in Subic, Pampanga, Angels City and Clark Philippines log on to http://www.HotelClarkPhilippines.com
---
If this article about Clark is useful to you,
please click here to contact us
to tell us what more you wish to know about this article or Clark Philippines, which can be something about Clark investment, about Clark resorts, about Clark Swimming and Leisure or simply general news about Clark.
---
Please send questions to
Editor@ClarkPhilippines.com
. Leave your name, email address, contact numbers and we will get back to you as soon as possible. Information received will not be disclosed.
---
Random
Search
Contact Clark Philippines
Politics & Opinion
Promote Your Business
Recent News & Press Releases
Flight Schedules
Diosdado Macapagal International Airport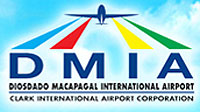 Check flight schedules to and from Clark Freeport
here
Exchange Rate
<!-Currency Converter widget - HTML code - fx-rate.net -->
   Philippine Peso Exchange Rate
<!-end of code-->
Clark Pampanga Weather
<!-Weather in Angeles City, Philippines on your site - HTML code - weatherforecastmap.com -- ><!-end of code-->